Café Cerisier: Japanese cakes in Düsseldorf
This blog post is long overdue. However, as always, I don't really have time to update my blog and these past few weeks I also didn't really have that much motivation to do something creative. I wanted to upload this post during Christmas, yet I was busy with university stuff again. You have to use your time wisely, right?
This time I am going to write a review again, about a café that I visited with my friend a few months ago. Actually, I went there again a couple days ago because I saw on their FB page that they began selling sakura flavoured cake.
The store is called Café Cerisier and is located on the Immermannstrasse 51 in Düsseldorf, next to the Japanese hairdresser 'mod's hair paris'. You can get there with the tramp number 707 or by foot. It is located near the main train station in Düsseldorf. If you go by tramp, you can get off right at the station where the store is and then you just have to cross the street.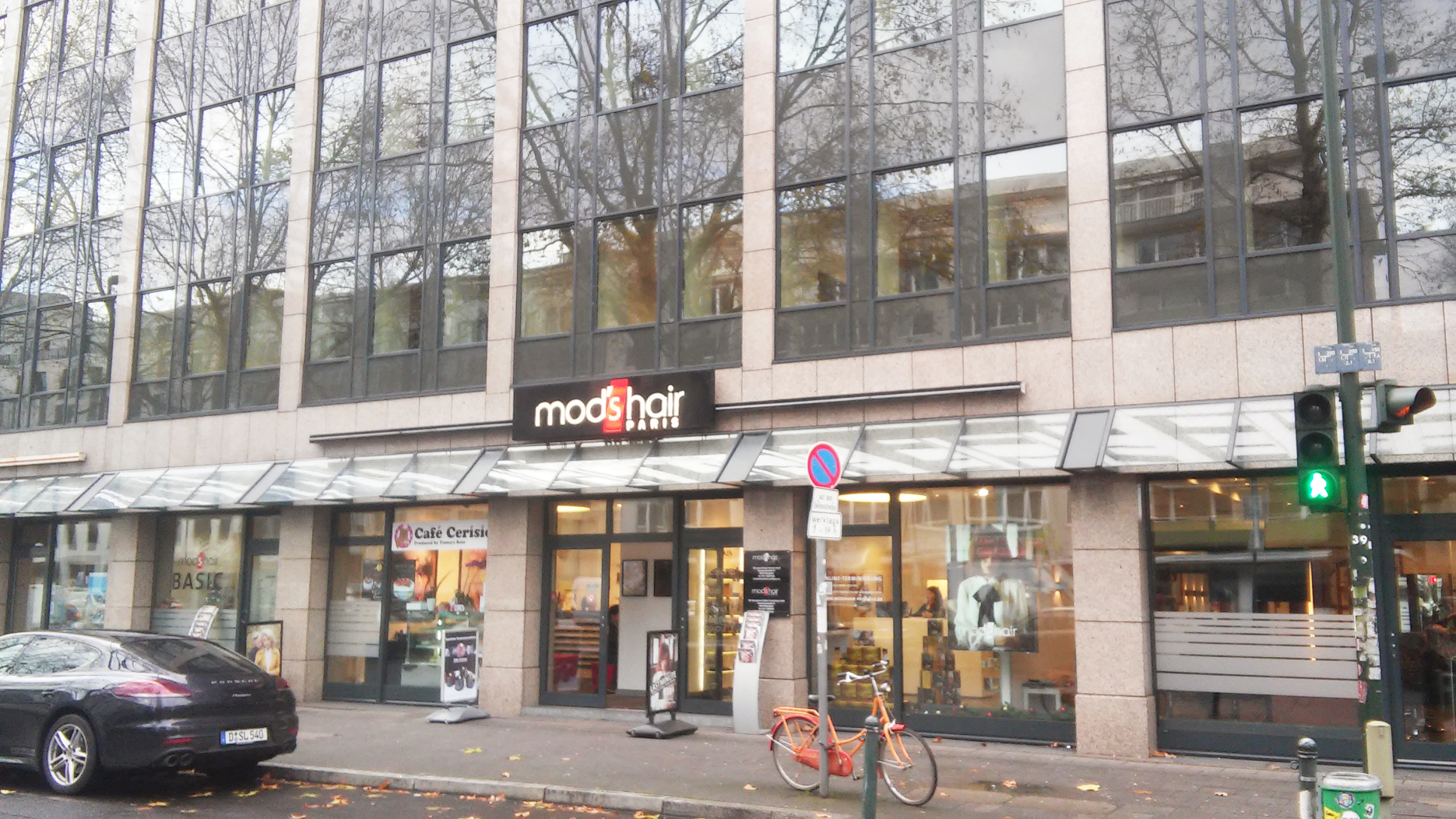 Shop hours:
| | |
| --- | --- |
| Monday – Friday | 10:00 – 20:00 |
| Saturday | 10:00 – 18:00 |
| Sunday | Closed |
Since it is just a small store next to a hairdresser, we didn't really notice it for quite a few months. At first, I assumed, that the store belonged to the hairdresser and you could only eat there, if you got your hair cut. I don't know when I actually realized that you could eat there without being a customer at the hairdresser.
Café Cerisier specialises in Japanese desserts, especially various kinds of cakes, shortcakes, chiffon cakes, puddings and so on.
Sometimes they also sell different kinds of cookies or sweet bread.
I think their range of desserts varies, depending on the seasons. For example, during Christmas you can order a whole Christmas cake, since it is a custom to eat cake during Christmas in Japan. And when the cherry blossom season is approaching, they will sell sakura flavored desserts.
When we went there a couple months ago, we really wanted to try their chocolate cake because it looks really good. However, they didn't have it that day and even though we were a little bit disappointed, we decided to try out something else they had to offer. They put the cakes on display right behind their window, so you don't have to enter the store to see what they have to offer. If you have good eyes, you can also see the prices.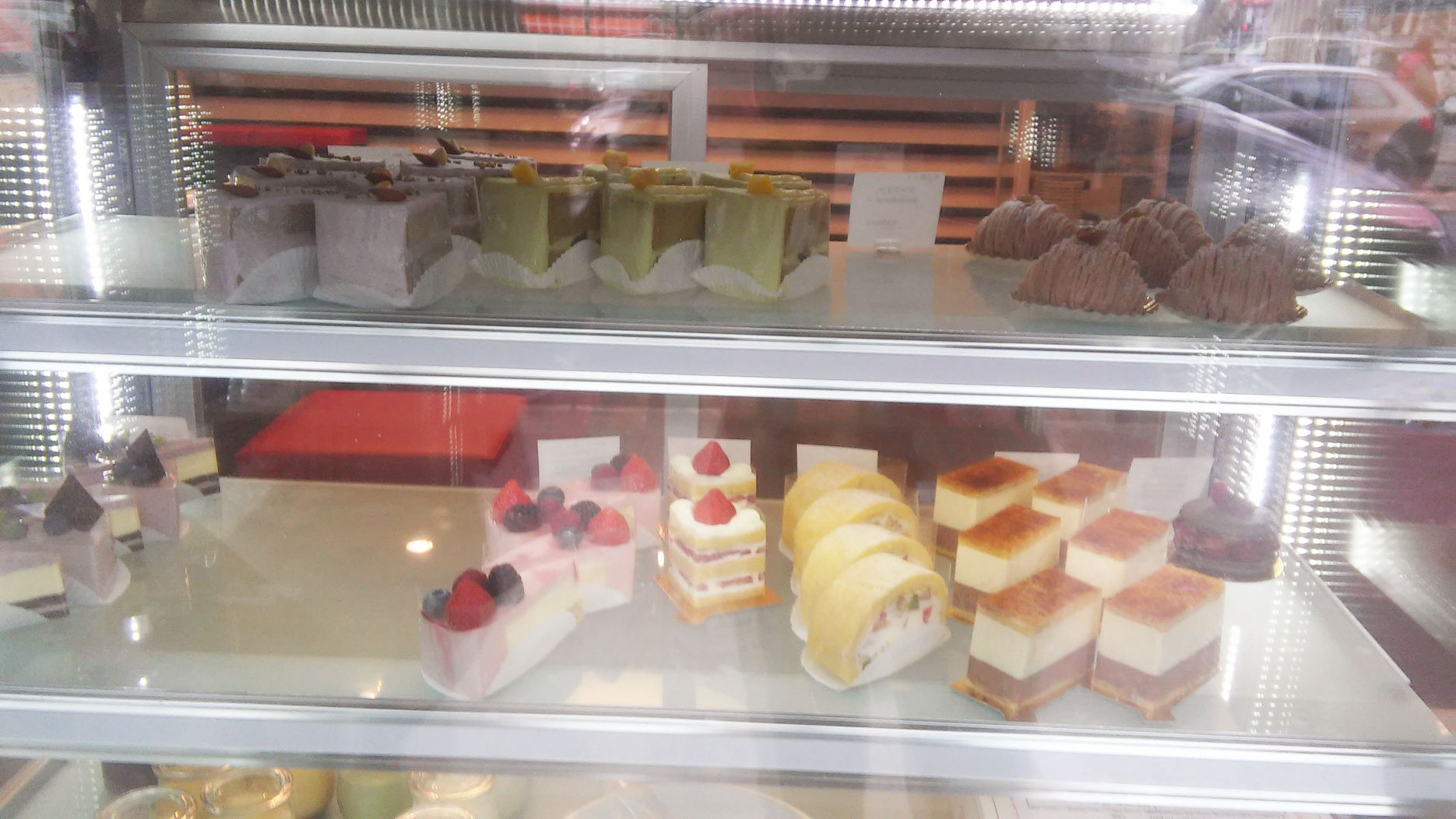 I usually don't eat out in cafes, so I don't really know about the prices of the cakes that are usually sold in restaurants. It is a known fact that Japanese products are a little bit more expensive in Germany. However, if you have always wanted to try out Japanese pastries like we do, I think it is not a bad idea to pay this store a visit at least once.
If you prefer to enjoy your cake at home, they also offer takeout.
After entering the store, you can settle down at one of the few tables first and look through the menu. Besides the cakes, you can also order various drinks and if I remember correctly, my friend ordered a caramel cappuccino. If you buy a cake and a drink during a certain time of day, you get a discount.
Even though the store is quite small, I like the store's interior, which is really simple, with a lot of square shapes. The photos of the models make it look more interesting. It is more usual to set up the products in front of the counter, where the server has immediate access to the products, however because they set everything up in a glass cabinet next to the window, you can look at it without the feeling of being observed and being pressured to choose.
The store clerk will come to your table to get your order, when you are ready. Since it is not a self-service store, she will get the cakes for you, so don't make the mistake and get the cakes out of the cabinet yourselves.
I noticed that Japanese cakes always have a plastic foil wrapped around them. I don't really see this here or in France, where I usually buy my pastries.
Since we couldn't get our chocolate cakes the first time we went there, we had to decide on something else.
There were quite a few cakes we wanted to try, but in the end I got a blueberry cake and my friend got a strawberry chiffon cake.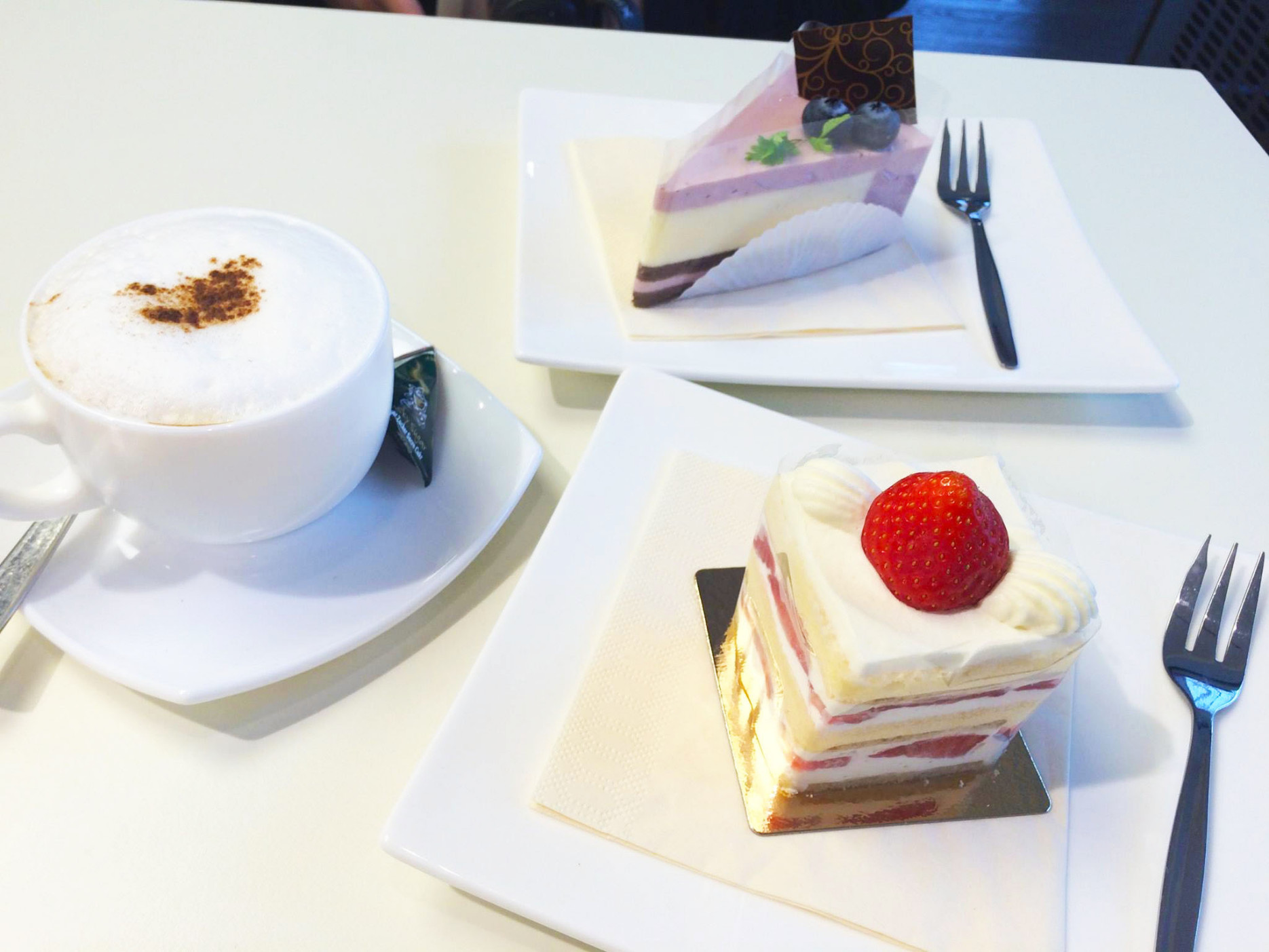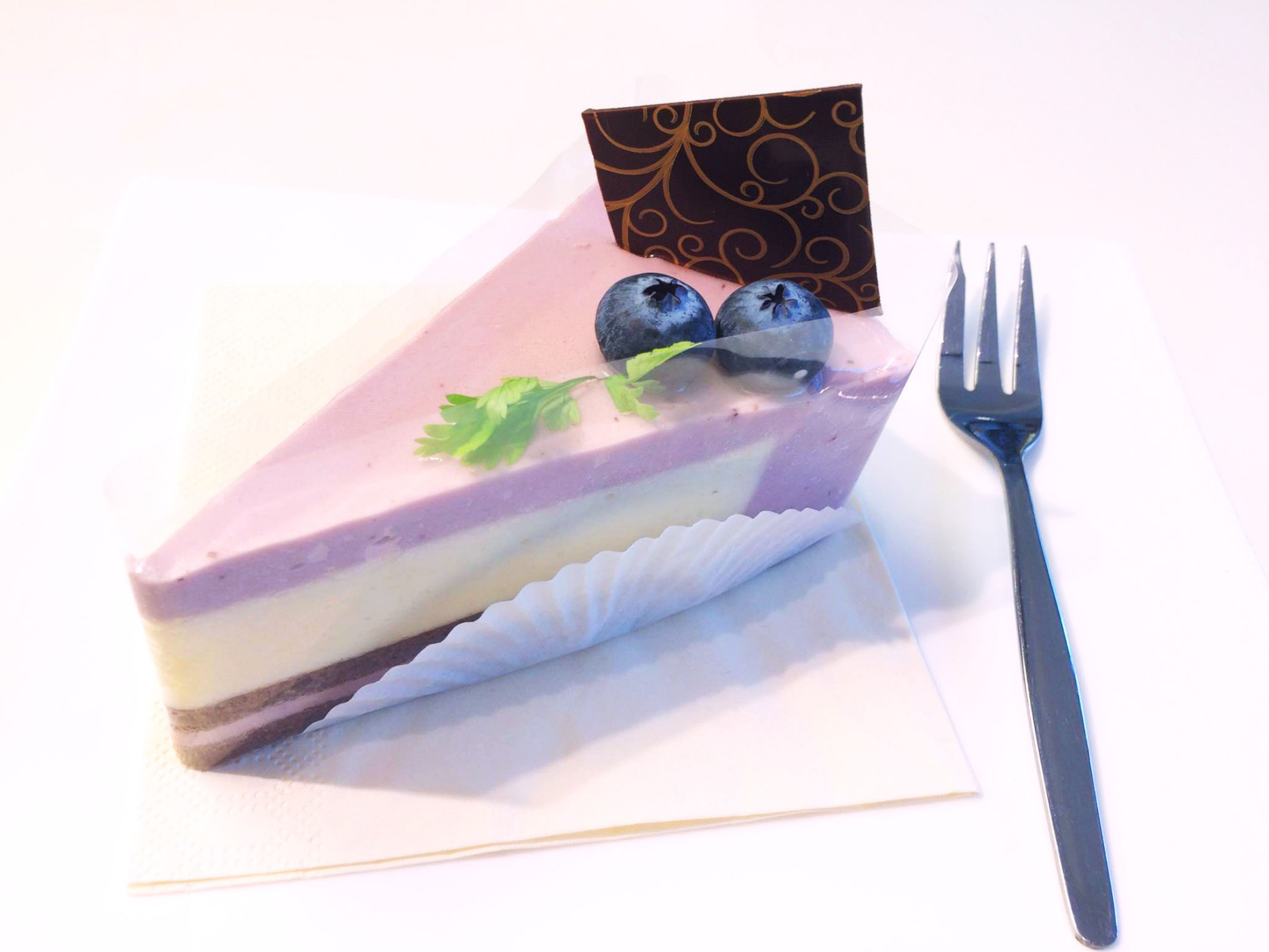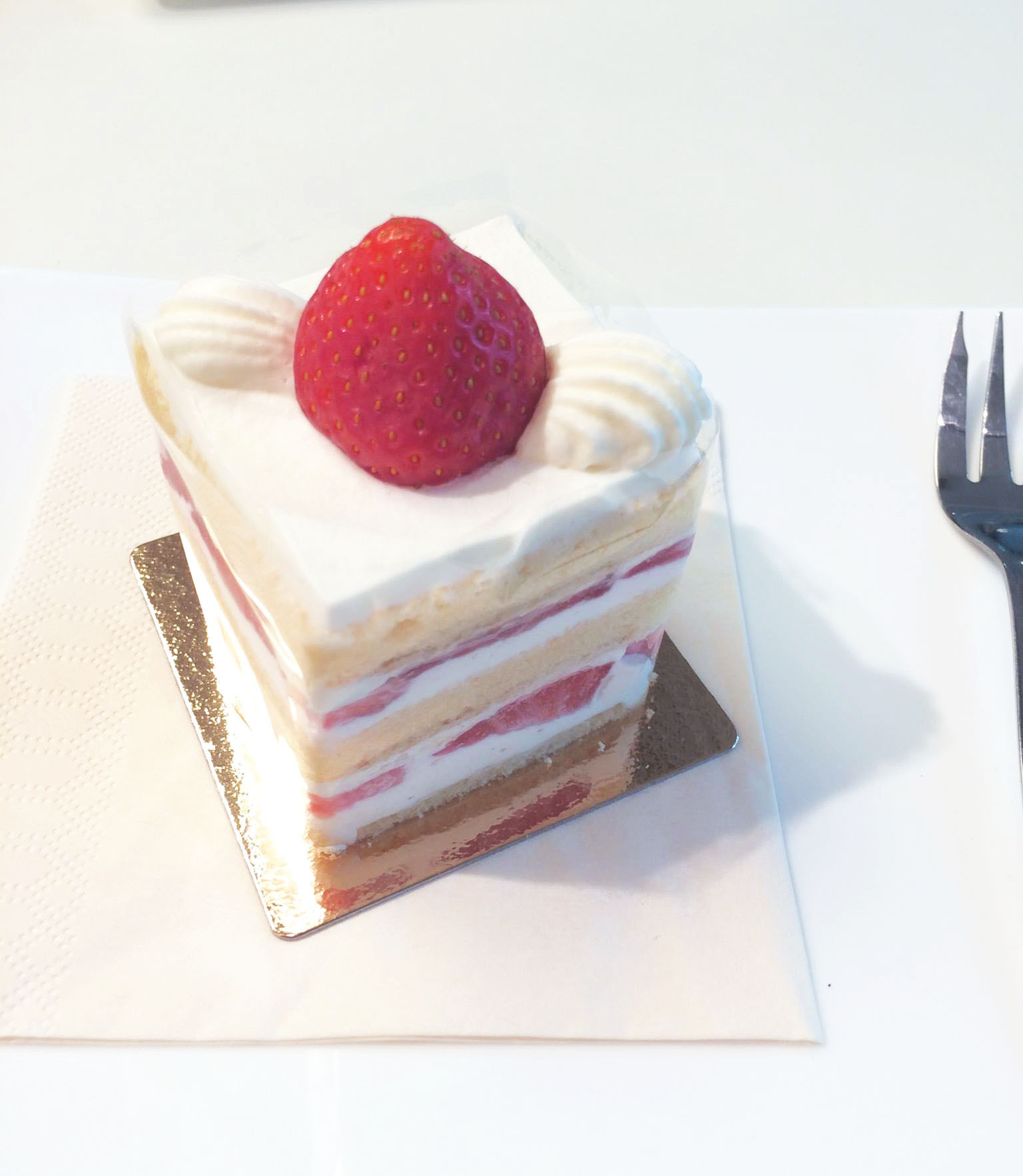 I asked the store clerk for permission to take some photos of the store for my blog and it seemed that she was pretty amused because I was busy taking pictures of the cakes and the store for quite a while, before finally sitting down to actually eat the cake, which was the whole purpose of going there.
The cakes were delicious. They aren't on the heavy-full-of-cream-side, the flavours are quite light, it's not overwhelmingly sweet and the dough is really fluffy. My friend's cake was so fluffy, she had difficulties eating it because it slowly fell apart. The berries were a little bit sour, because they were out of season, but I didn't mind it.
When we were in the middle of eating, a guy came out to stock up the cakes. We were hoping that he wouldn't pull the chocolate cake out of one of his cardboard boxes. He didn't, but he did have some new cakes, which weren't on display when we ordered.
I didn't plan to go to the store again before uploading this post. I just wanted to do some grocery shopping a few days ago, but we decided to stop by the store, because it is really close by, to look whether they have that chocolate cake. They did have a couple of those and there was also one last piece of that sakura cake left.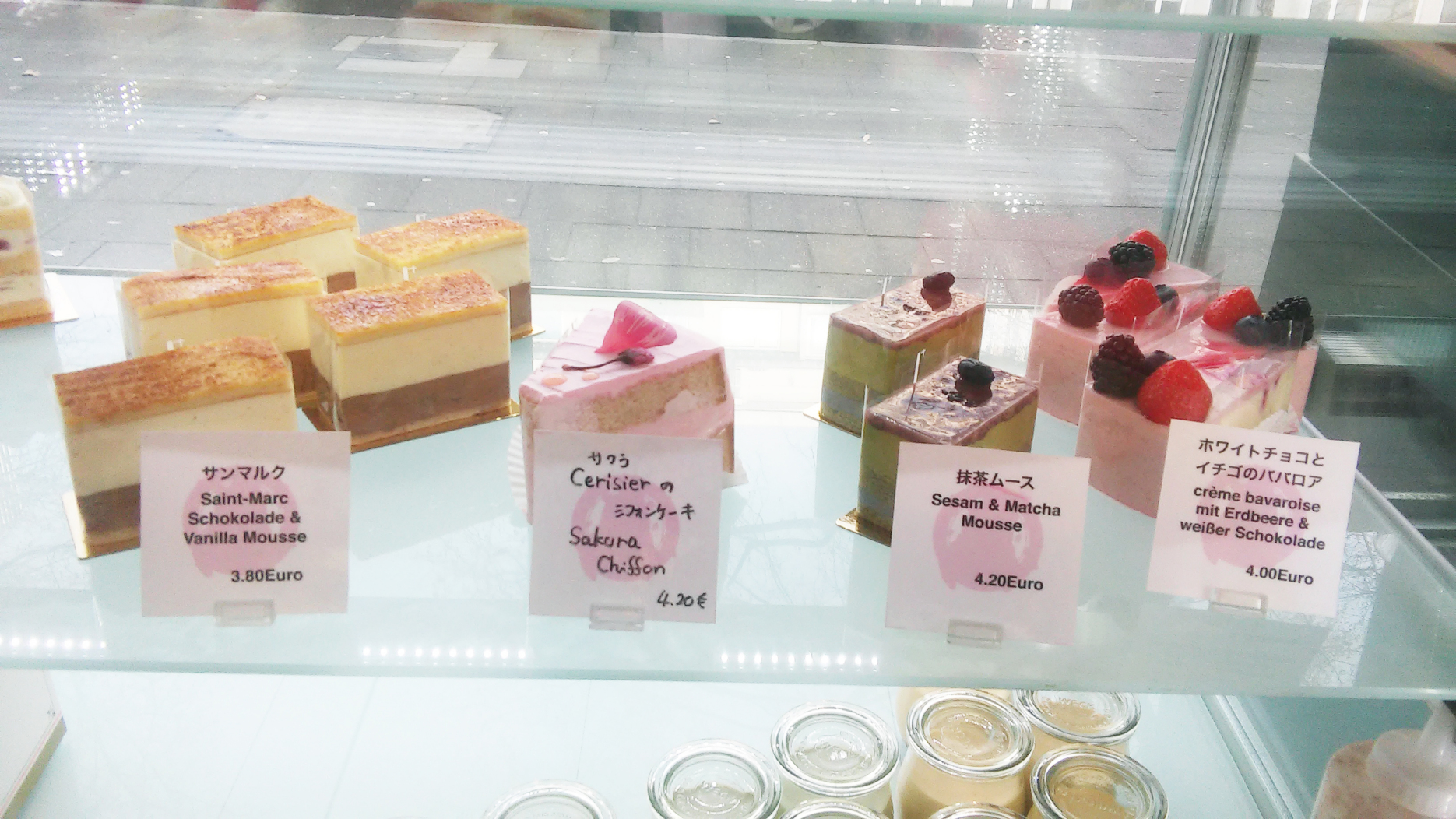 I have been wanting to try sakura flavored sweets since a very long time, so when I saw that one piece of sakura cake, I couldn't resist and we just had to go inside. We got three pieces of cake. A chocolate cake, a matcha cake and the sakura chiffon cake.
The sakura cake looks really pretty with its pink colour and then there is a pink petal-shaped piece of chocolate and a real pickled cherry blossom on top of it. Even though I knew what a pickle would taste like, I was still surprised by the saltiness of the pickled flower, and yet it strangely adds a nice kick to it.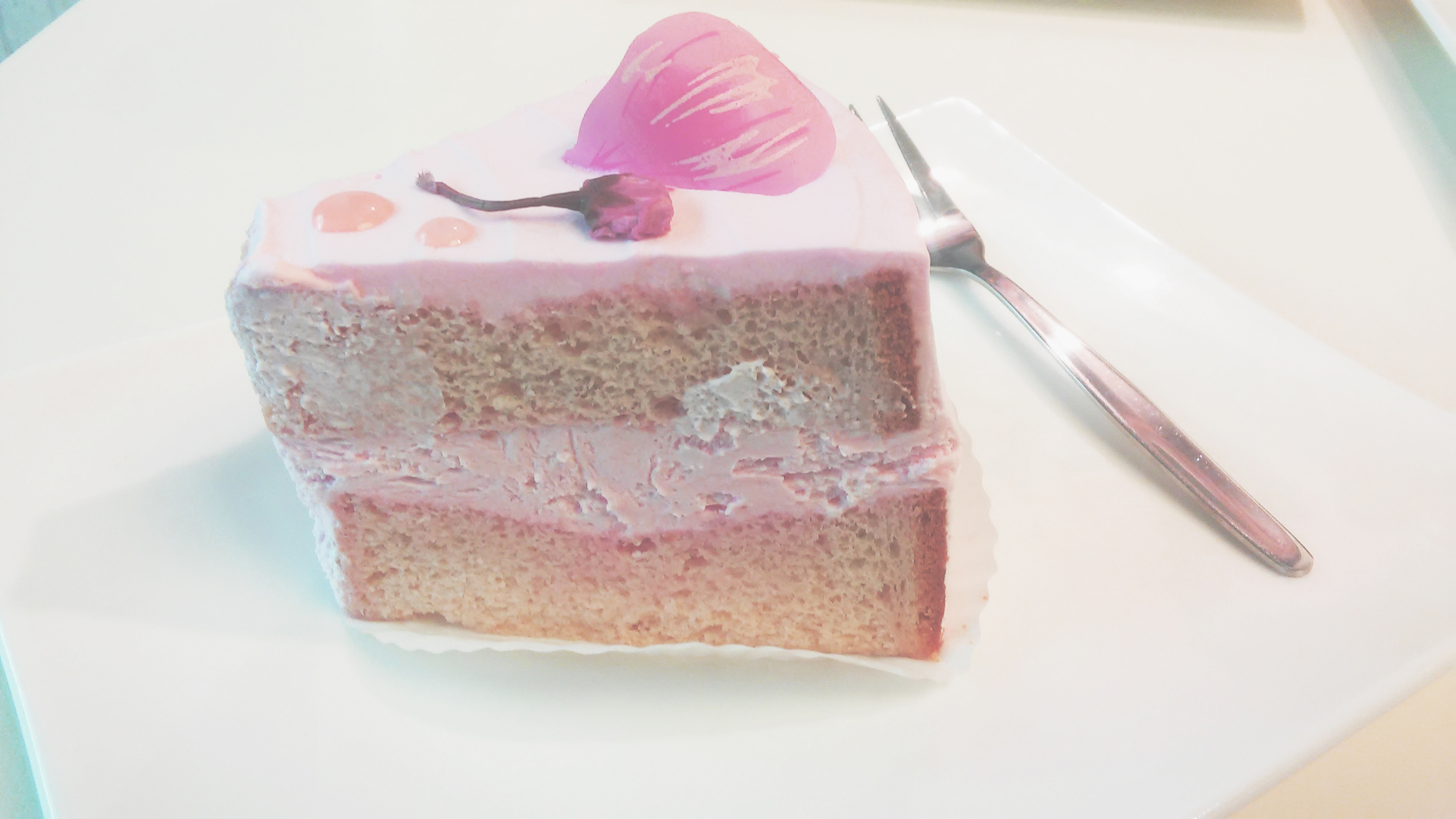 The cake itself tasted amazing. I haven't tried any other sakura flavored sweets yet, but if everything tastes like that cake, it will be one of my new favourite flavours. The flavour was somehow familiar. I tried to figure out what it reminded me of, however I couldn't really compare it to anything. I have always imagined sakura to have more like a floral taste or a cherry taste, but it was entirely different. I would neither describe the flavour as fruity nor as floral. It has its own unique taste and again, the cake is not too sweet which I really like. The sweetness was just right.
I think that the matcha flavoured cake was even less sweet. That one was filled with sweet red beans, which is really typical for Japanese green tea flavored desserts. It doesn't taste bad, but I wouldn't order it, if I had the choice. I would rather eat the sakura flavoured cake.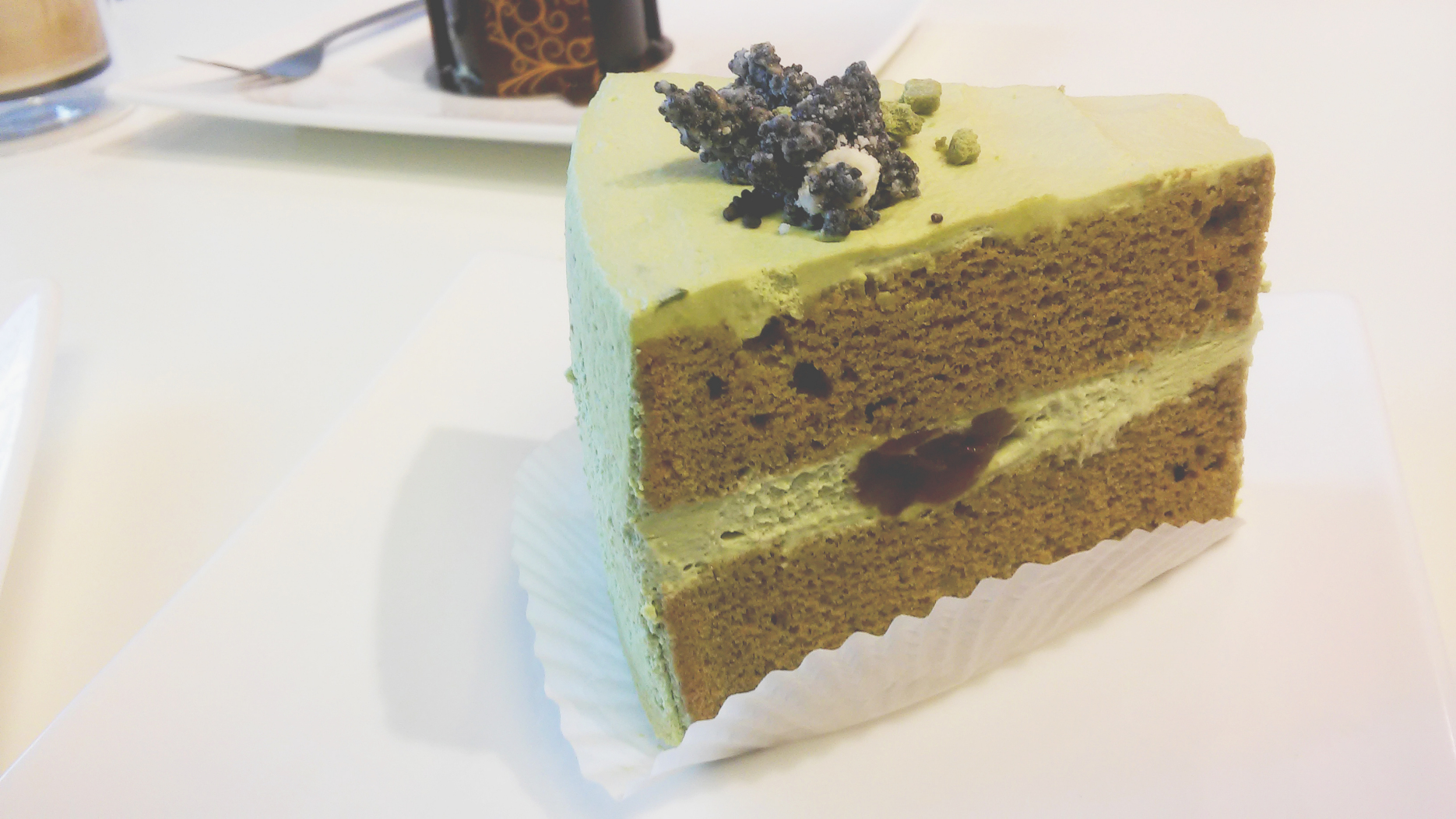 The chocolate cake was also really delicious. I like the design of the cake. The golden details really complete the appearance of this little piece of art. The chocolate that coated the outside of the cake was really creamy and to our surprise, the inside was filled with whipped cream and some kind of jam.
We were really happy after eating those amazing tasting treats. As you can see, their product range really depends on the time of day and on the season.
So depending on the day, the time and your luck, you might not find the cake you wanted to eat. Yet there are enough pastries and sweets that are worth trying out. I am sure that you will find at least one thing that you will like. You just have to have the courage to try out different flavours, especially those which might seem strange and unusual to you at first, but maybe you will grow to love and grave those flavours.