A Day in Amsterdam - Part II
Stroopwaffles are a specialty of the Netherlands and I watched a YouTube video about those before, so I really wanted to try them with my friend. So we decided to make our way to the Albert Cuyp Market, the largest and the most well-known day market in the Netherlands. There is one single stall where the Stroopwaffles are sold, freshly made. Since we went by foot, it took us quite a while to get there, but it was still very nice, because we got to see the little corners of Amsterdam, where tourists usually don't spend much time at while searching for the biggest tourist spots. We passed what seemed like the residential areas of Amsterdam. I thought that the pedestrian streets were really narrow.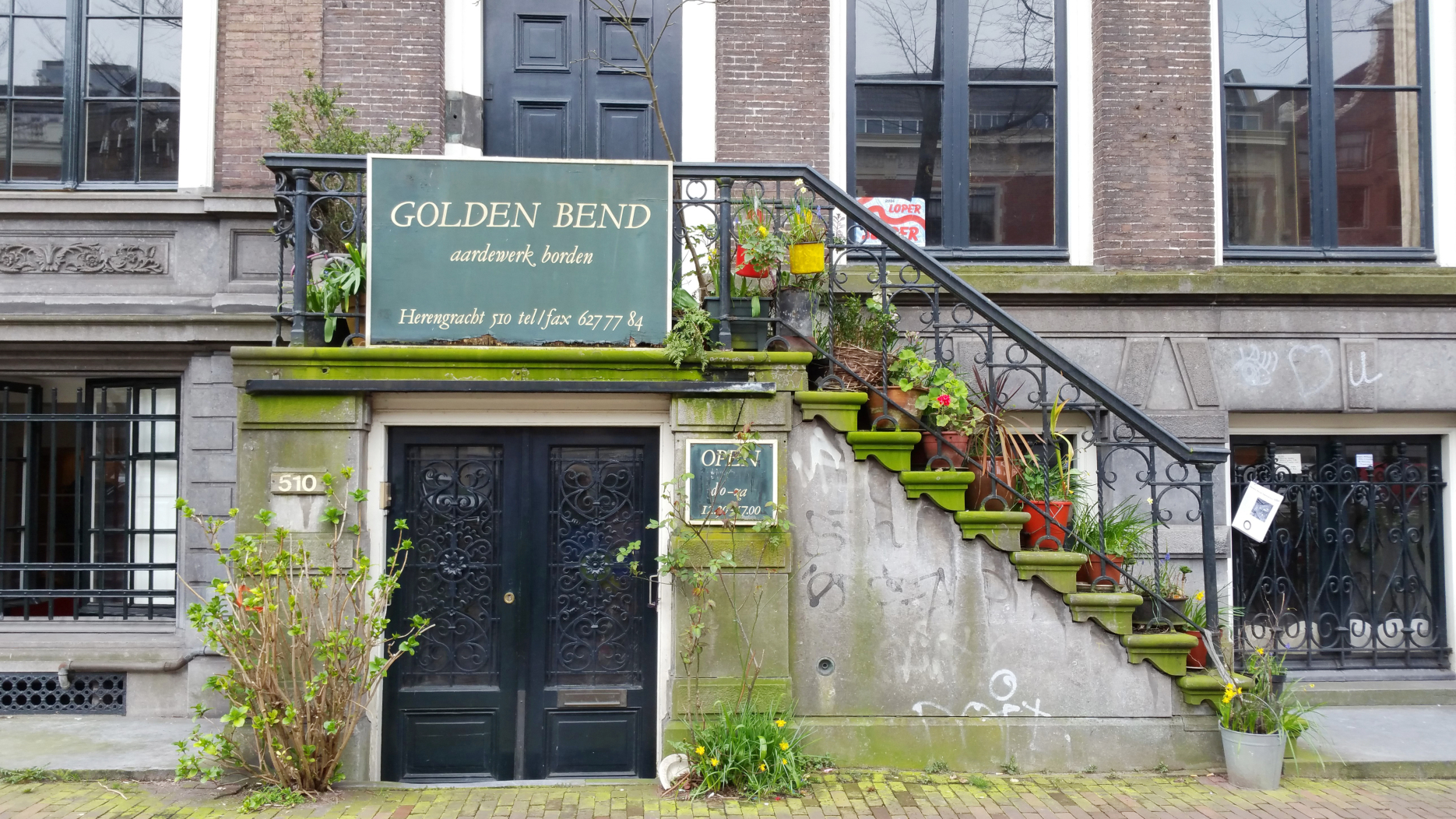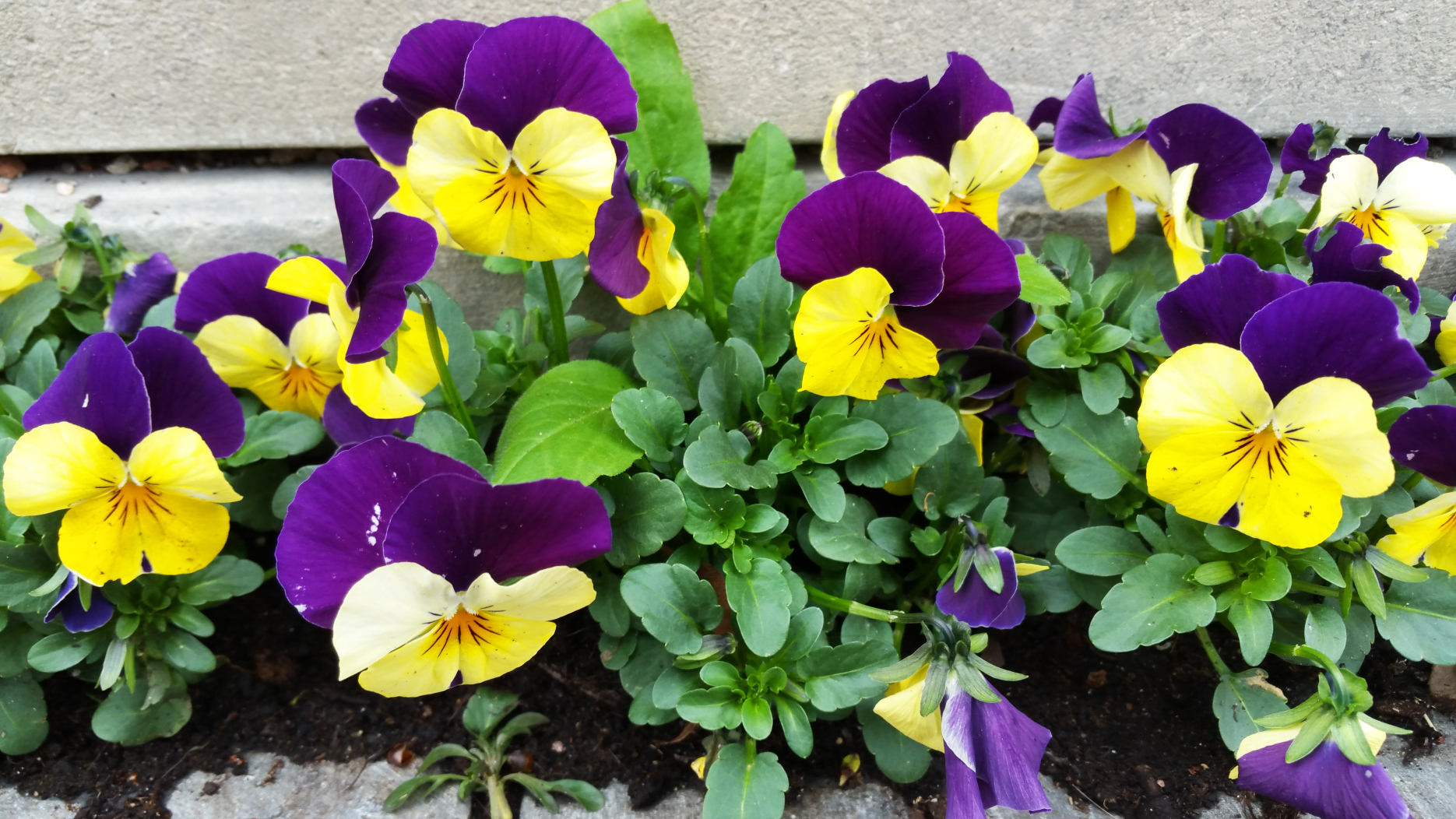 We always had to go to the other side of the street if we wanted to take some photos of the buildings. That was a little bit dangerous, because we weren't used to the amount of bicycles in Amsterdam. There are just too many and they are literally everywhere. You really have to pay attention to not to get run over by one.
Another thing I noticed is, that the Dutch really like plants. We could see flowerpots in front of almost every entrance of the buildings we passed and it looked very charming. I liked it.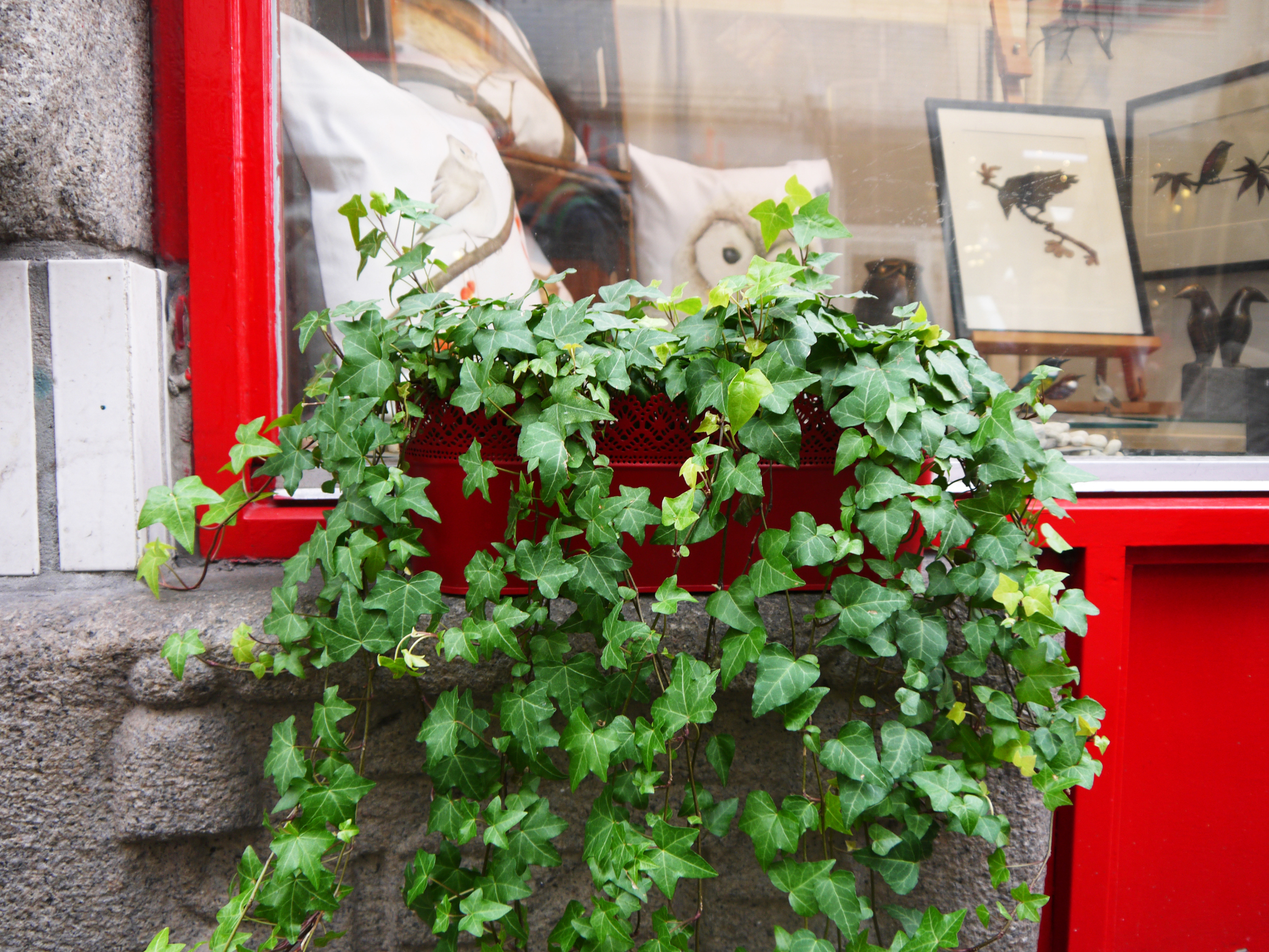 The view from the bridges is very typical for Amsterdam. It would have been nicer if the sky had been blue.
We went alongside the river and saw a lot of boats, that were either heading somewhere or looked like apartments on water.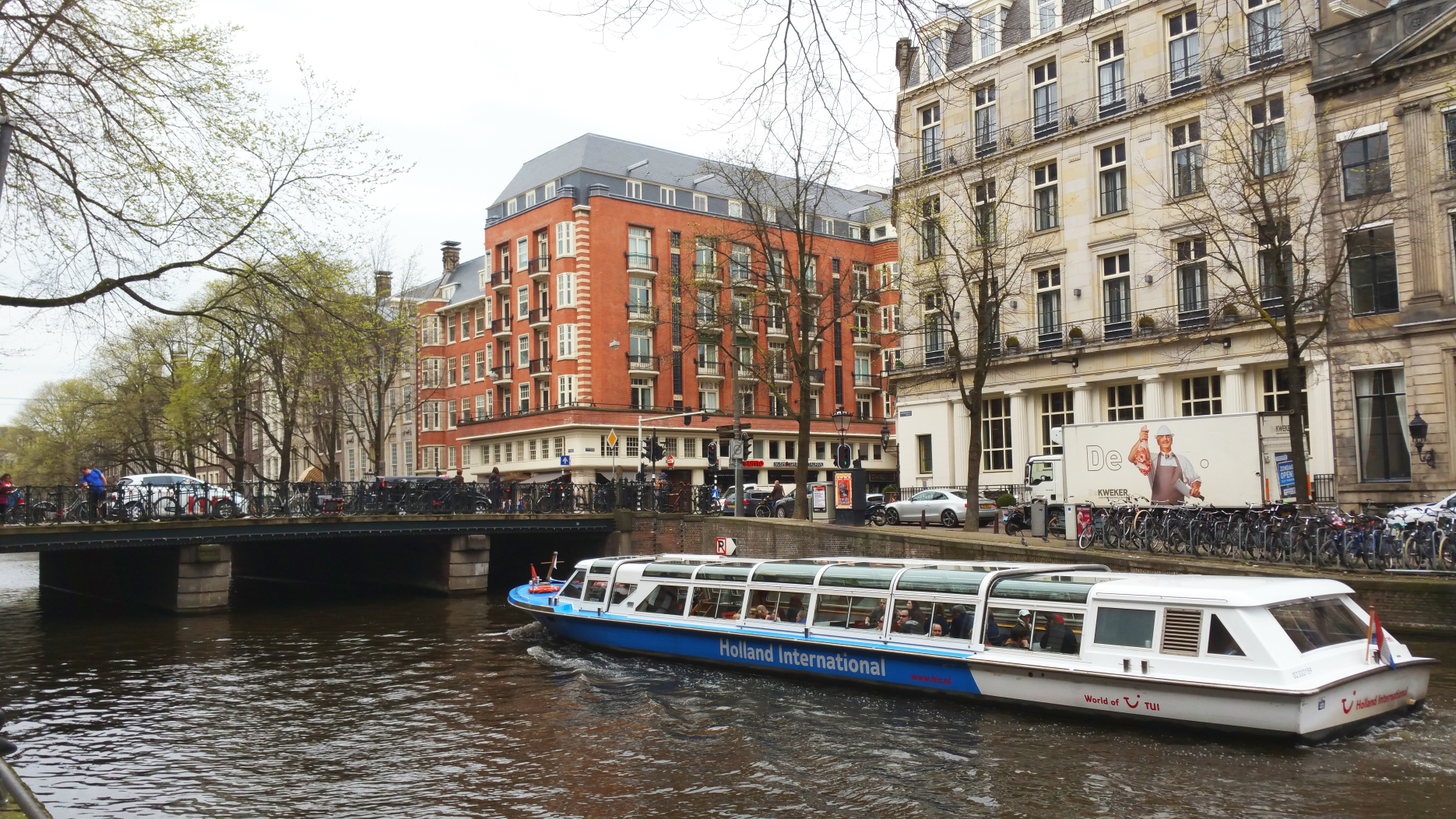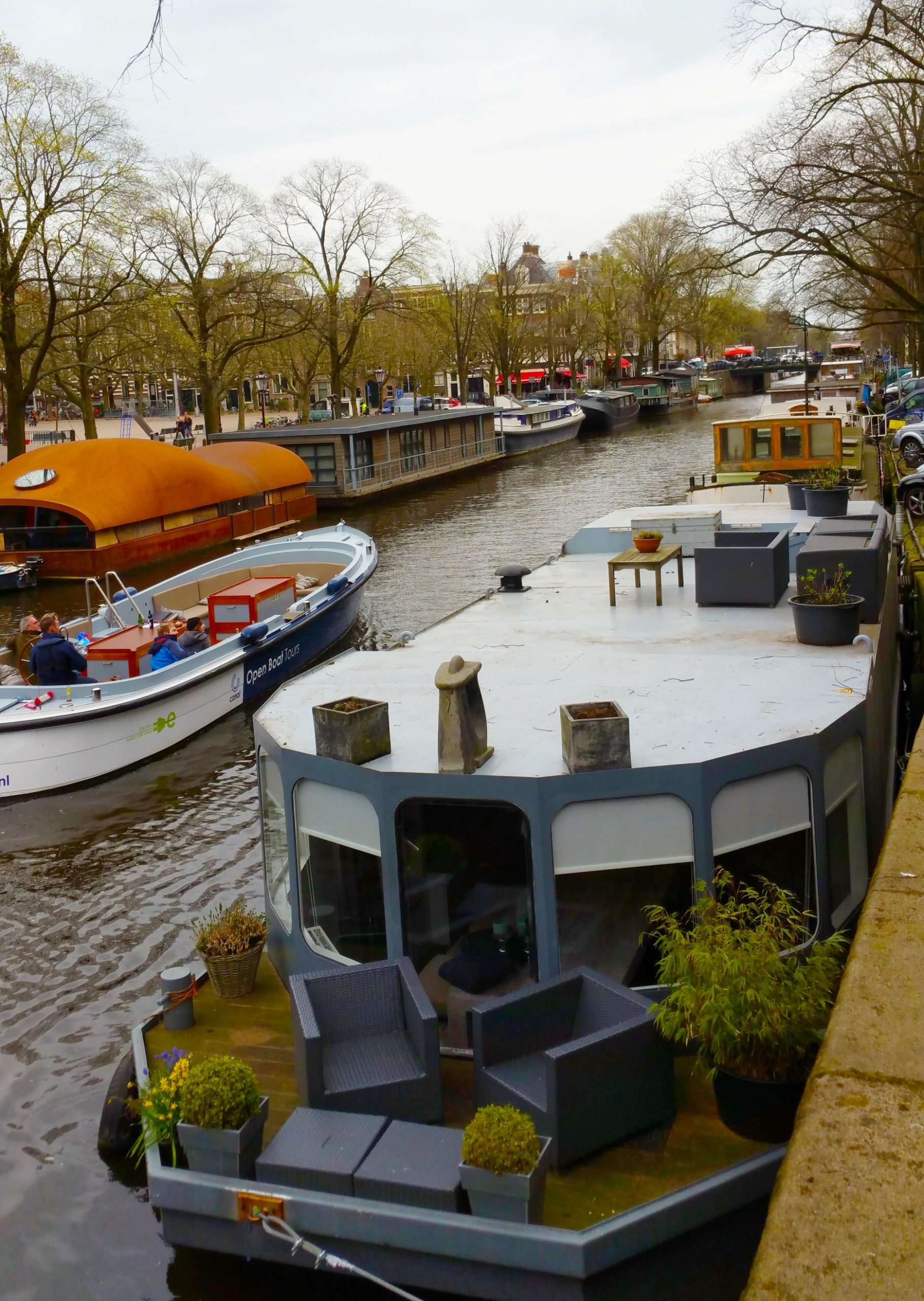 In order not to get lost, we followed the directions as my navigation app, which I introduced in the first part, instructed us to. We were kind of rushing, half walking, half taking photos, since we were afraid of running out of time.
It took us some turns before we finally reached the Albert Cuyp Market. I imagined it to be much bigger, but I had the feeling that there were just a few stalls. However it didn't really matter since we were searching for a particular stall and because it was one of the first stalls, we found it pretty quickly. It was the exact same stall I saw in the video.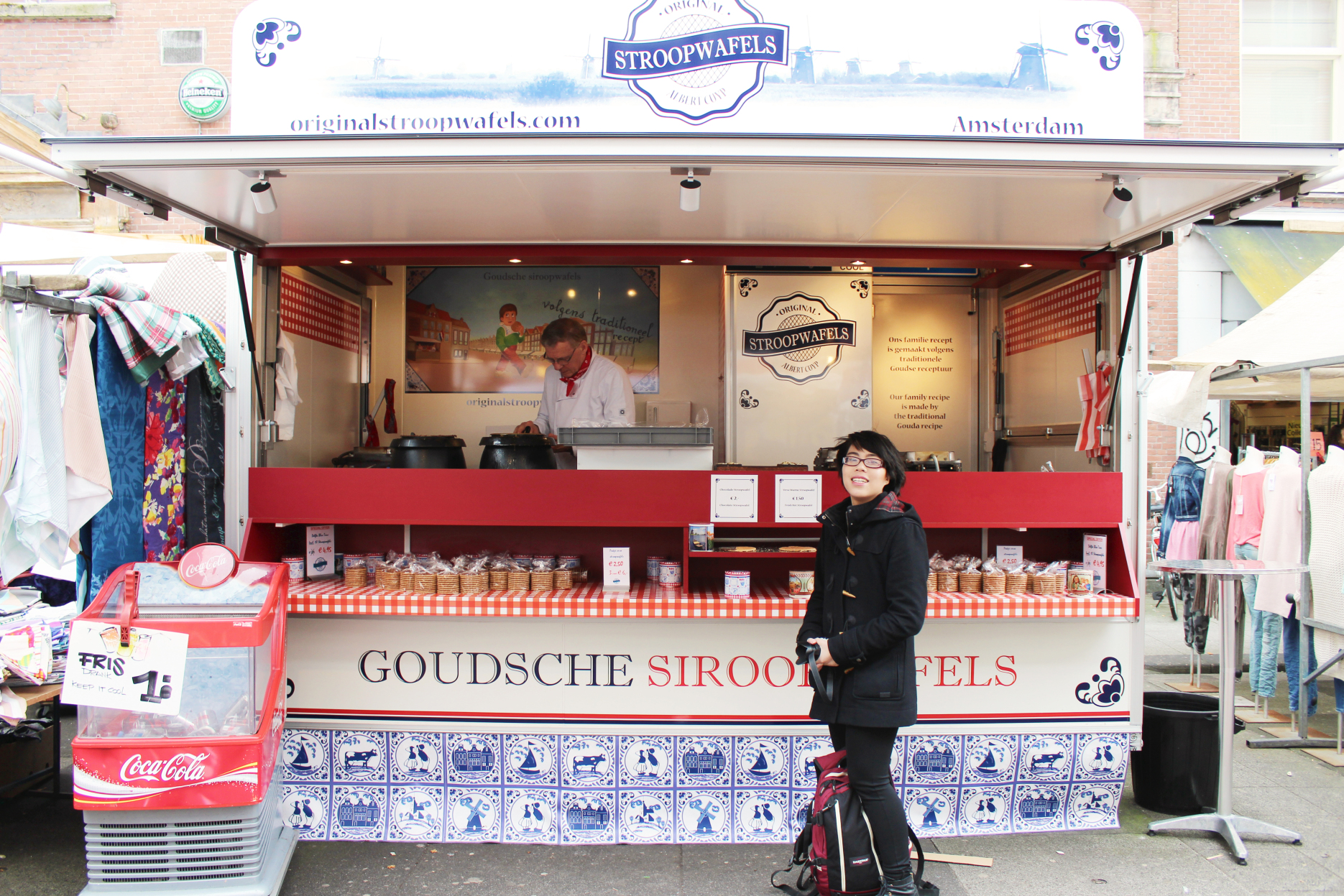 Stroopwafels are made out of two very thin waffles which are filled with caramel. You also have the option to get one with warm chocolate sauce on top. The vendor was an older man who seemed really nice. My friend and I both chose the version with chocolate and while he prepared the Stroopwafels, we of course took our time to take some photos for my blog.
I think I have never eaten such delicious waffles. The freshness of the warm delicate waffles with the caramel in between and the chocolate, everything was very delightful. I should have eaten two of those.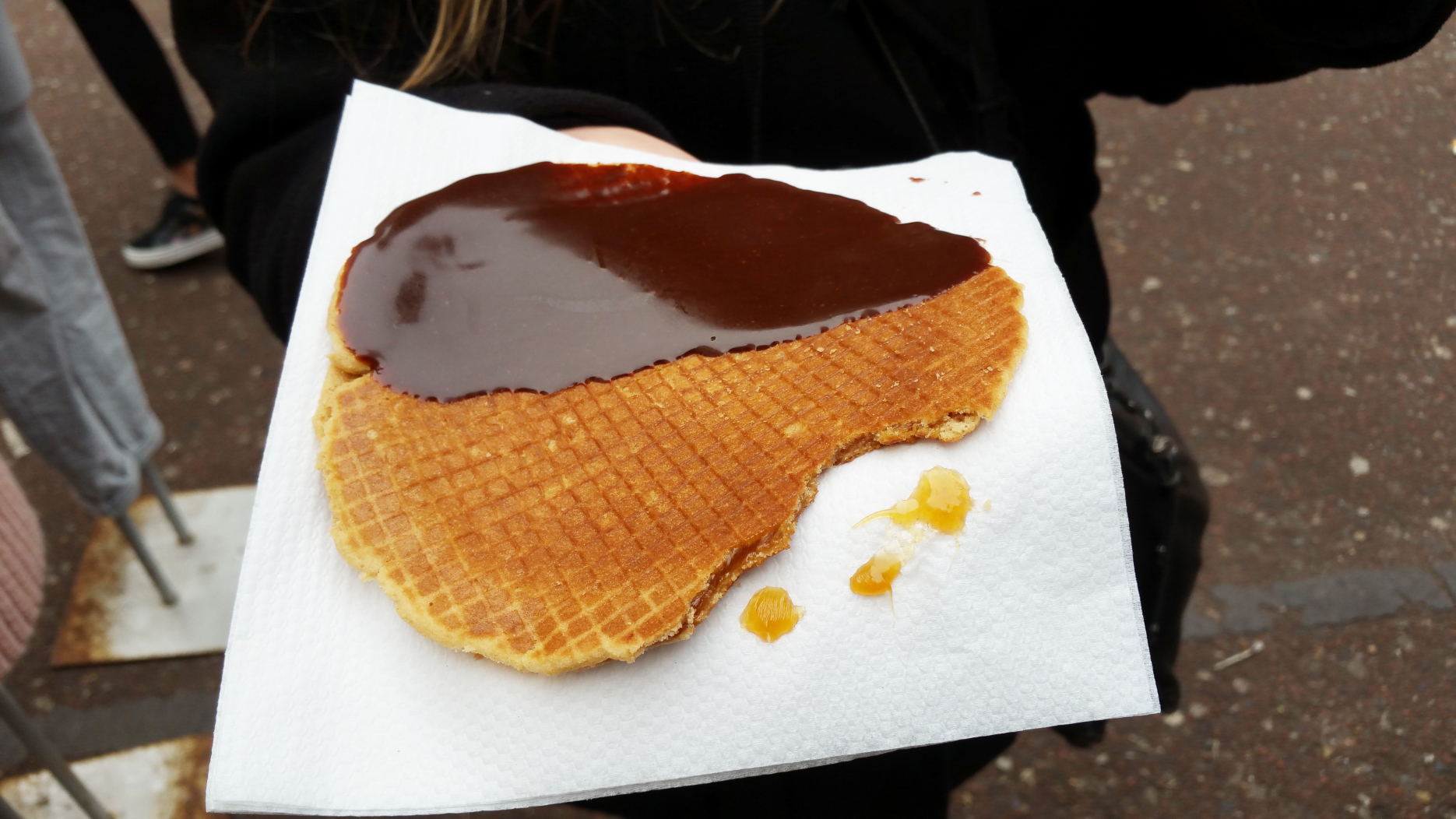 If you ever get the chance to go to Amsterdam, you really have to try freshly made Stroopwafels. You can get readily packaged products in every store in Amsterdam, however nothing can win against those warm and fresh ones. After we finished, we looked around the market. It seemed that the market is divided into different nationalities with stalls that sold different kinds of food and of course there were also the souvenir vendors you always see in every touristy area. I was looking for a key chain as a souvenir for myself. I made it a habit to buy a key chain whenever I travel to another country. It reminds me of the exact moments before and after I bought it. So it's a memory keeper.
Another thing we wanted to try that day were Dutch french fries, also called friet, patat or Vlaamse Frieten. The Dutch are known for their fries and they usually eat them with mayonnaise. We saw several stores and restaurants on our way to the flowermarket, but we weren't hungry then. However after eating the sweet Stroopwafels, we were ready for a more hearty meal. So we left the Albert Cuyp Market and decided to head back to the downtown area of Amsterdam. This time we went alongside the bigger main street.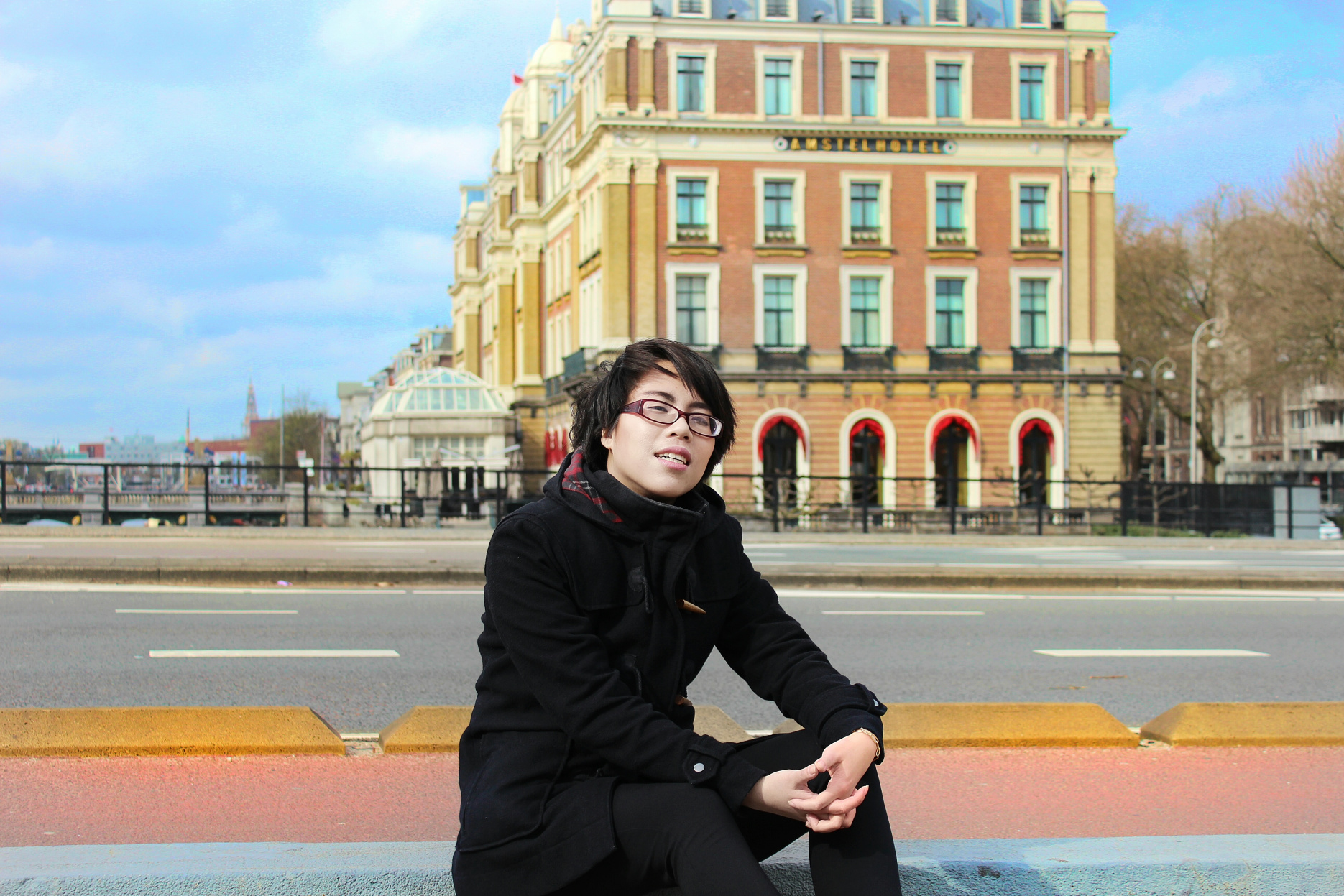 The battery of my phone had died away a few moments ago and we couldn't use the navigation app anymore. So we had to do it the old-fashioned way and read the street signs. Luckily the signs with 'Amsterdam Central' written on them weren't hard to miss. We walked quite fast because we didn't know how much time it would take us to get there and it was late afternoon already and there were just a couple hours left until it was time to leave Amsterdam.
Surprisingly, we discovered China Town in one part of the city. I don't even remember how we got there. The first thing I saw was a temple and then Asian restaurants and stores. That was quite unexpected and you could smell the food from the other restaurants. We were a little bit tempted, but we wanted to eat Dutch fries for lunch, so we kept on walking.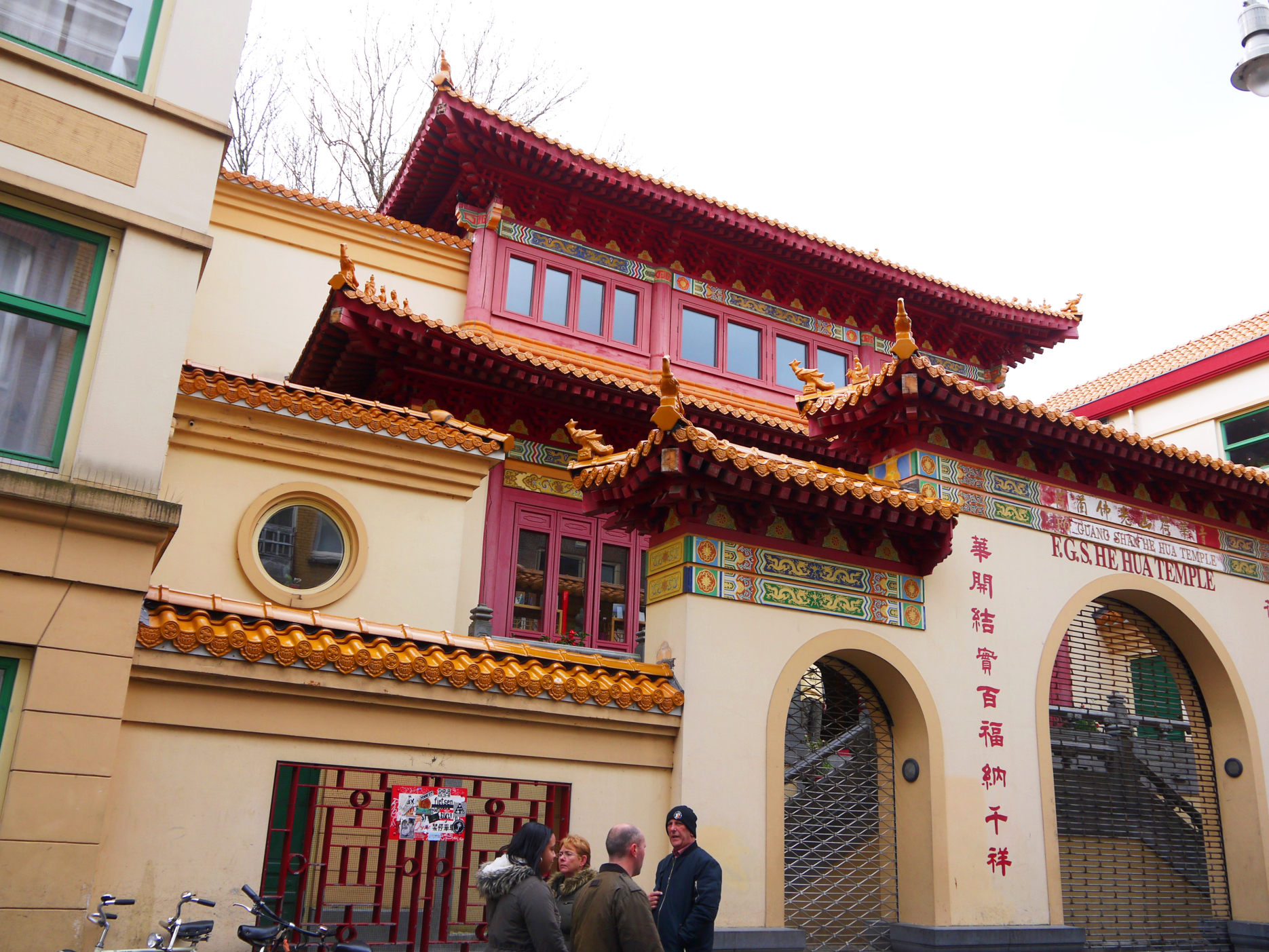 We got closer to the central station and soon we could see the building peeking through the alleys of the city. We just had to find a store selling fries. Why is it always so hard to find something if you are looking for it? There are many restaurants which sell really large pizzas and they always put the desserts on the shelves above the savory food, which we thought was quite strange, but everything looked really good. It was hard to resist.
Fries aren't that uncommon, but we weren't sure about the originality of the 'Dutch fries' of some stores. That was why it took us some time to decide on a store to enter and to eat at.
The Dutch really have many different kinds of sauces to go with their fries. We chose the cheese sauce and paid both for the fries and the sauce. But it was more the artificial kind of cheese which wasn't quite my taste.
We saw two plastic bottles on our dining table and my friend got curious.
She found out that one had garlic sauce inside and put some on her fries right away since she really loves garlic. It turned out that that sauce tasted much better, so I too, ate the rest of my fries with some garlic flavour. We still had a little bit of time after that, so we wandered around in the area and were often reminded of the fact that Cannabis is legal in the Netherlands, because wherever we went, we could smell it.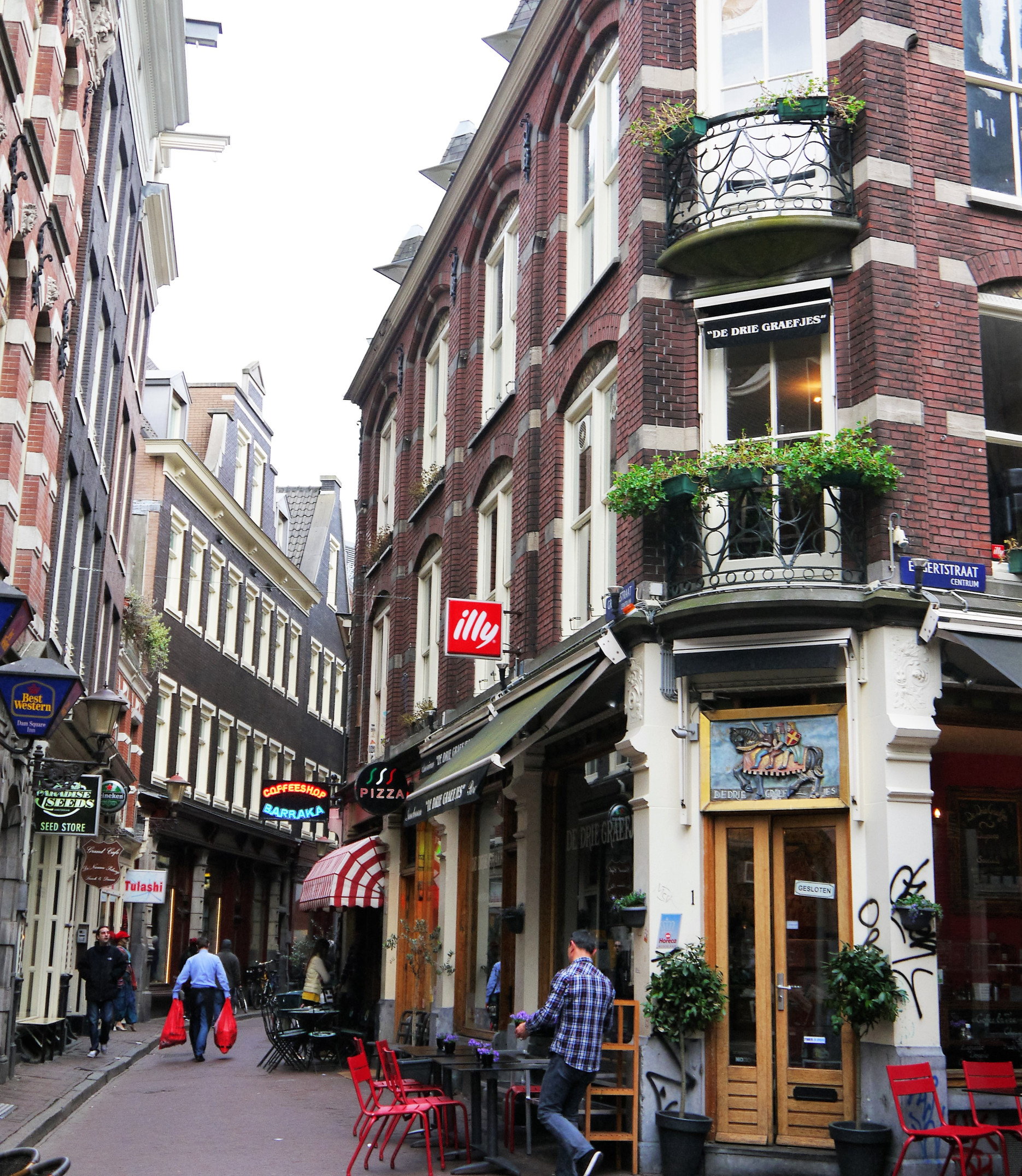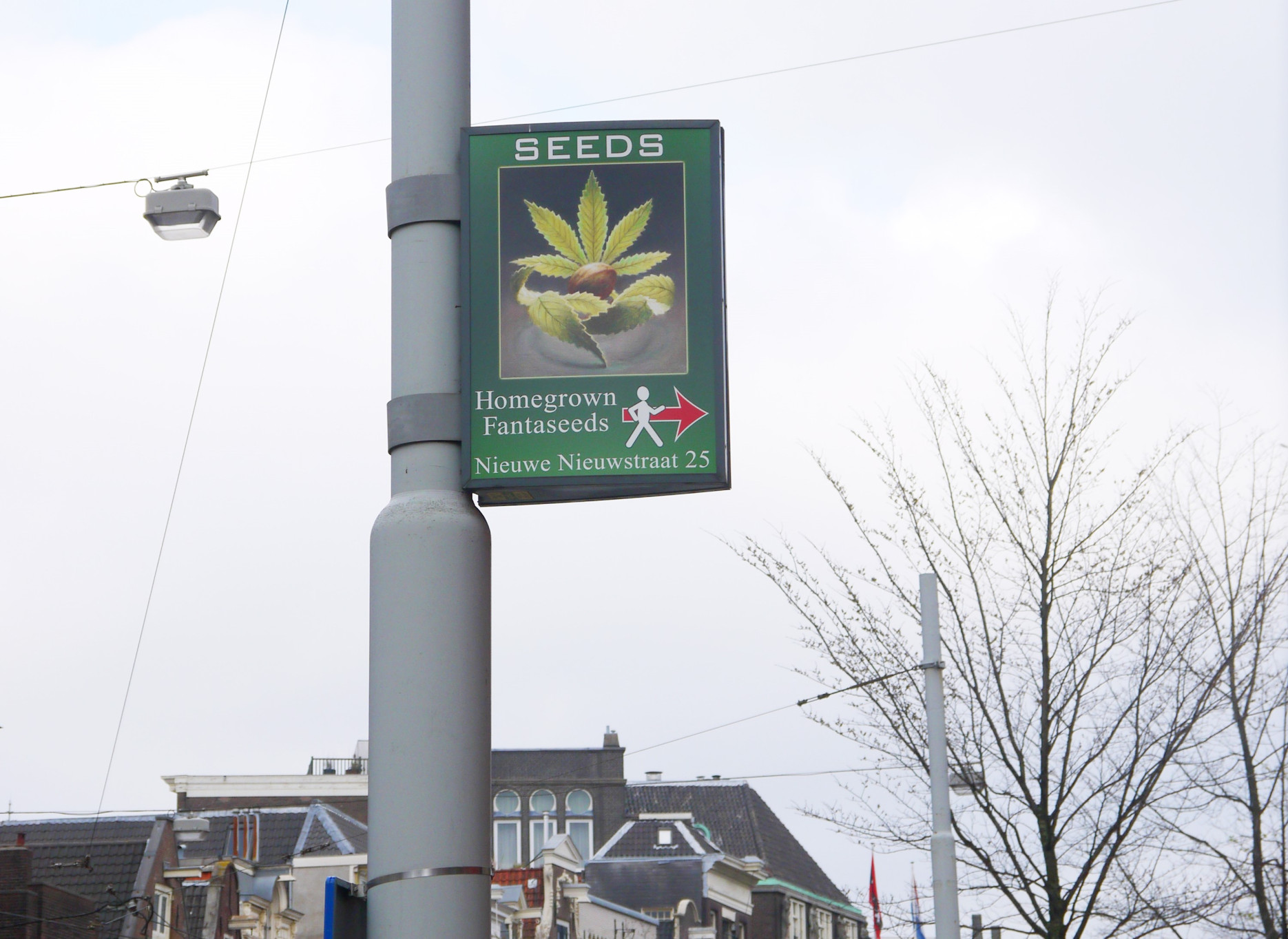 People were sitting at cafés smoking it, signs showed you where to buy it and stores sold Cannabis flavoured candies and drinks. I really hoped that I didn't inhale enough to get high. If you don't want to get you nose assaulted by that smell, you probably should avoid the downtown area of Amsterdam. At least I now know that Cannabis smells like that. I encountered the smell several times in Germany already, but I never knew, that it was that stuff.
I still wanted to buy some tulips for my mother, however there wasn't enough time to go back to the stores. So I hoped that there would be a flower shop inside the main station.
Even though it was cloudy and rainy the whole day, it slowly cleared up a litte. Why didn't it clear up while we were still taking photos on our way here?! At least I got some pictures of the station with a blue sky.
There was, however it was much more expensive and there weren't many options to choose from. I bought some anyway because I didn't know whether I will have the chance to come back to the Amsterdam again in the future. It's not like it's too far away, but life sometimes doesn't go the way you want.
We caught the train to go back to our bus stop then. Luckily there were some benches which made it more comfortable to wait. On the way back we got a place in the bus with four seats and we could stretch out our legs and feet which were incredibly sore. We run around so much the entire day that our feet hurt even though we were sitting. We were really exhausted, but it was a good feeling.
We discovered so many new and beautiful things during one single day, it was really satisfying and a good change from university and all the responsibilities that come with it. We intended to buy a lot of things in Amsterdam. However, the only things I ended up with after that day, besides the food, were the tulips and jars of mustard for mother and a key chain for me.