Wonder Waffel - Waffles in Düsseldorf
I noticed, that I don't usually go out to eat waffles. Whenever I eat those, it is always homemade by friends or by myself. However this time two of my friends wanted to check out this waffles store they apparently found a few weeks ago while being lost in Düsseldorf. Originally, I didn't intend to go with them, but somehow they convinced me to come along. This time we needed the navigation app on my phone to find it. It turned out that they originally had planned to go to another store with a similar name, but my app guided us to Wonder Waffles, located on the Liesegangstraße 16 in Düsseldorf. Even though this store is located on a street which we pass by quite often, we have never noticed this store there before, since the location is actually not that lively either, rather quiet.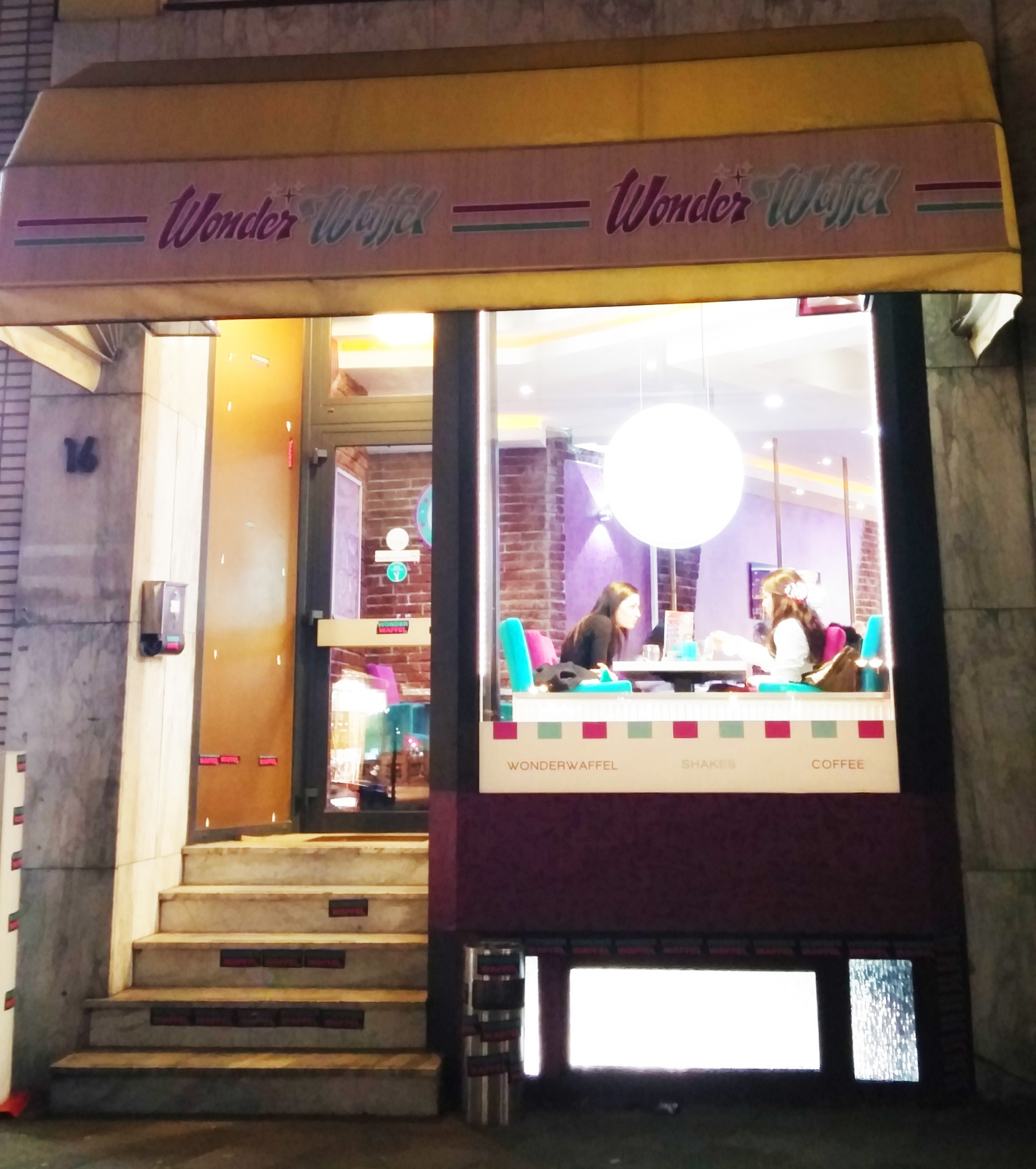 Shop hours:
| | |
| --- | --- |
| Monday, Tuesday, Wednesday, Thursday | 12:00 – 22:30 |
| Friday, Saturday | 12:00 – 23:00 |
| Sunday | 13:00 – 21:00 |
I have never heard of this waffles store and at first, I imagined it to be a normal café where you can order normal drinks and dessert, so I didn't expect that much, to be honest. I think the first impression of the store that I had, was that it looked pretty cool.
I don't use "cool" that often, at least not in blog posts, but I can't think of another word to describe it. If you look at the interior design, it can be a little bit overwhelming at first sight, because it is kind of unusual.
The store's interior design is quite colorful and interesting and the walls and the tables are decorated with different pictures and posters. Wherever you look, you see something different.
The design was not the only thing that was overwhelming. It took us quite a while to understand the menu/the concept which is similar to that of Frozen Yoghurt stores nowadays. In the end we asked the store clerks to explain it to us. They were really nice and cool people.
As you can see in the picture below, you can either get a waffle or a shake and you can customize those to your liking.
The first step is to choose a sauce for your dessert, then some fruits and toppings. If you follow these steps, it will cost you 4,50 Euro.
Then you can choose special toppings, which are bits of sweets of well-known brands like Mars, KitKat, Raffaello and so on. If you get those, you will pay 5,10 Euro.
My friends didn't get the special toppings, however they got a scoop of ice cream and paid 5,50 Euro for everything.
The store looks small from the outside, but it actually has two floors, one floor is underground and we decided to eat there.
After you pay for your order, they will prepare your waffle and then they bring it to your table, which I think is nice. A special thing they do is asking for your name when you pay, to write it on your plate with chocolate and sprinkles later. I think it's a cute idea and it really personalizes your dessert. The two pictues below were taken by my friend, because mine were to dark and I didn't like them.
There were a few tables underground, but only one was occupied. Since they don't have any windows down there they also light up the space with lanterns attached to the walls. I like those kinds of lanterns and it creates a nice cozy atmosphere. It also felt kind of more private, because there weren't that many people there. What I also liked very much were the armchairs, which were quite comfortable. I mean, I usually don't come across armchairs, when I eat at restaurants.
Of course we had to take photos of our food before eating. Since the light was very dim there, it was difficult to get good photos. I tried my best, but if you want good photos, I recommend going there during the day and sitting on the top floor, next to the window, obviously.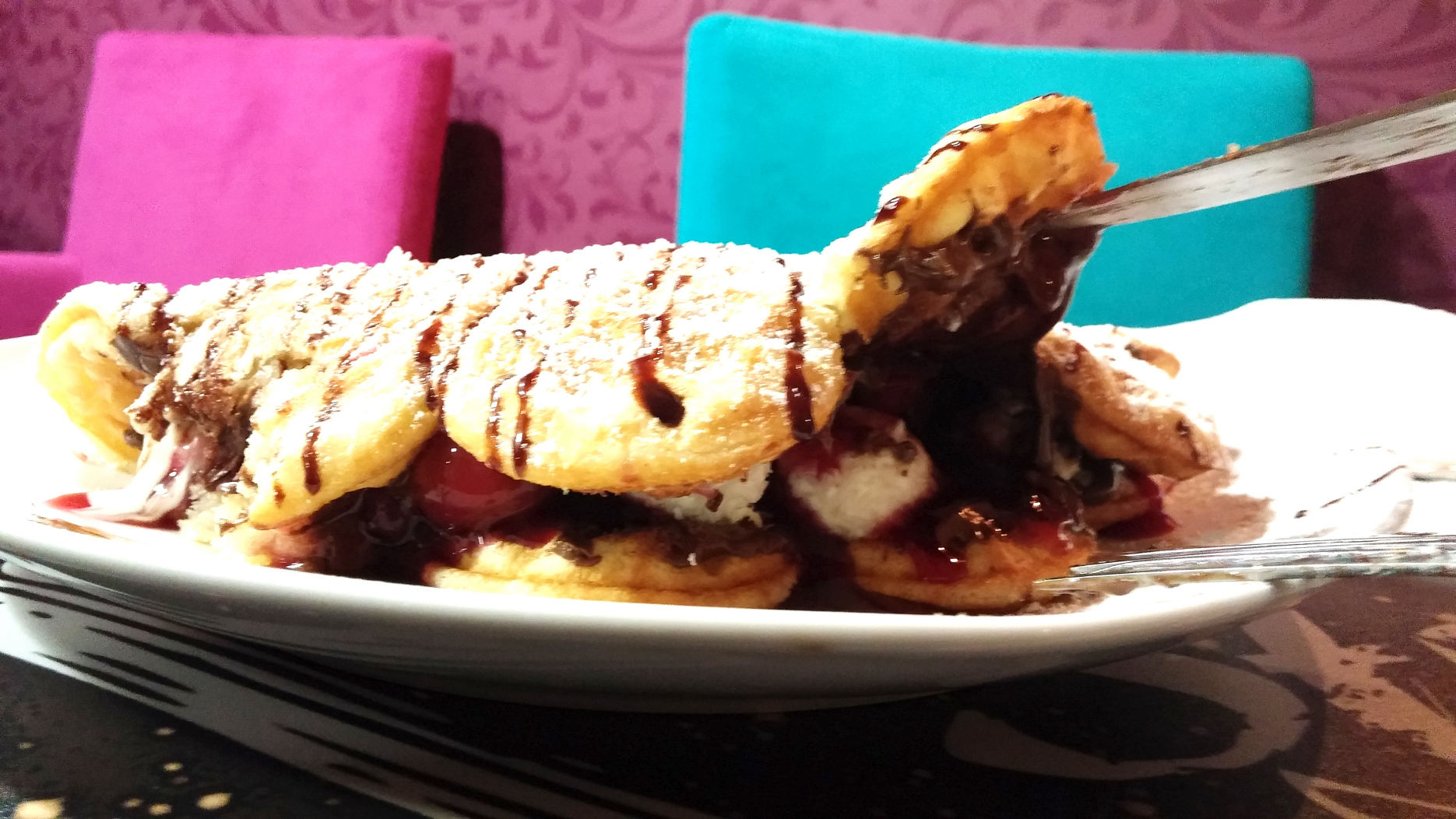 Then it was time to try our waffles. I chose mine with sweetened cherries, creamy chocolate sauce and bits of Raffaello. I expected to be overwhelmed with sweetness, but the sweetness really just came from the sauce and the toppings. I assume that they didn't sweetened the waffles which probably would have been too much. Maybe I am just a sweet tooth and now can't really tell the difference between sweet and not too sweet. For other people it might be too much, but you should just try it out yourself.
The waffle, the coconut flavour of the Rafaello bits and the creamy chocolate complimented each other quite well. The cherries added a nice sour twinge to it. My friends seemed happy with their choices as well.
As it was getting darker, the store also got busier, which we didn't really notice because apparently many of the customers prefer to eat on the top floor. So the more spacious underground floor was a good choice. There weren't many people, it was quiet and relaxing, since all of the action took place above us.
At home I learnt that Wonder Waffel is indeed quite popular and we were lucky that we came at a time when it wasn't that busy yet. Apparently you usually have to make reservations beforehand, if you want to have a seat to sit and eat, because it really can get packed inside the store.
I think it is a nice idea and since I don't have a wafflemaker with me in Düsseldorf, it was nice to go out to eat dessert once in a while. I really recommend this store to people who prefer someone else to make some personalized waffles for them and to people who would like to experience a little bit of a more different café atmosphere.