YAKI-THE-EMON: Okonomiyaki in Düsseldorf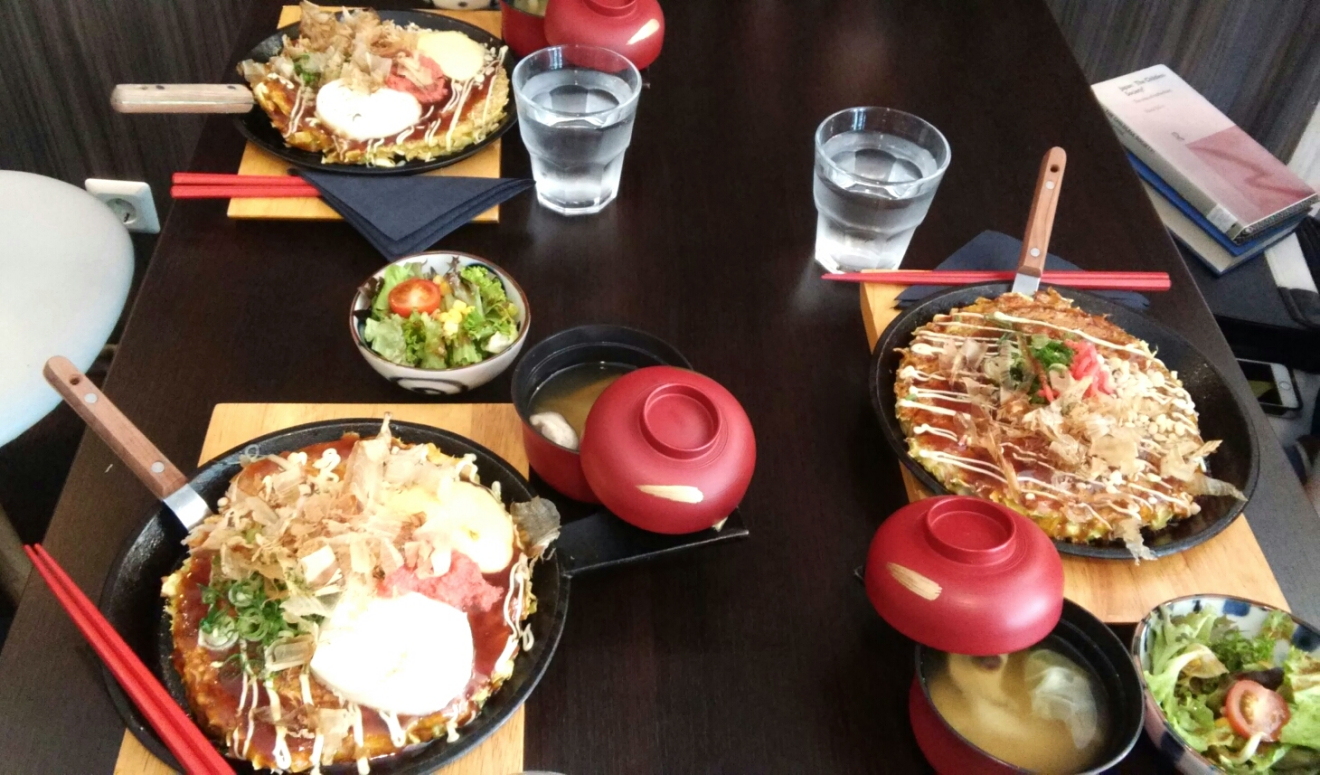 Unfortunately this semester is really busy and I don't really have time to do any other things besides the stuff I have to do for university. There are still some subjects I would like to write about, but these have to wait.
If you follow my blog regularly, you might know by now that I really like to eat and try new dishes.
During the vacations I discovered through a website that a new Japanese restaurant has opened at the beginning of this year. Maybe I have to go around more to find more stores to check out. Somehow there is always something new to be discovered.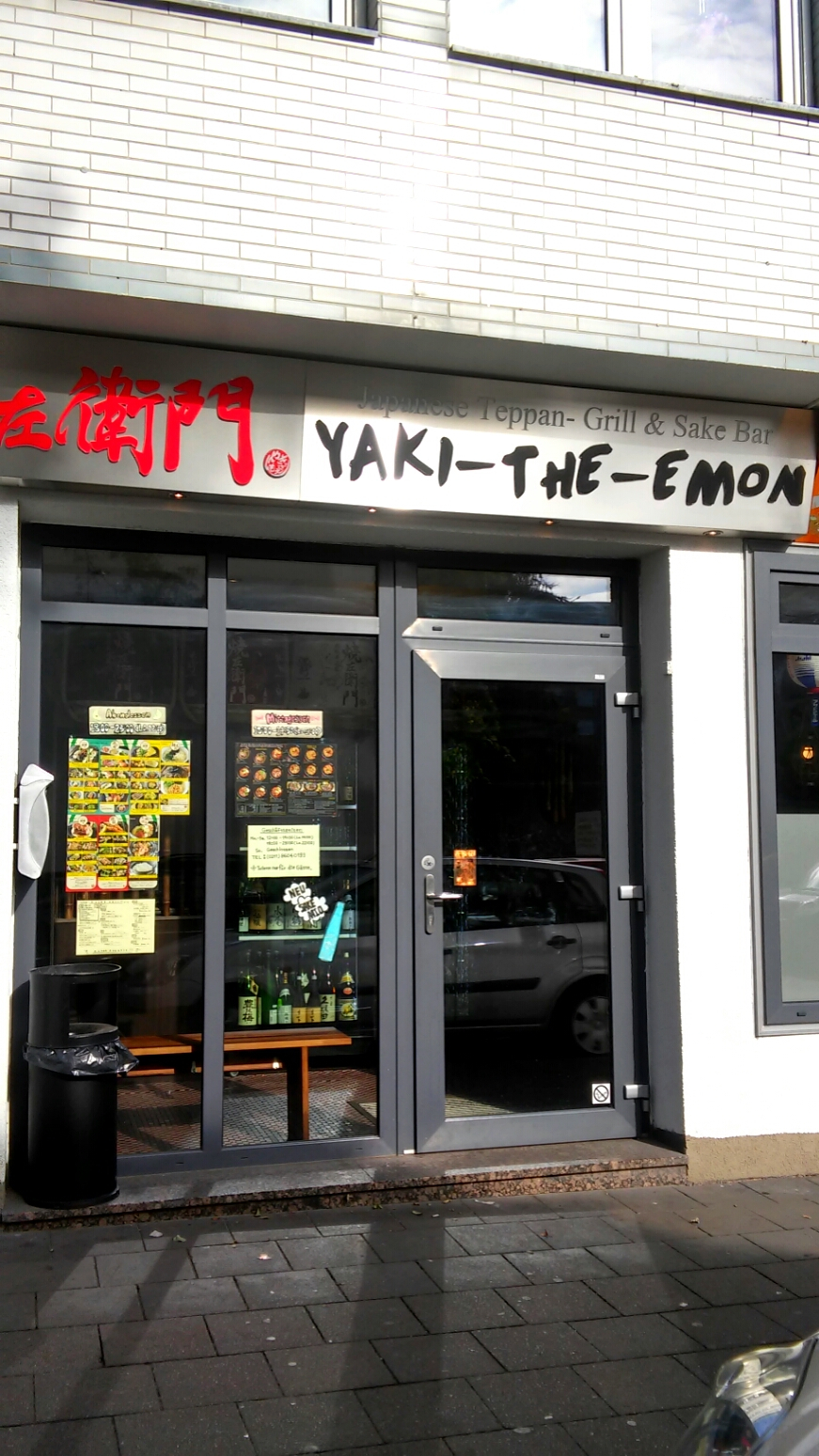 A few weeks ago, I decided to eat lunch at this restaurant with a few friends. It is a restaurant that specializes in making Okonomiyaki and since we have always wanted to try it at least once, we went there on a Friday after our lectures. The store has strange opening and closing times. You can't go there during the afternoon and the menu varies depending on whether you go there during lunchtime or whether you go there to eat dinner. During lunchtime they serve Okonomiyaki and Soba and if I remember correctly, you can order Sashimi and Sushi in the evening. This restaurant is also known for its Sake collection. Inside the restaurant, behind the entry, there is a big see-through refrigerator with a selection of different kinds of Sake bottles. I don't drink alcohol, so I was more interested in the food.
We decided to go there right when the store opened up, at 12 o'clock and that was a good decision because, as the minutes went by, more customers were entering. I noticed that many of the customers were Japanese salarymen who went there to eat lunch. I think it's nice that, when you are far away from home, you still get the chance to taste the flavors of your home country's dishes.
The restaurant's interior seemed very Japanese. I have never been to Japan so I don't really know what a Japanese restaurant actually looks like, but I think it is safe to say that, for me, the restaurant emits some kind of Japanese atmosphere. It is very nice and comfy.
When you enter the restaurant, you will be greeted by the waitress with the typical phrase irasshaimase. Even though I knew about this custom, it was still surprising or rather strange to hear it because I hadn't experienced it myself until that day and since they greet each person entering the restaurant, you will never miss a moment of people entering.
Inside the restaurant there were mainly western styled tables, yet there were also Japanese styled seats, where you sit on the ground, if I am not mistaken. I didn't have the chance to look at it more carefully and I was too shy to run around taking photos, even though we did ask for permission. Later on, there were too many people inside so that I gave up on taking photos, because I didn't want to disturb the other customers.
The waitress showed us to some tables and we chose to sit in a quiet and comfortable little corner, which was also a little bit separated from the other tables thanks to some paper walls. She brought us the menus and, to our surprise, a full bottle of iced water. This was the first time I ever got a free bottle of iced water in a restaurant. I don't know whether this is a common practice in Japan – I saw some videos on YouTube that showed some restaurants that did that – but in Germany you don't really see that. At least I haven't experienced it yet.
However, I won't complain, it was really nice to experience this kind of service.
It was a bit difficult to choose which kind of Okonomiyaki I wanted to eat, since there were so many choices that looked really good. I once saw a Jvlogger ordering Okonomiyaki with cheese and Mochi (ricecake) and I really wanted to try that. Fortunately they had that version on the menu, even with Mentaiko (fish eggs), so I decided to go with that.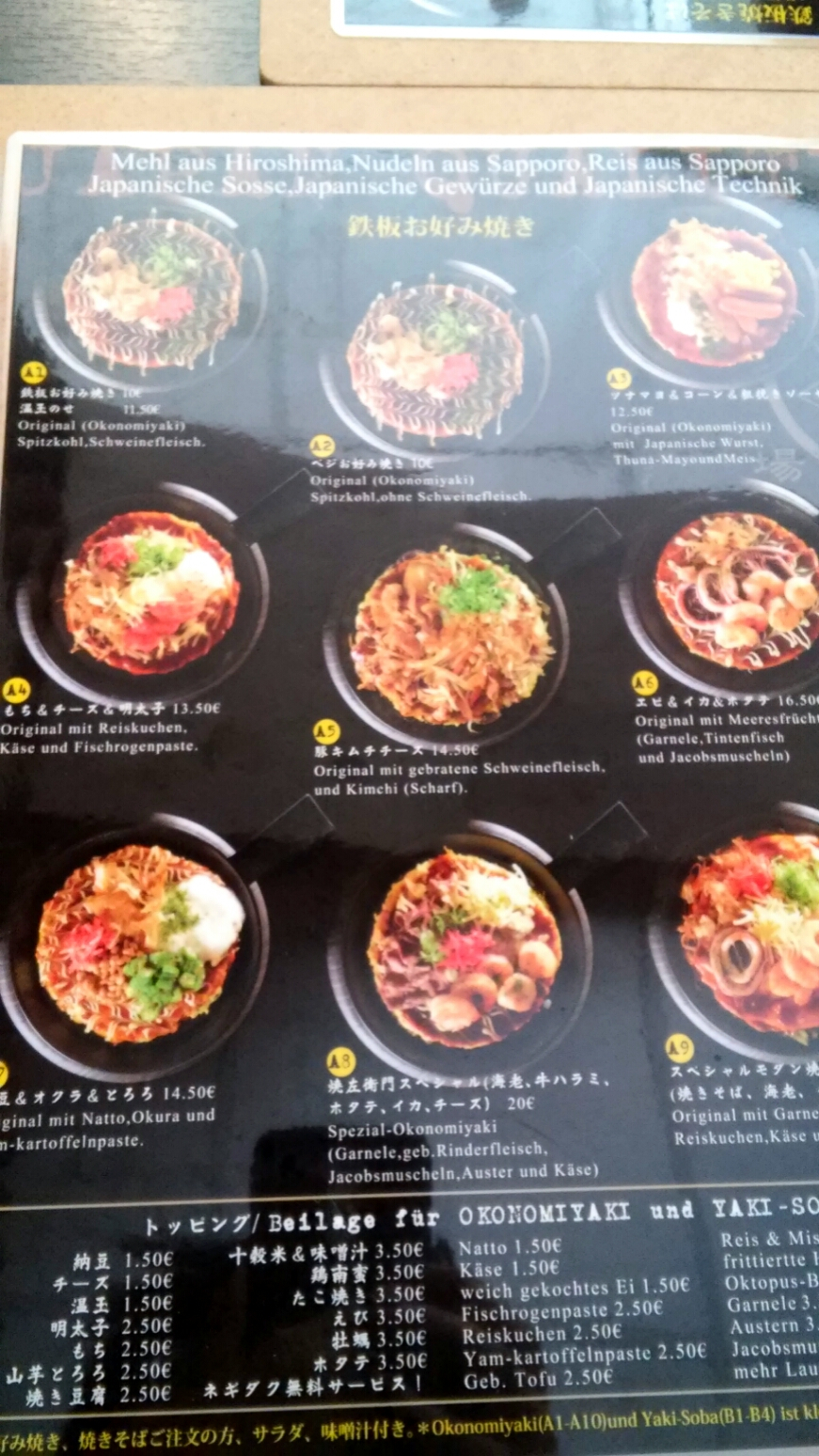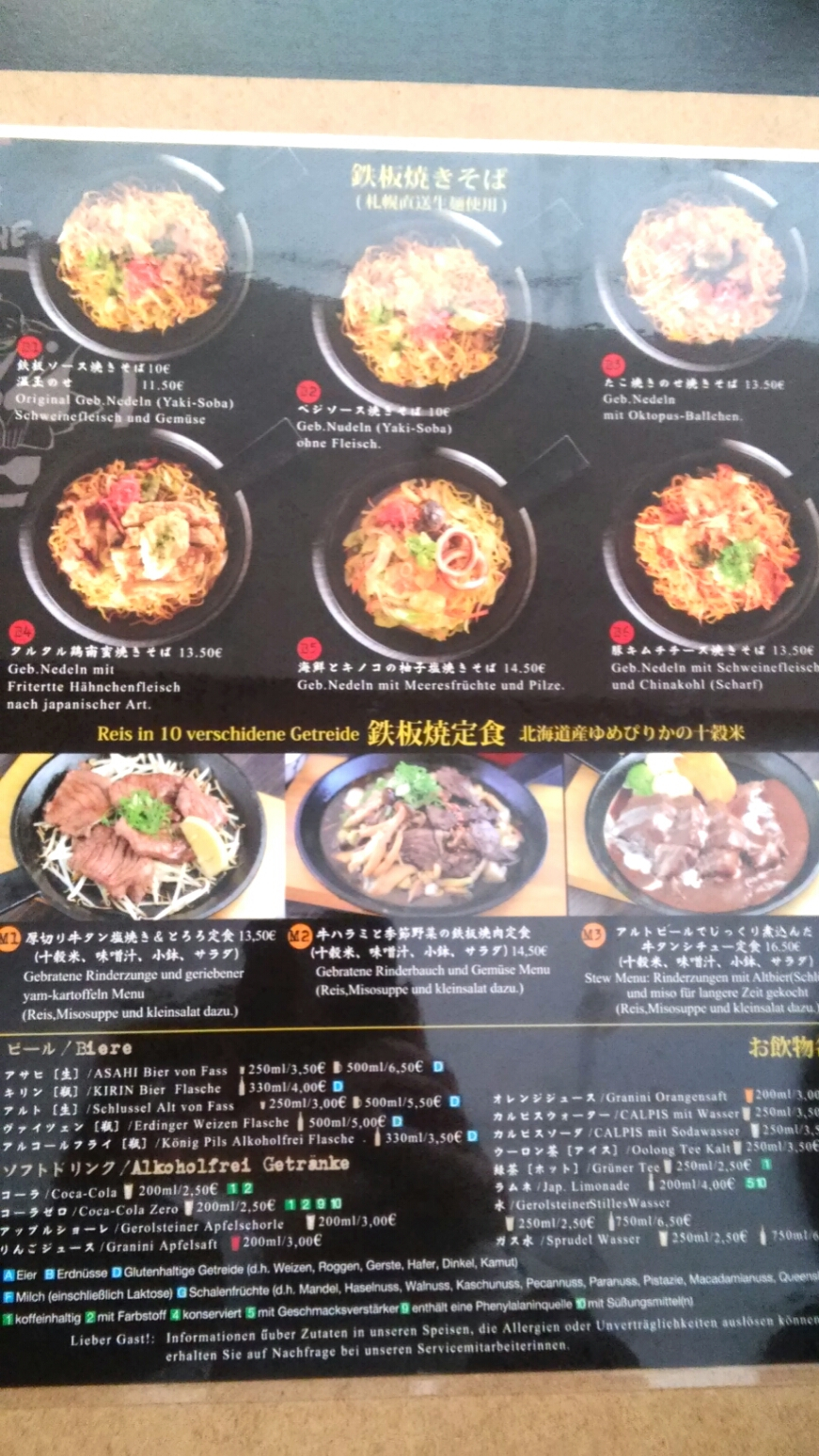 After a few minutes the waitress came out with three little bowls of Miso soup and salad. Apparently we didn't read everything on the menu. So it turned out that, when you order Okonomiyaki, you also get a little bowl of soup and a salad.
I think those were supposed to be eaten as appetizers, but we wanted to wait for the Okonomiyaki before eating those. I don't think that we waited that long for our orders to arrive. The dish is served in a little pan and with a spatula.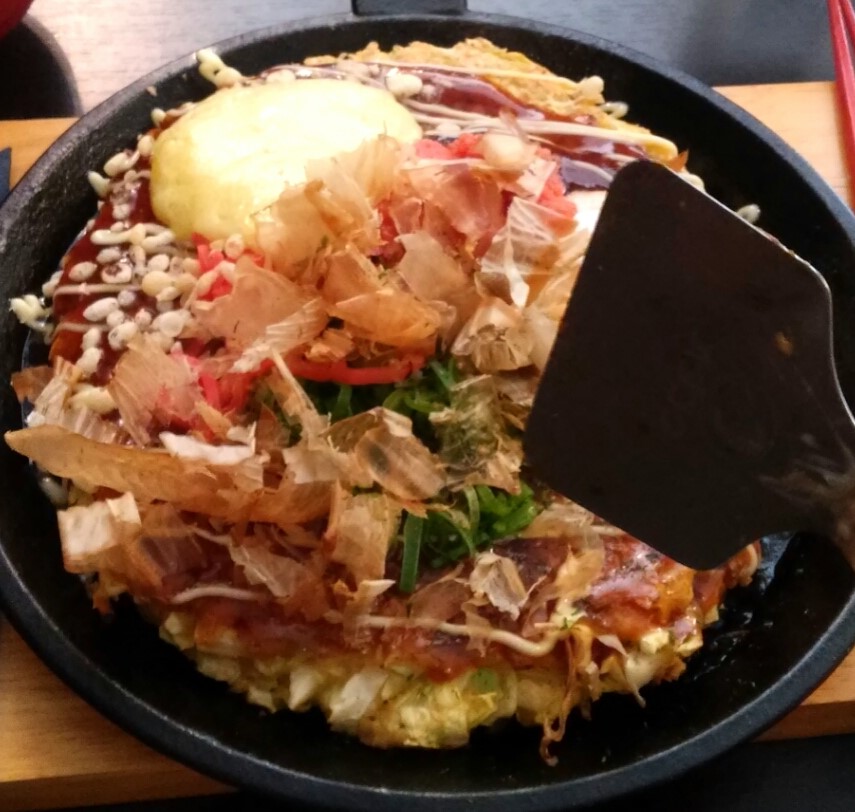 I am not sure about the right way to eat Okonomiyaki. I read somewhere, that you are supposed to cut it with the spatula and then you use the spatula to eat it. We only used it to cut the Okonomiyaki and then we picked it up with chopsticks. However the dough is soft enough that you are able to cut it with only your chopsticks, too.
It was really delicious. The Okonomiyaki is something which combines everything delicious. Depending on your version, you get meat, seafood and other kind of different ingredients. I think the main ingredients are the dough and vegetables or cabbage and the rest can vary depending on your choices. That's why it is called Okonomiyaki – because it is a dish where you can put in everything you like. Okonomi means something like "what you like" and yaki means "grilled" or "cooked". If you find a version you like, yet there is still something you would like to add to your Okonomiyaki, you can choose the extra ingredients from their menu.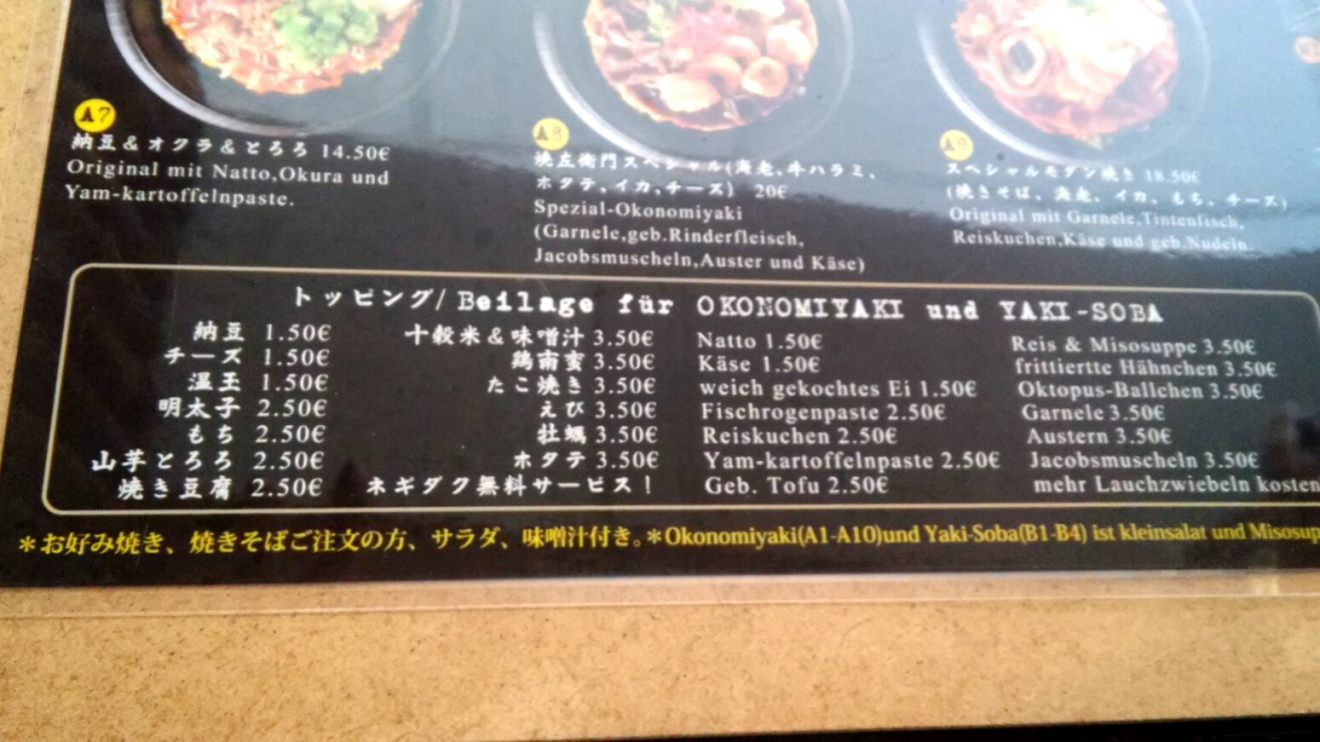 Since I chose a version with Mentaiko, it was a bit too salty for my taste. I'm more used to the saltiness of the Mentaiko pasta sauce. It turned out that the Mentaiko in its original state is really salty, so I wouldn't recommend this version to people who don't like to eat salty dishes. There is also a vegetarian version with cabbage only, in case there are people out there who don't eat meat and don't mind the fish flakes.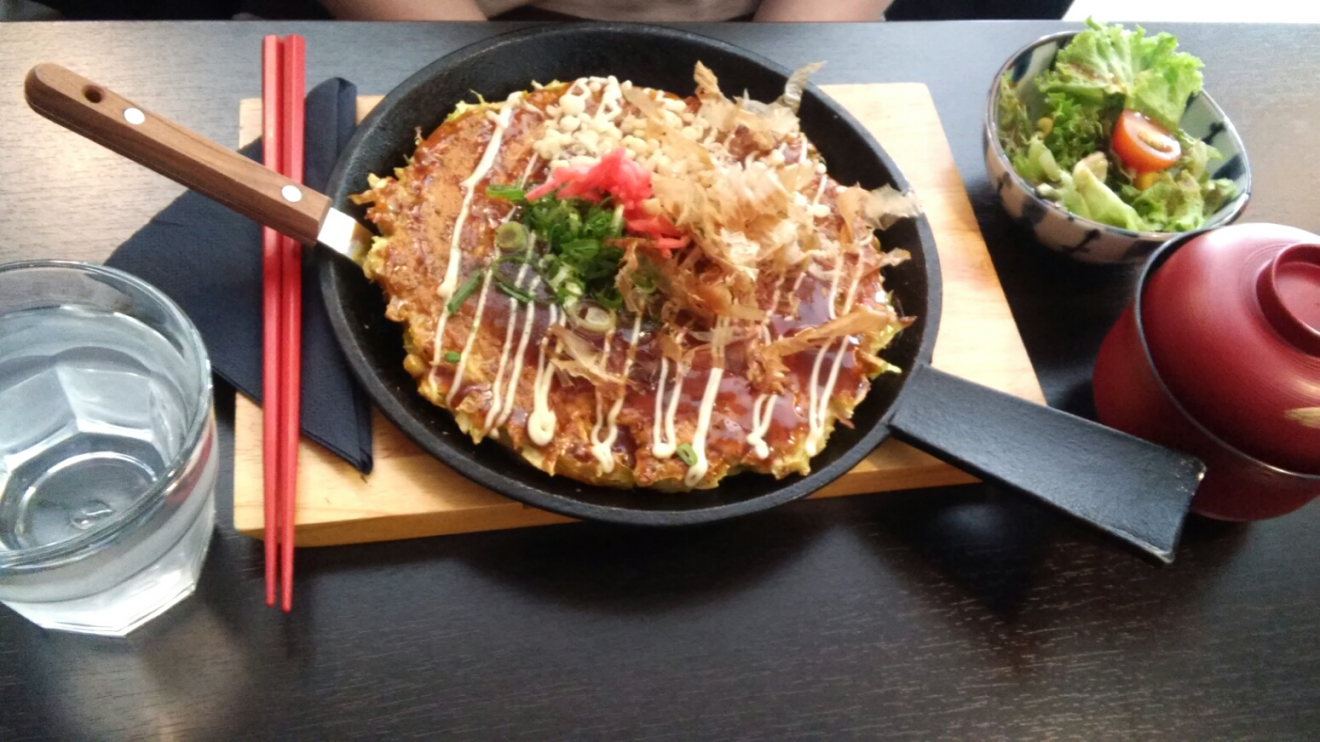 The top of the Okonomiyaki is usually covered with fish flakes (however it doesn't taste fishy) and there are spring onions, ginger, Okonomiyaki sauce and Japanese Mayonnaise. Did I mention that I really like Japanese Mayonnaise? It is different from the Mayonnaise we have here in Germany, but I don't really know what the differences are. It doesn't taste that heavy and it seems like there is a little bit less fat, however I'm not sure. I just know that I prefer Japanese Mayonnaise and it seems like I succeeded in convincing one of my friends that it tastes amazing and now she is hooked, too.
At first glance, the prices seem expensive, but if you consider the free water, the Miso soup and the salad and the size of the Okonomiyaki, it is very reasonable. I have never been so full after an order of one single item of a restaurant's menu.
The staff is really nice. Now and then the waitress came over to our table to ask whether everything was still alright, whether we were satisfied with the meal and she took away our empty dishes. She seemed to be a very sweet person. We felt quite comfortable there.
All in all, I really recommend this restaurant to people who want to eat Okonomiyaki, to people who want to try something new, or to people who just want to experience the feeling of being greeted with irasshaimase. Since Okonomiyaki is something like a savory pancake, I think it is a safe choice for people who don't really like Sushi, but still want to try Japanese dishes beside Ramen.
I will definitely go there again to try another version of Okonomiyaki.