Me, My Makeup History (Kind of) and Missha Germany
This is going to be an entirely different post than those I usually write.
When I was younger, I was never really interested in makeup. I think it changed right before graduation when I slowly began using concealer as makeup, to cover up imperfections on my skin. I think the first makeup product I ever used was Clinique's anti-blemish-solutions liquid makeup. Ever since then I have only used their products because it seemed that my skin didn't tolerate any other. I have really problematic skin. It's acne-prone and it's dry and oily at the same time.
I don't think that my surroundings know that I am quite interested in makeup nowadays. Maybe it also has something to do with cosplay. It's really fascinating when people create characters that are so much different from themselves and it is really interesting how people's appearances can change with the help of 'just' makeup.
Since I got into Korean popmusic a few years back, I was also developing quite an interest concerning Korean cosmetics. I ordered my first Korean cosmetic products from this website.
This was when I discovered MISSHA's BB Cream. I have never heard of it before, yet I ordered it because it was one of the bestsellers on this website and I found out later that it is indeed a very popular BB Cream among the consumers. I was happy with my order, but the truth is that I didn't order from this website again. My mother had placed an order a few weeks later that didn't arrive. For some reason it had been send back and my mother didn't get her money back. This was quite a sour experience. So of course I was reluctant to order from there again if there was a possiblity that I wouldn't get my order or that I wouldn't get my money back. That is also the reason why I stopped ordering Korean products for a while. I usually don't like to order things from countries that are too far away.
However this year I decided to order some Korean cosmetics products from Amazon. I had tried a sample of a cream that I still had from my last order. Since I really liked it, I wanted to get the full-sized product. It took a whole month for the package to arrive, much longer than they say it would take.
Now to the main point of this post.
A few months earlier, I have discovered that the popular brand MISSHA has opened a branch store here in Germany, in Ingolstadt to be exact. They also got an online-shop where you finally can purchase MISSHA's products within Europe very easily and you don't have to wait so long for your purchase to arrive. I finally had time a few weeks ago and decided to look through their website and of course I found many interesting things I wanted to try. I ordered quite a few things. I didn't try out everything yet, but when I have, I will post some reviews when I have time.
MISSHA Germany is still expanding their product range, so I will visit their website from time to time to see what they have in store. Another positive thing is that they sell there products at a quite reasonable price. At least it is cheaper than Clinique's products.
There are still many things I want to try out so I am happy that I can do that any time now without waiting for months.
I have already prepared some photos for my next posts which are going to be reviews of some of MISSHA's products.
I have decided to do this because I want to share my experiences and my opinions concerning these products. I think that reviews are quite helpful, especially when you are a bit overwhelmed with the product ranges. I usually do read through quite a few blogs before deciding what to buy, so I hope I can be of some help to other people, too, when they don't really know what they should think of the product in front of them or what they should decide on.
This was my, my mother's and my brother's first order from their website.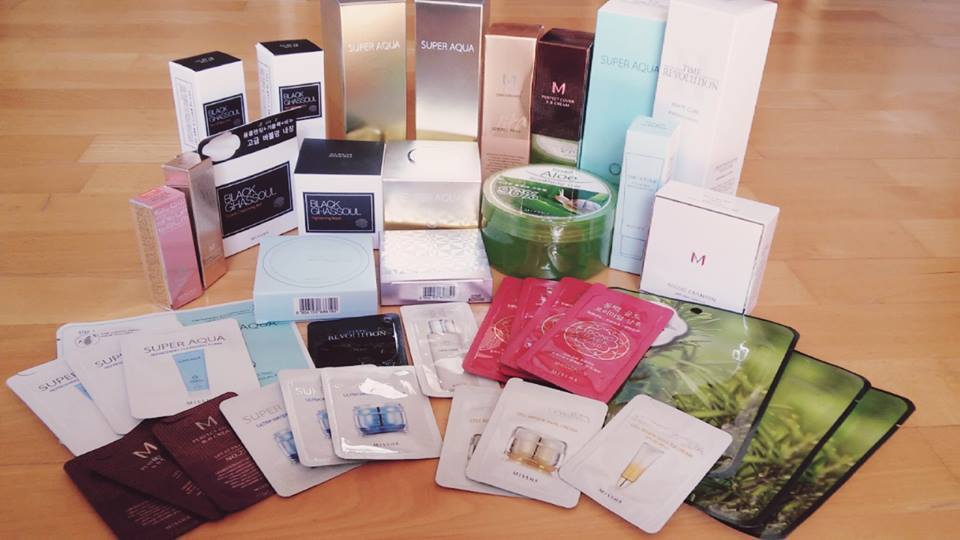 The products we purchased:
What I really like about ordering Korean cosmetic products is the fact that they usually give you many samples for you to try out. I think that this is a really nice service they have in Korea. I suppose that otherwise I would be more hesitant to try out more products. This way I can use my bought products and I can already decide on what to buy next or whether to buy it at all. My mother also likes this very much. Sometimes I have the feeling that she looks forward to the samples more than the products she actually bought. Well, I guess it is a bit exciting every time since you don't really know what you will get.