Namu Café - Korean shaved ice dessert in Düsseldorf
It has been a while since my last restaurant review, mainly because I didn't feel the need to write anything about the restaurants I visited in Japan. Don't ask me why. Maybe I was too busy filming everything for my Vlogs that I didn't think of collecting material (photos) for blog posts. I might regret that a bit right now, but I can't change that. So I will start again where I left off and continue introducing interesting restaurants that I have visited in Düsseldorf. Recently I had to visit the city for a week and I took the opportunity to check out a café that has opened in March while I was in Japan.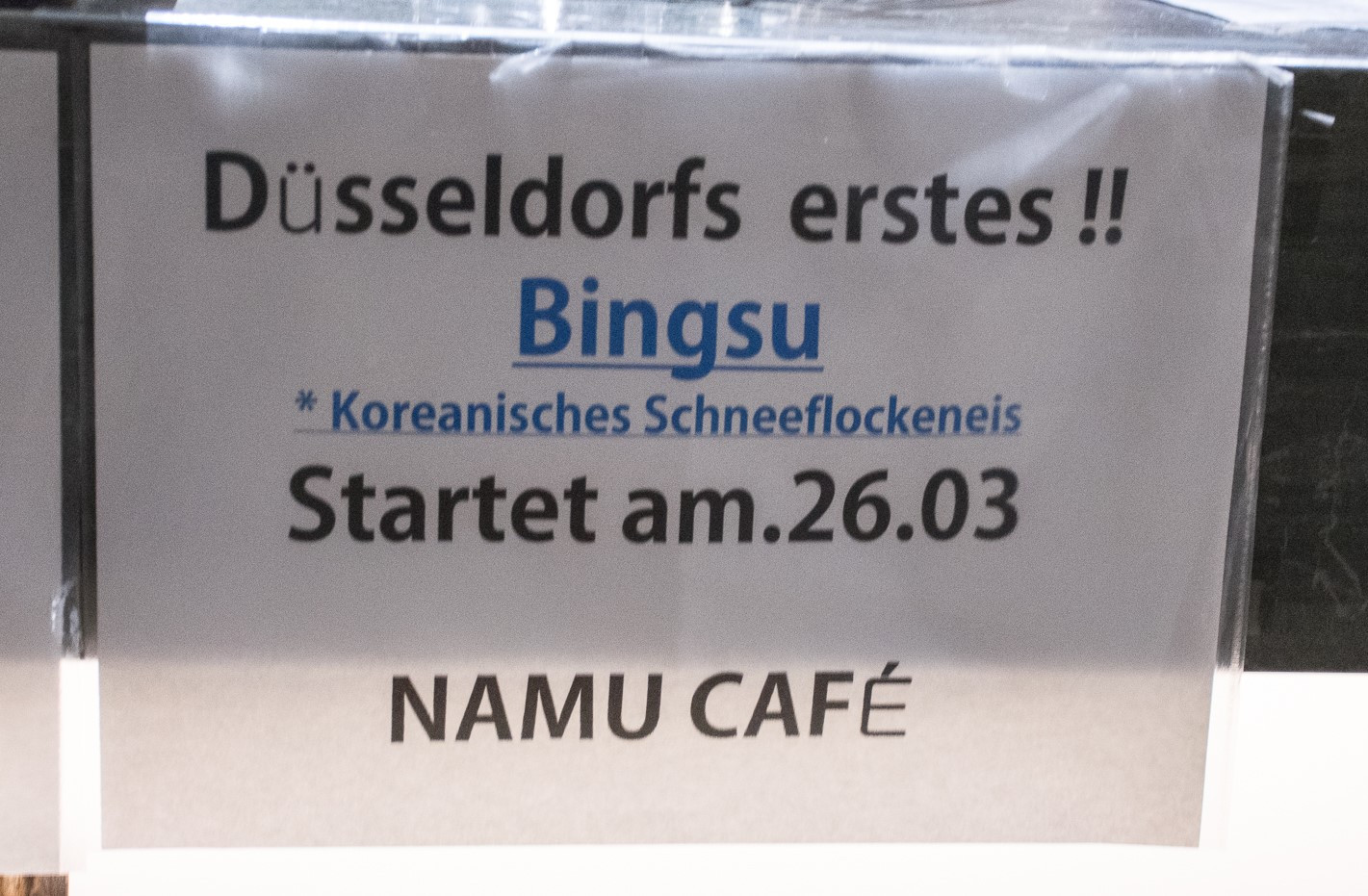 During my year abroad I had the wonderful chance to travel to Korea with my dear friend during her visit in Japan. This blog post will probably come out before the Korea Vlogs, but we got to try Bingsu or Patbingsu. Bingsu is a Korean shaved ice dessert, usually served with some sweet toppings like fruits, condensed milk, red beans and more. Since you have such a huge selection of toppings, a big variety of flavours is possible and everyone can find their favourite one. We decided to get the chocolate version of Bingsu in Korea and I still dream about it today. It has become one of my favourite kind of ice desserts.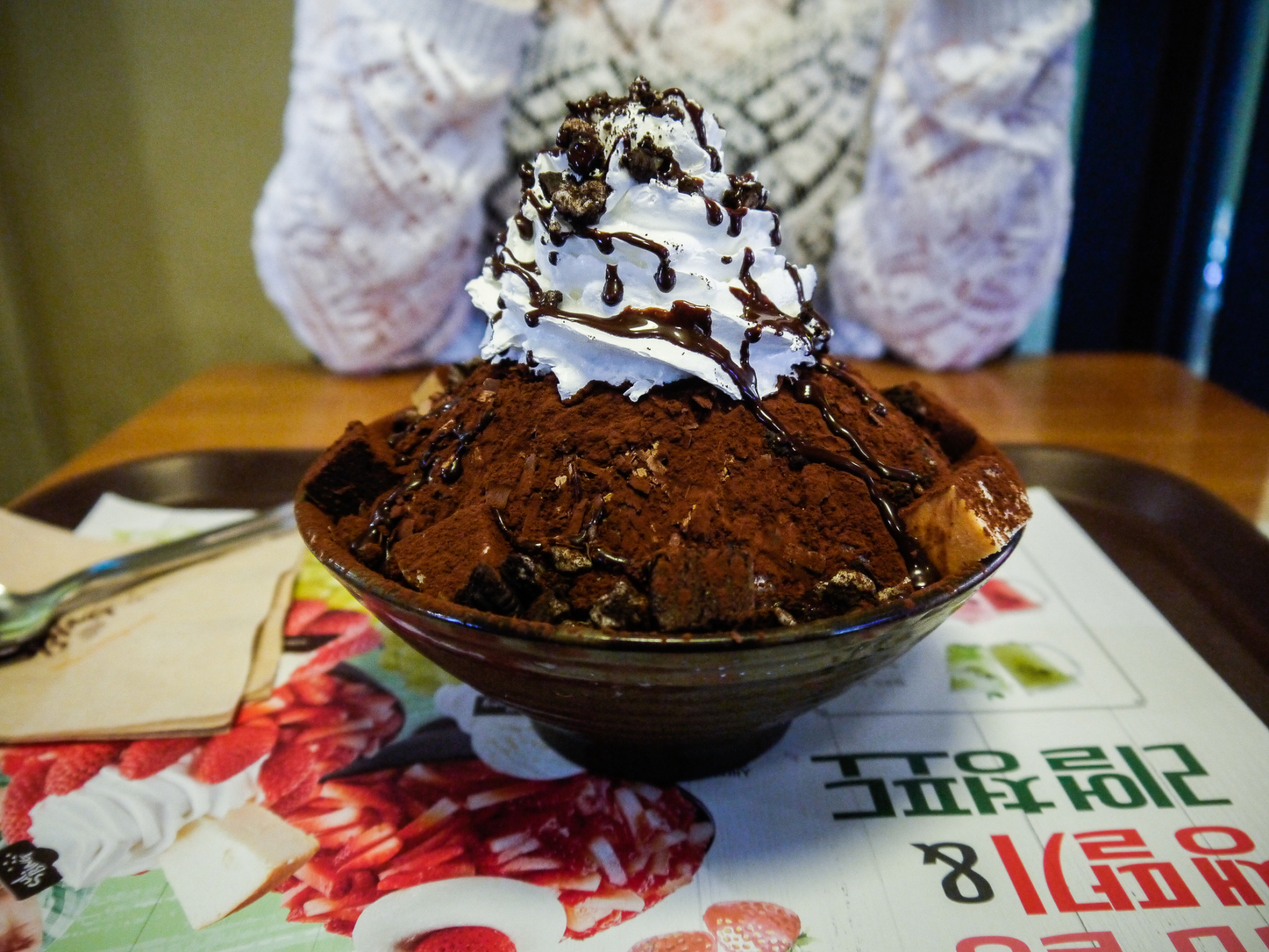 So I was happy when my friend told me that a café has opened in Düsseldorf that sells Bingsu and that we don't have to do without it. Namu Café is located in the Oststraße 130, 40210 Düsseldorf which is close to the Immermannstrasse, the location of the other restaurants which I have introduced before.
Address:
Oststraße 124
40210 Düsseldorf
Shop hours:
| | |
| --- | --- |
| Monday | closed |
| Tuesday – Friday | 07:00 – 22:00 |
| Saturday & Sunday | 09:00 – 22:00 |
Website:
If you don't keep an eye out for it you might walk past it. The first thing you will see from afar is a sign peeking from the store with the name of the café, adorned with a silhouette of a tree. The interior of the café is kept simple with bright colors and doesn't quite attract attention from the outside.
As you approach the store you will soon see a sign promoting their specialities. Furthermore, you will be provided with free WiFi.
The café is neither small nor big, but quite spacious with a few tables. There is also a possibility to sit outside. However, I can imagine that the place could get quite crowded during busy times like the weekends or during events like Japantag for example.
At the back of the store is the counter where you can order your food and drinks. For a newly opened store they have a good selection of drinks, from soda to tea to coffee to matcha latte.
They have a, I assume, provisional menu with photos of the Bingus and of a very small selection of other dishes on their counter. At the moment they offer, what it seems like eight flavours of Bingsu. Maybe they will expand their range in the future, or change it depending on the season, but right now you can order red bean Bingsu, chocolate Bingsu, matcha Bingsu, strawberry cheesecake Bingsu, Oreo Bingsu, coffee bingsu, Injeolmi (Korean rice cake) Bingsu or fruit Bingsu. Aside from the shaved ice desserts, you can also get toast dishes and cake.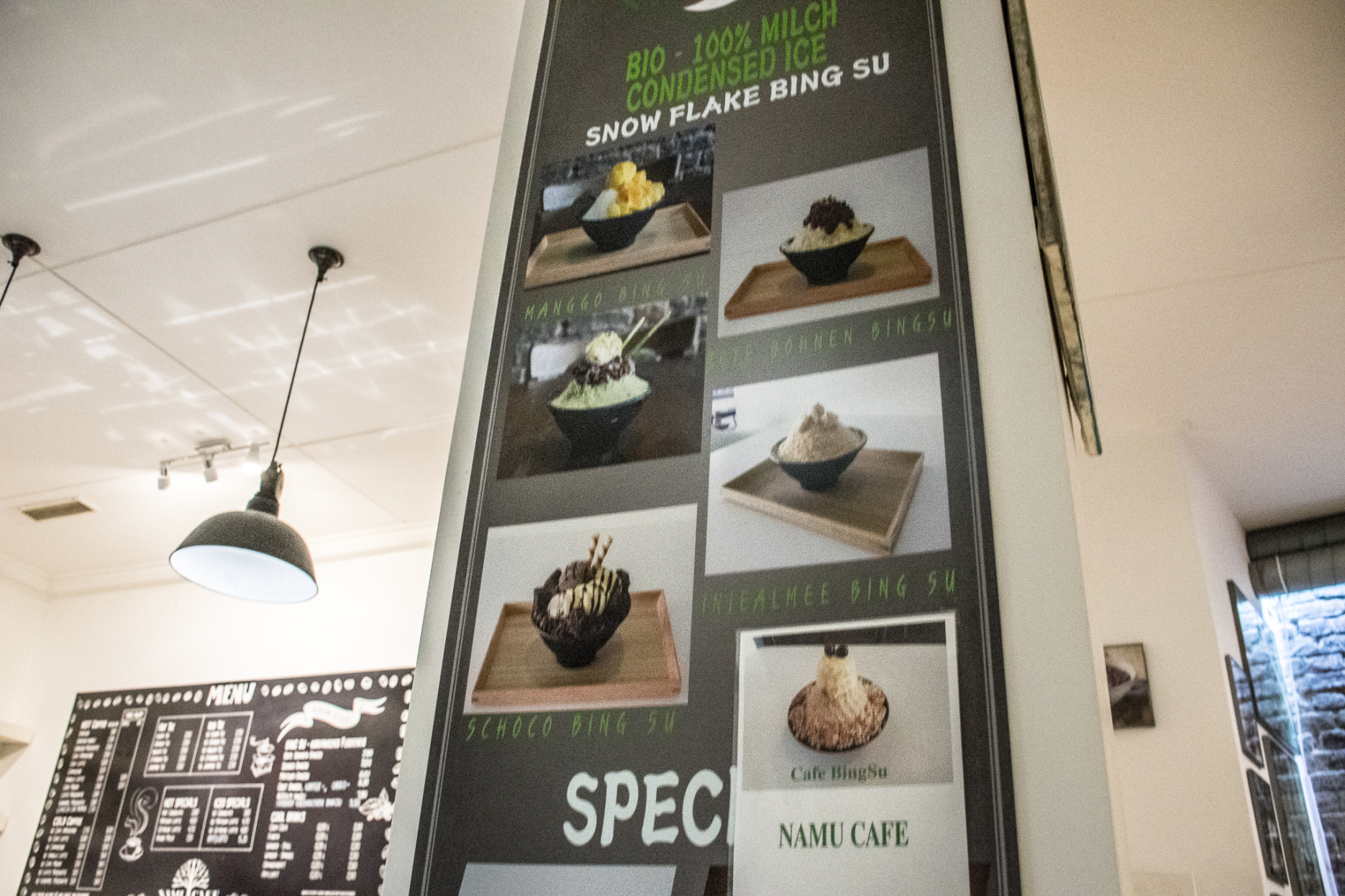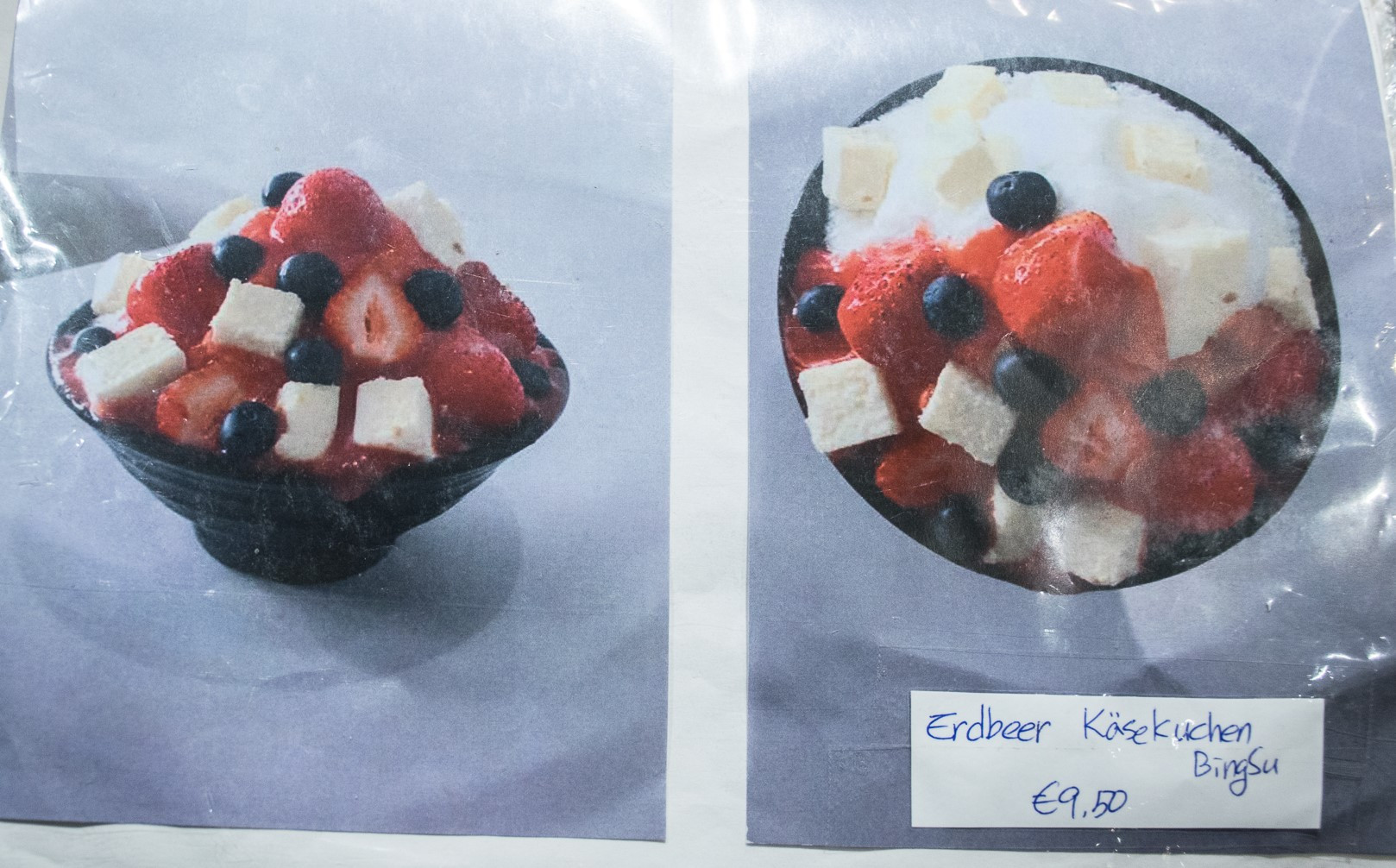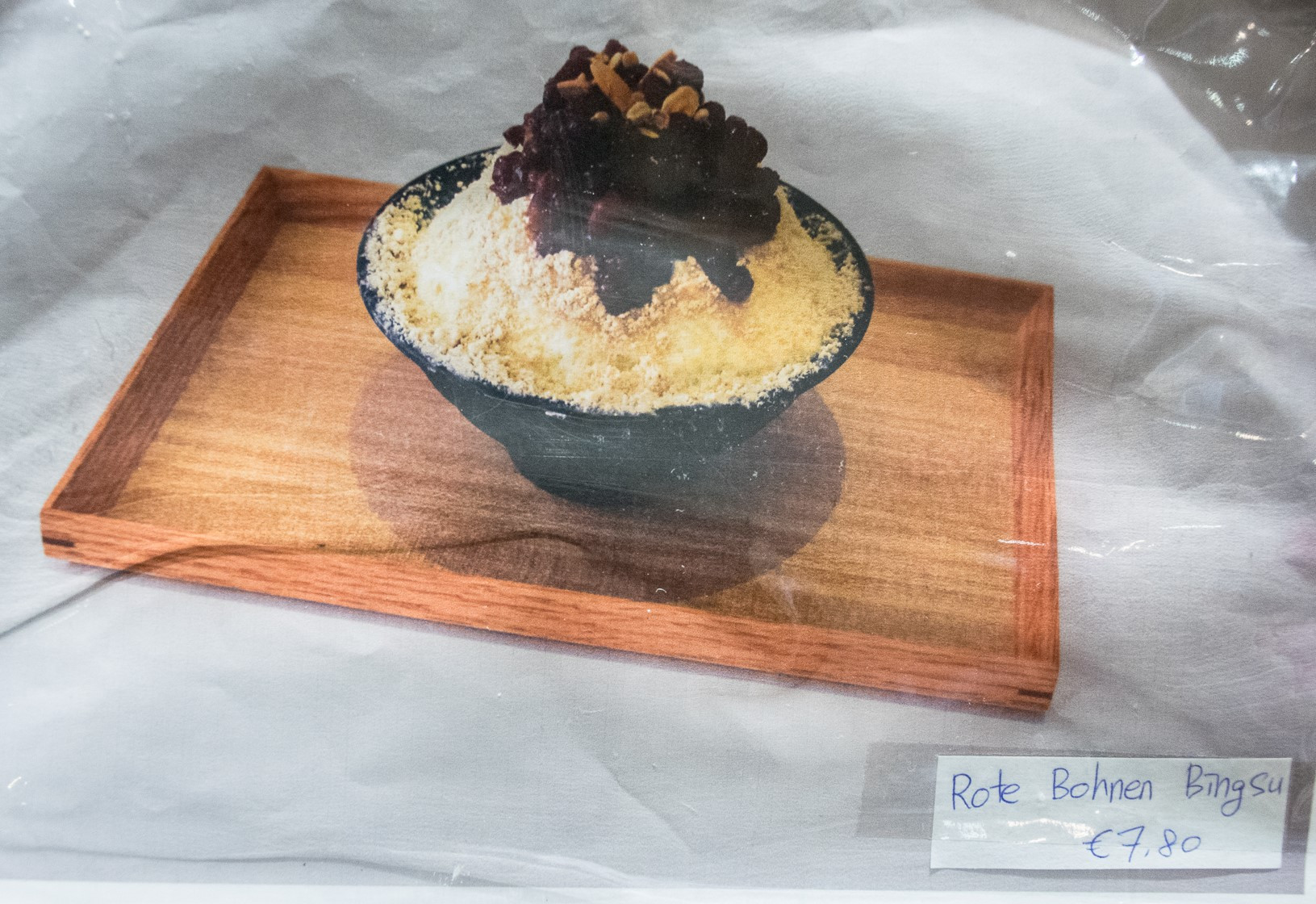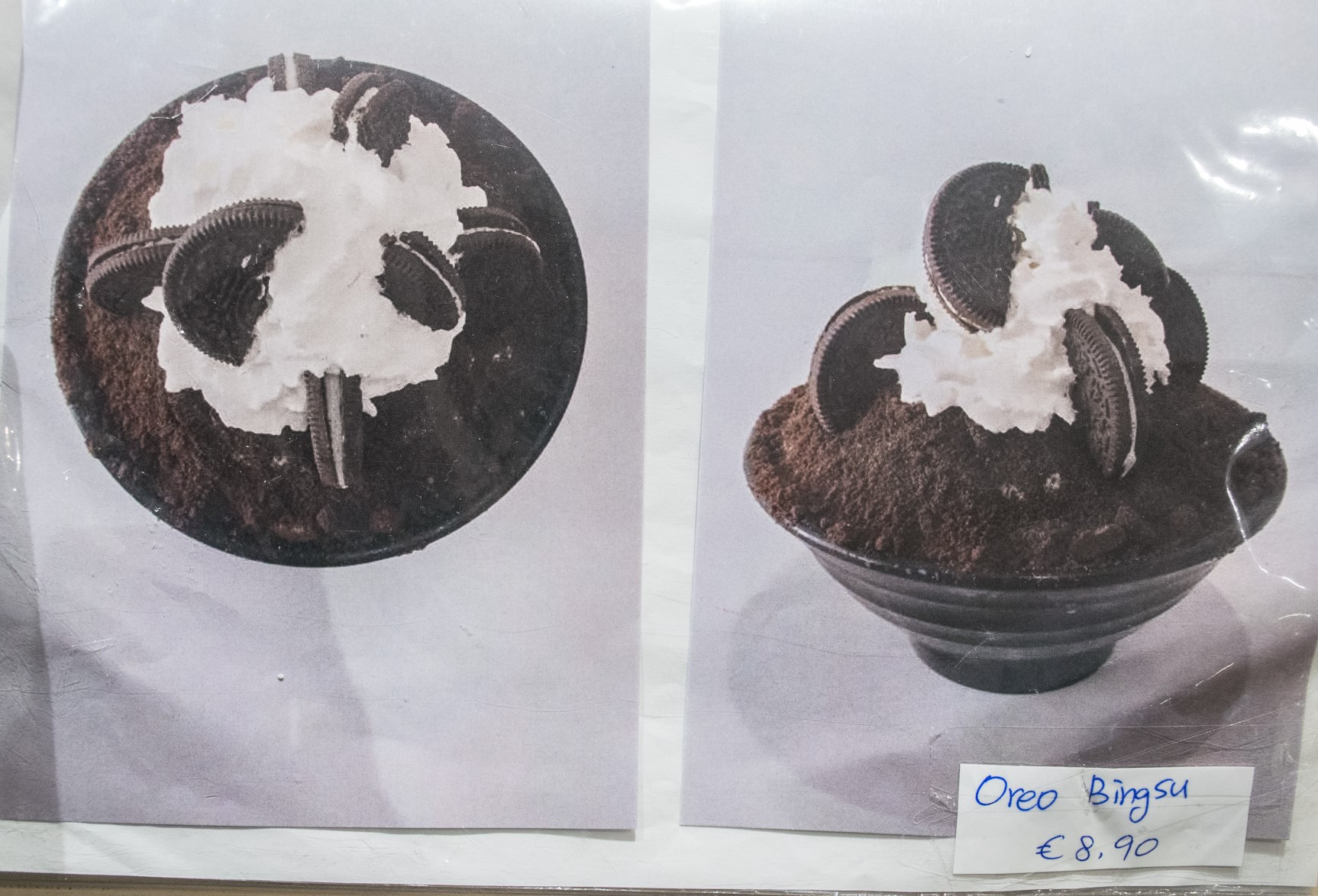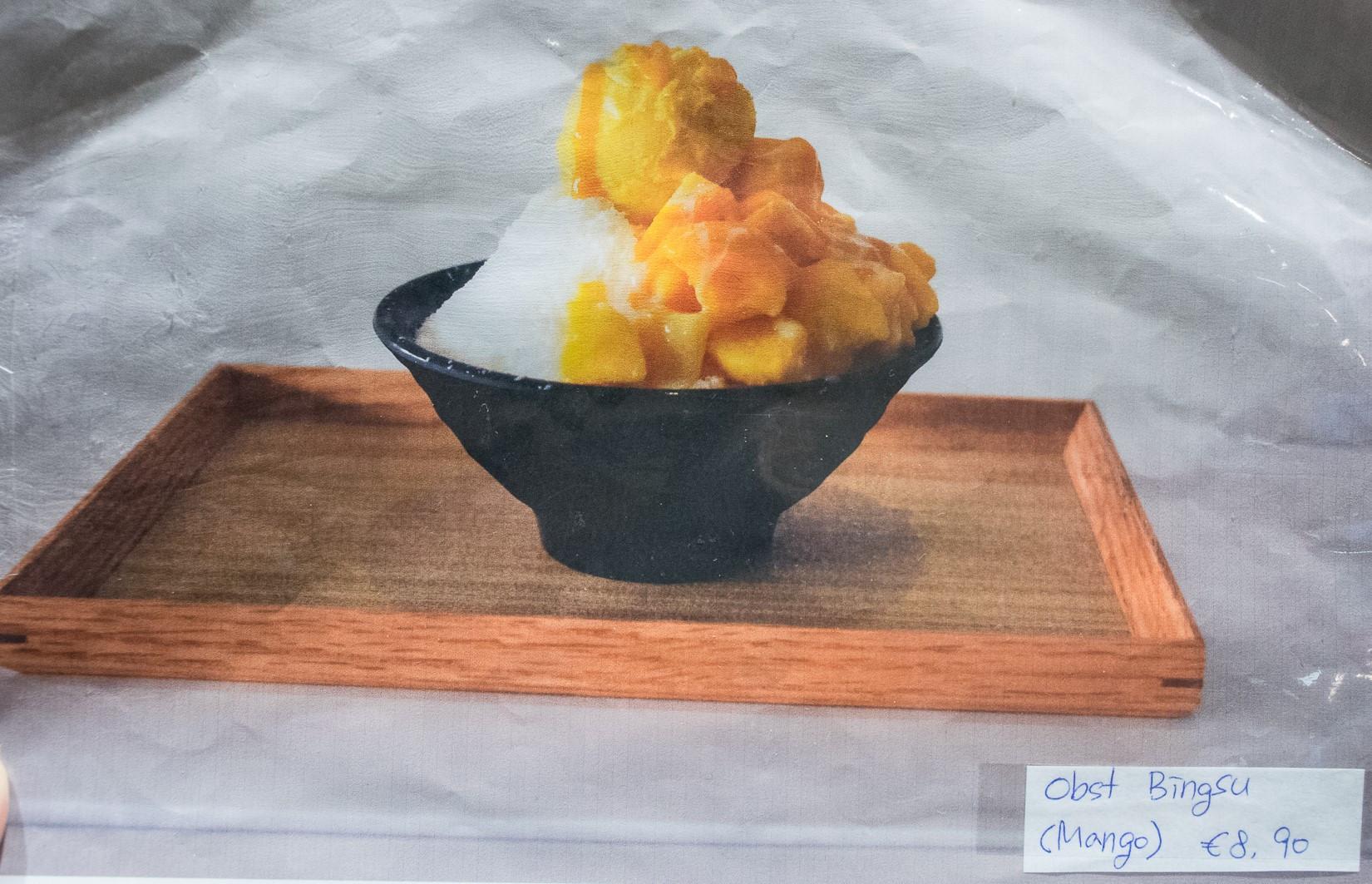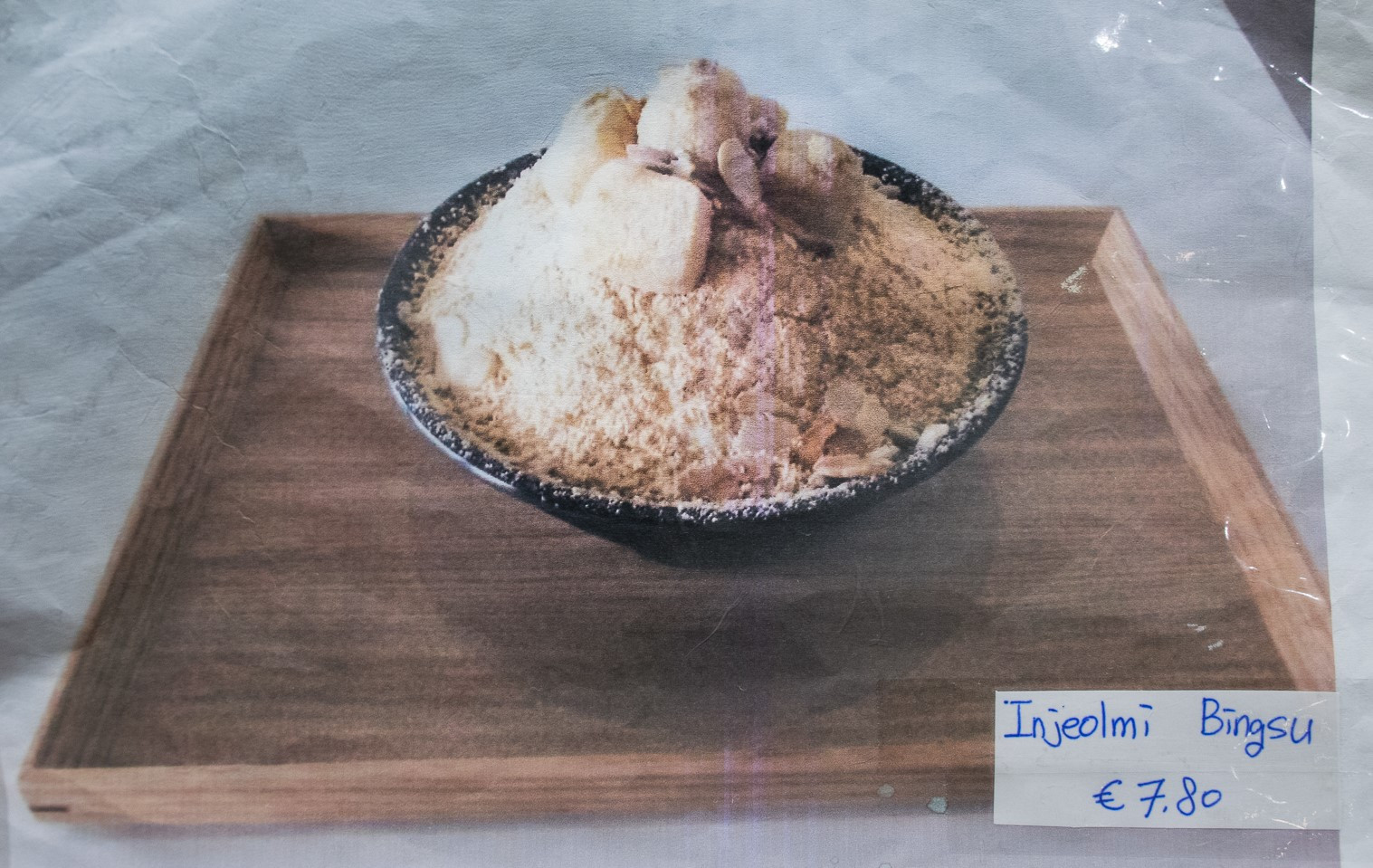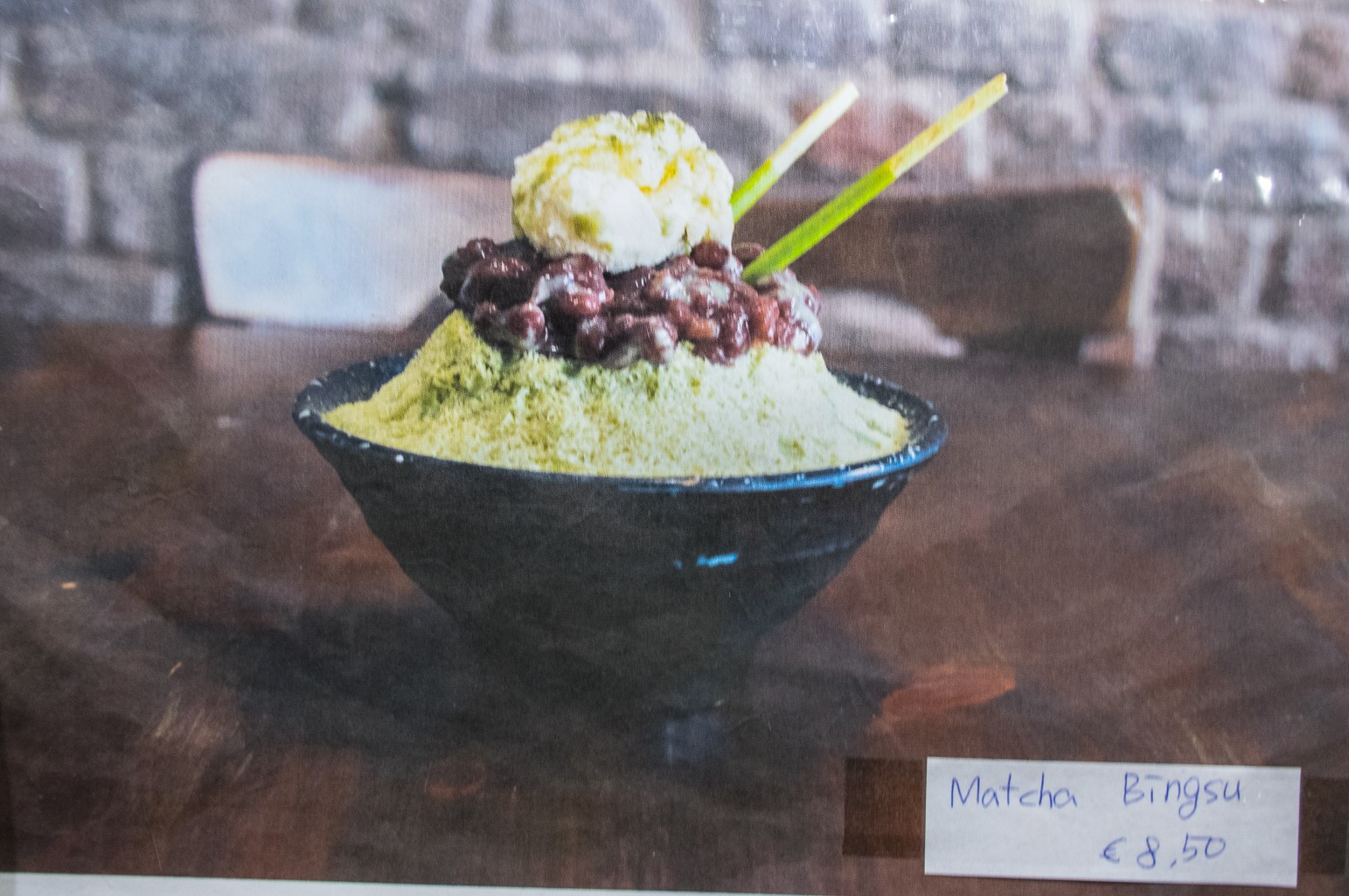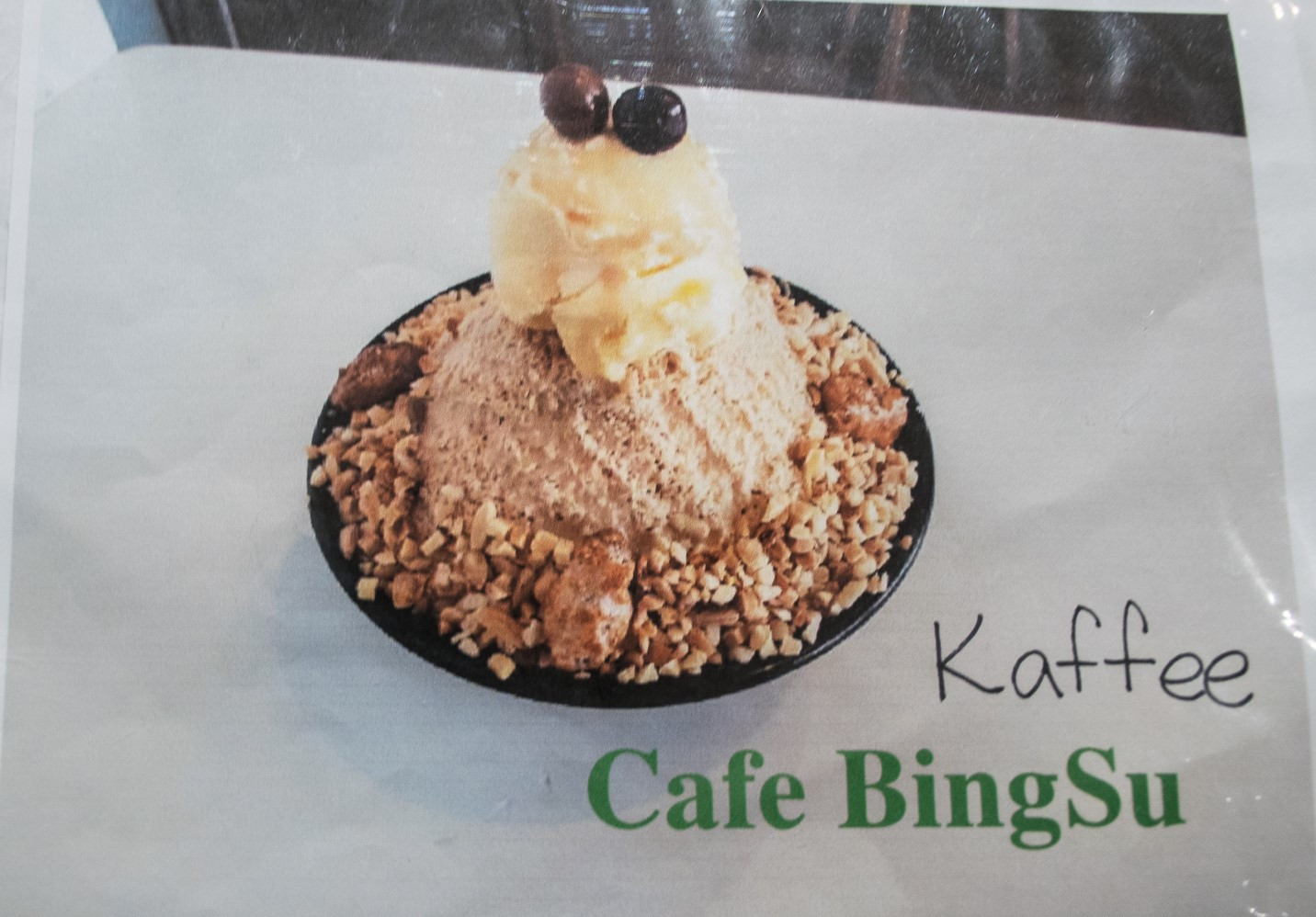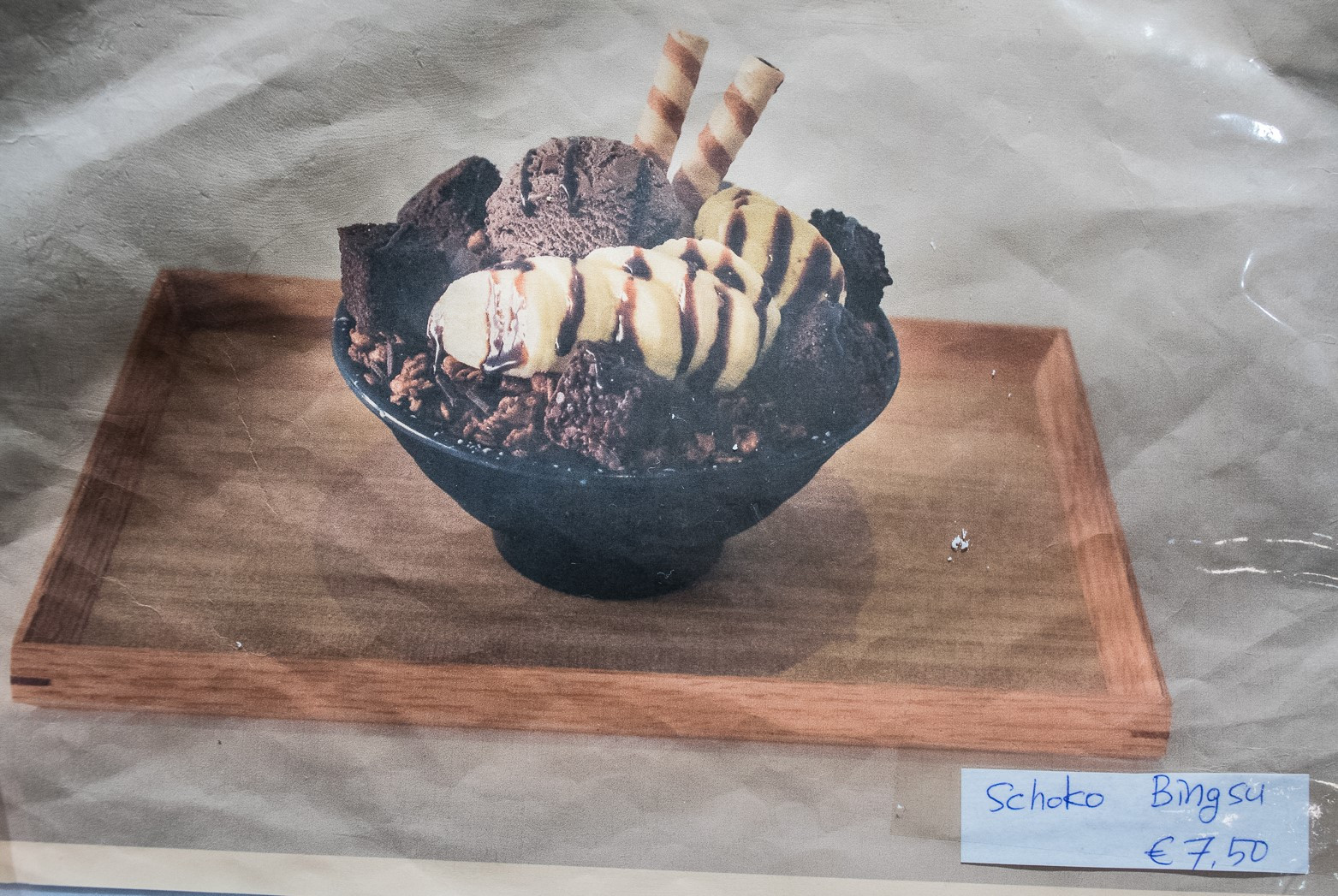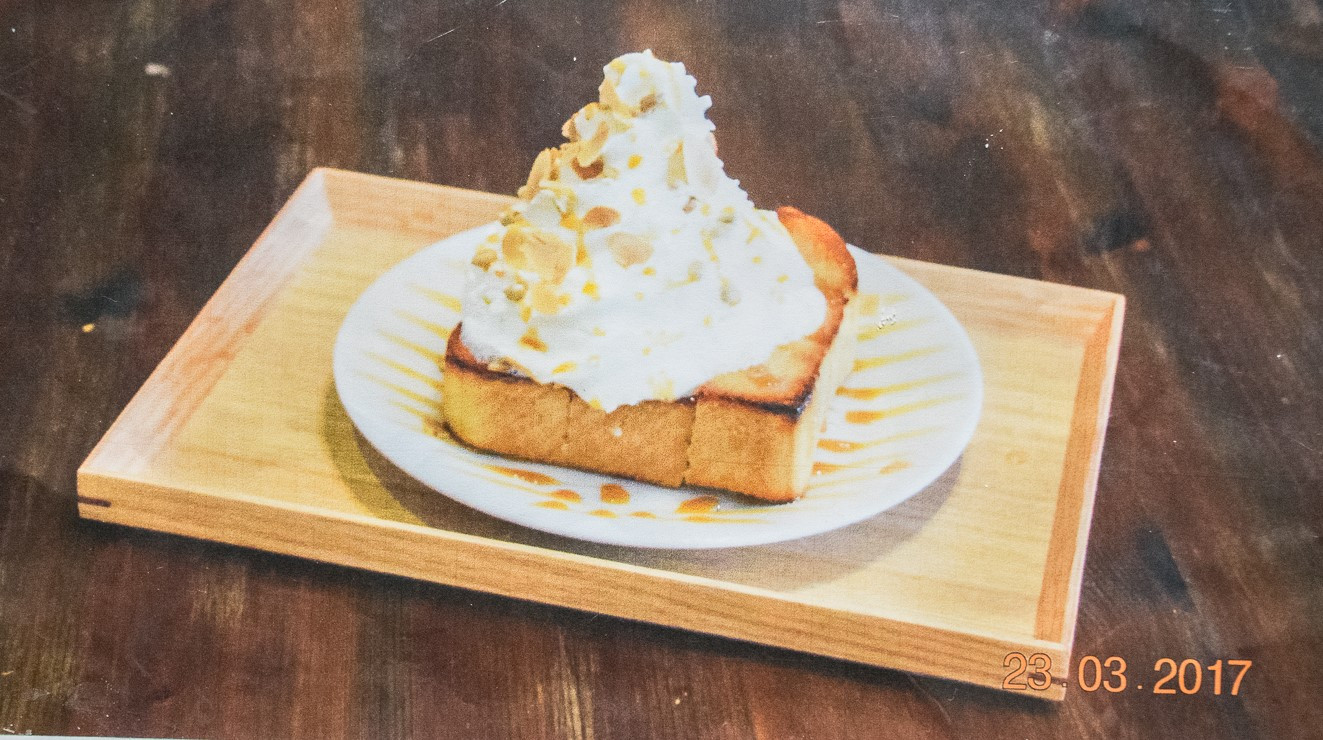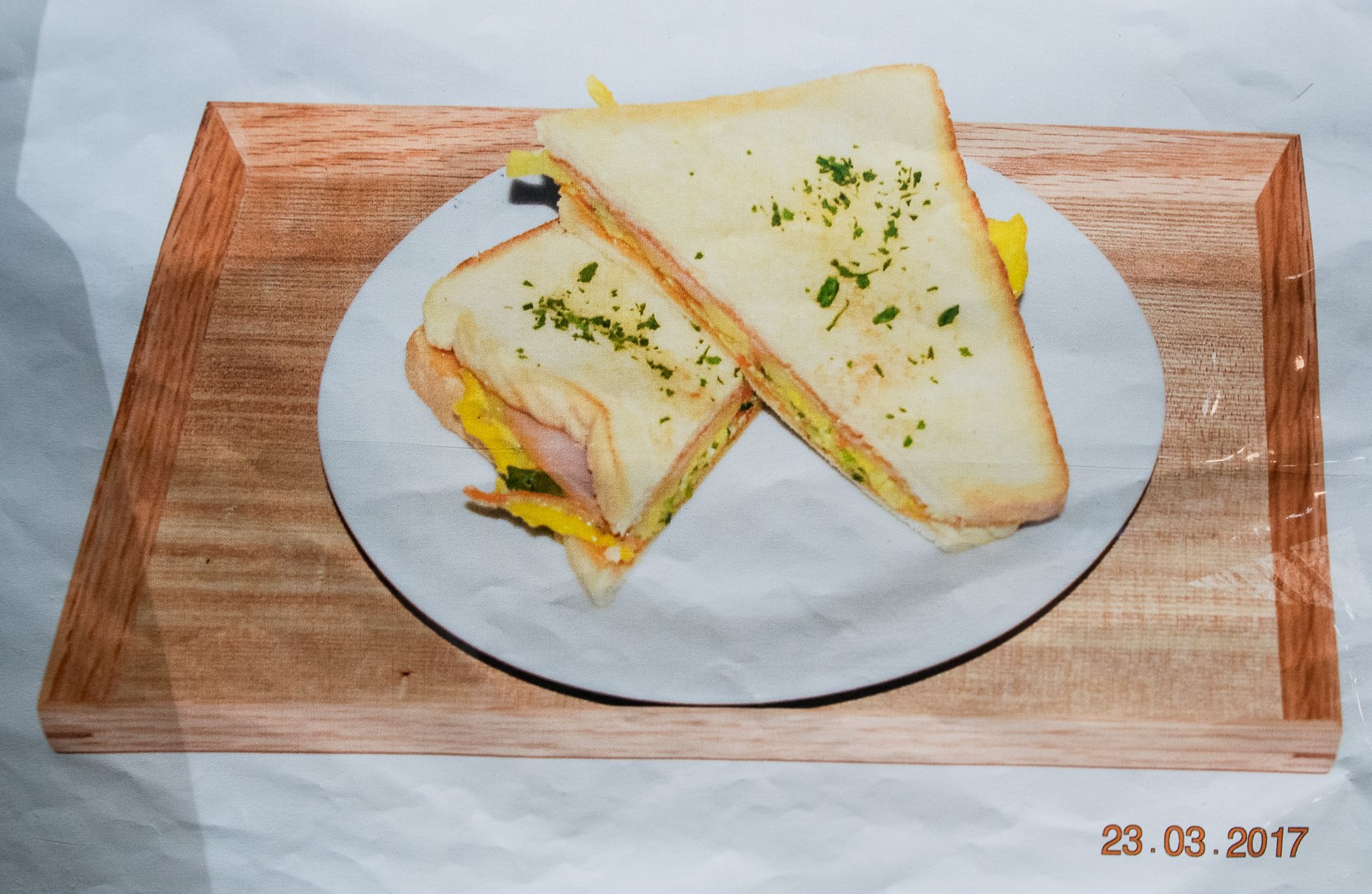 Our goal for that day was to get Bingsu, so we basically ignored all the other things on the menu, except for my one friend, who ordered the Korean toast. It didn't take long for us to decide on the chocolate Bingsu, because you know, chocolate. I might try the other flavours another day, but the chocolate Bingsu was just too good looking to resist and you can't do anything wrong with chocolate. It takes some time before they bring your order to your table, since they have to shave the ice first and put everything together nicely. However, it was worth the wait. Usually the basis of Bingsu is a lot of shaved ice, meaning shaved frozen water, but I think that at this store they mix sweet milk or condensed milk into the ice, because I found that it tastes slightly sweet and milky on its own. The toppings of this Bingsu are cubes of brownies, chocolate cereal, a sliced banana, a scoop of chocolate ice cream and two sticks of cookies.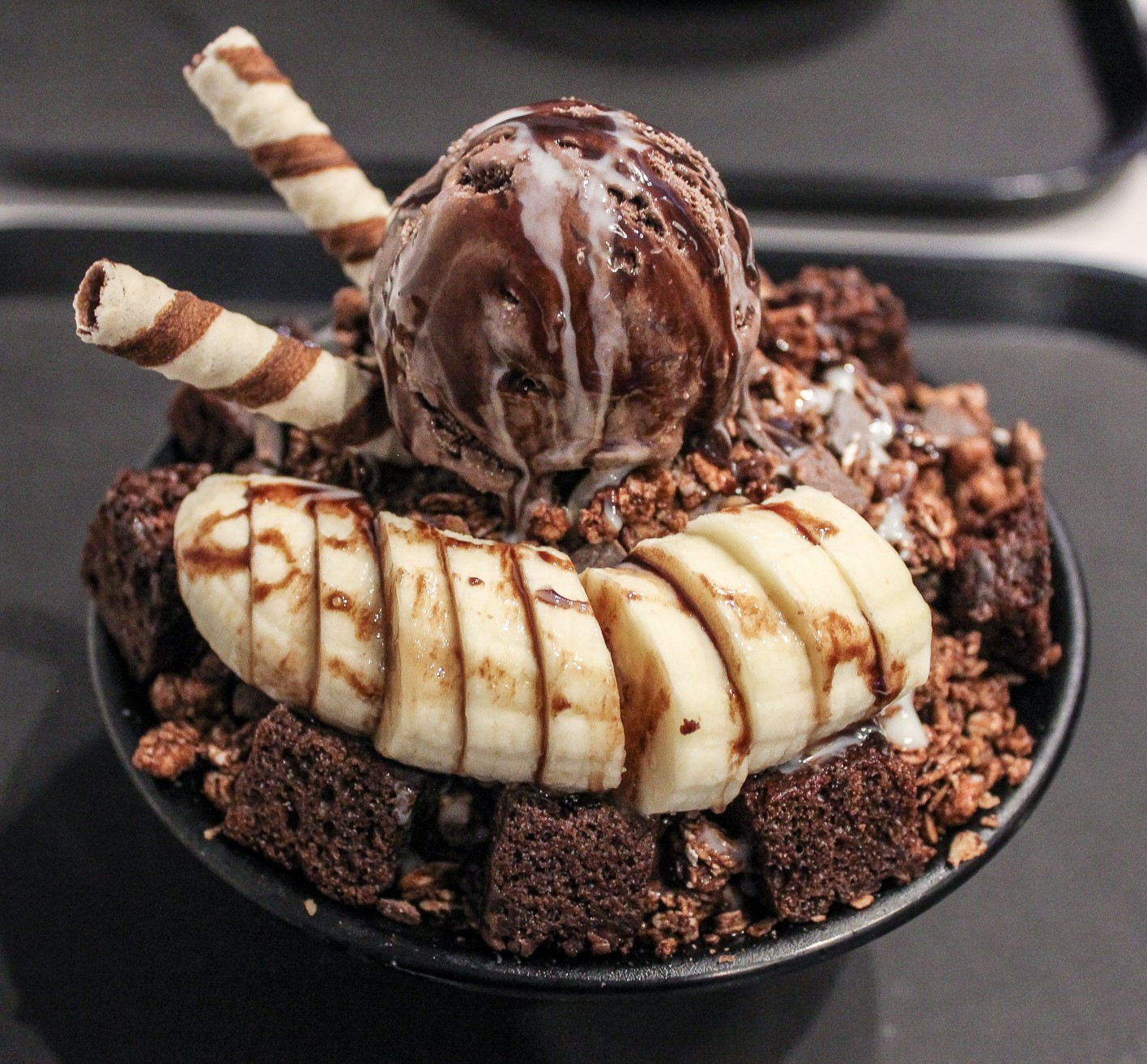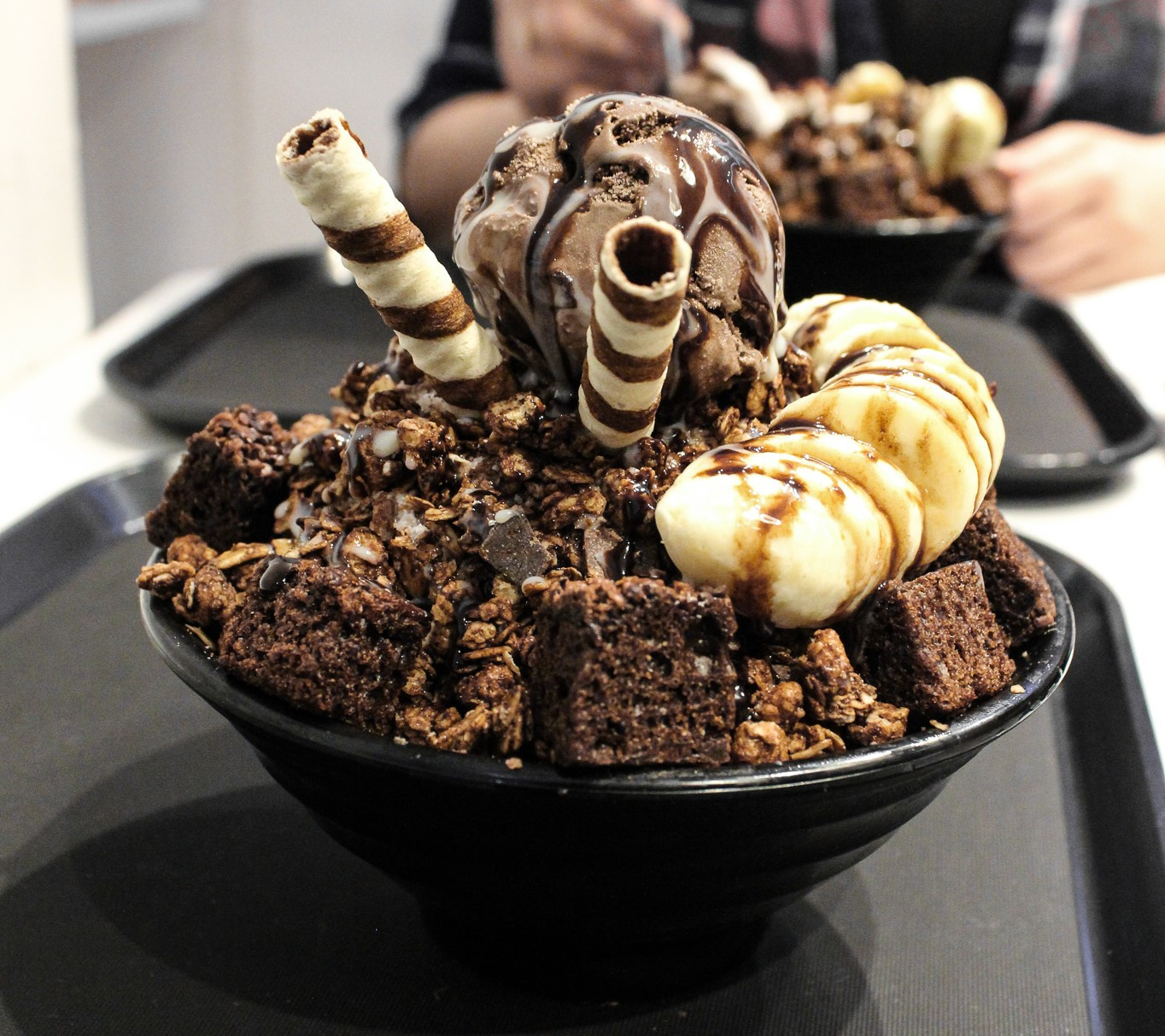 It was of course different compared to the Bingsus I had in Korea and Japan, but it was as satisfying. Even though the dessert contains quite some calories, thanks to the flaky consistency of the ice it feels very light. For one of my friends it was a little bit too much, too much of sweetness. But the other two of us finished it without leftovers and I also helped my other friend finishing up hers. She was probably full already, because she also ordered  the Korean toast, which didn't really impress me, to be honest.
I couldn't really figure out the fillings, but it seems that there was cheese, ham and something that seemed like some kind of omelett with cabbage in it. It indeed didn't taste like your regular German toast, but I wouldn't come to Namu Café to order the toast for 3,90€, because it might be something you can easily make yourself at home after some research. However, I would definitely come here for the Bingsu, without doubt.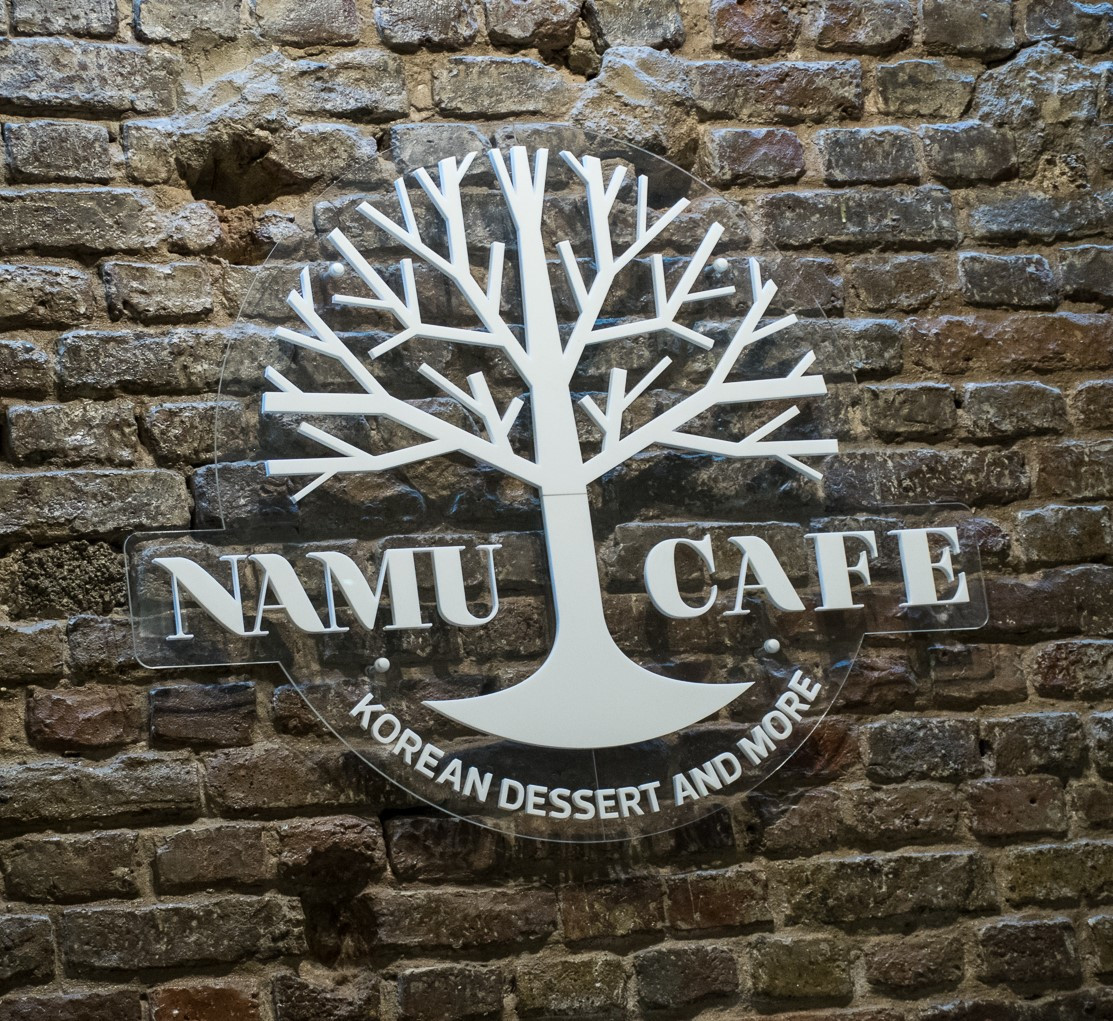 The two times my friend and I ordered Bingsu in Korea and Japan, we always shared it, because those are quite big and can fill two people easily in my opinion. We searched for photos online in order to assess the size of the Bingsu of Namu Café, but we weren't able to find anything concerning that matter. So we didn't know whether we could share or not. The prices of the Korean shaved ice desserts in Düsseldorf vary from 7,50€ to 9,59€ and the bowls are smaller, that's why each of us got one. The chocolate Bingsu costs 7,50€ At first glance the prices seem a little bit high for that size, but apparently they have to import the ice shaving machines from Korea and you have to include all the other costs, like ingredients, salary, electricity and so on. On top of that, apparently Namu Café is the first store in Düsseldorf to serve Bingsu and is also the only one in Germany which makes them a monopoly. Also, a normal German parfait at your ice cream vendor will probably cost the same. The Bingsu in Korea was larger, for approximately the same price and since we could share, it was cheaper for each of us, but of course you have to consider the fact that we were right at the source. In order for you to see how big they are at Namu Café, we compared the bowl with a 5€ bill, a 2€ coin and my friend's hand.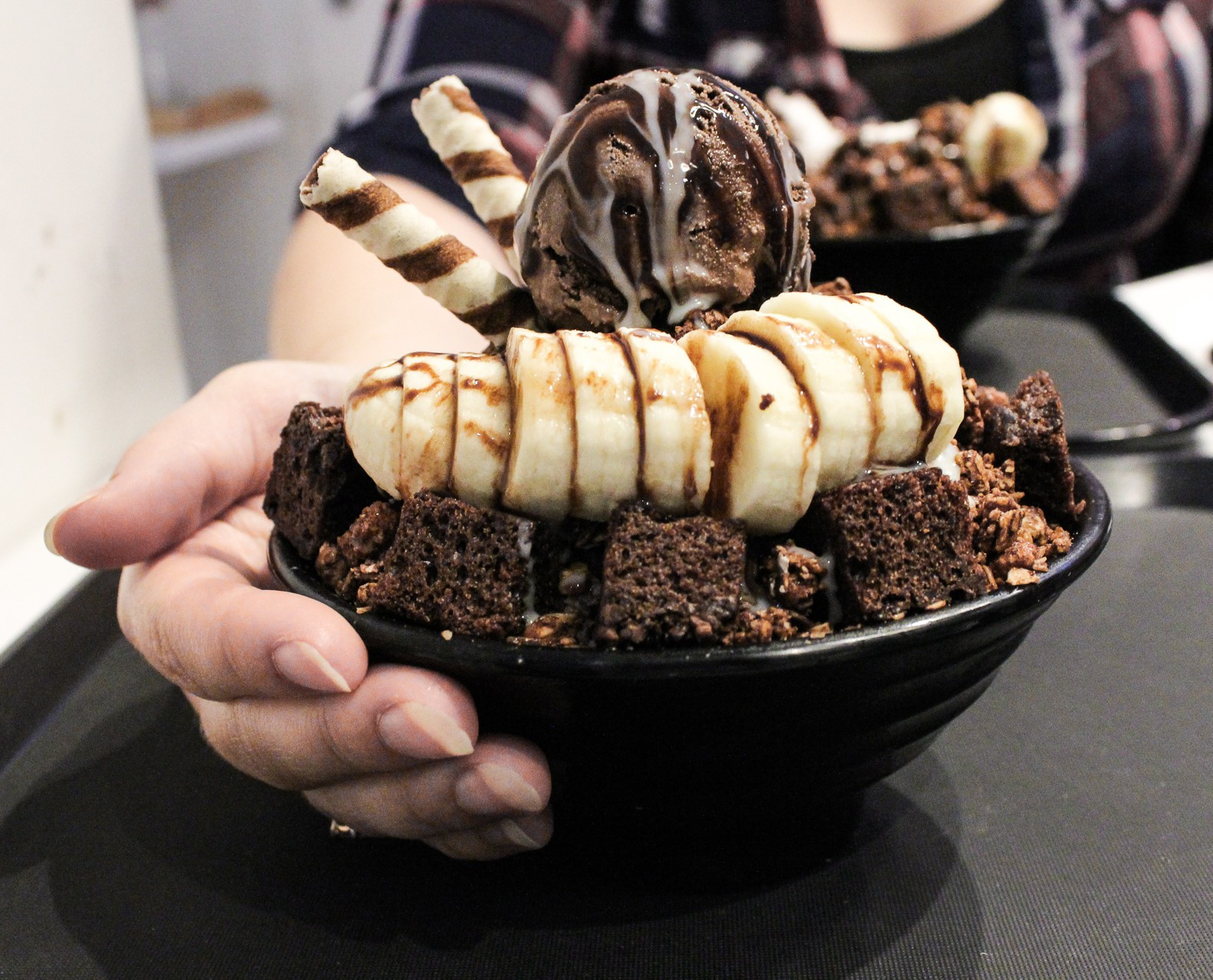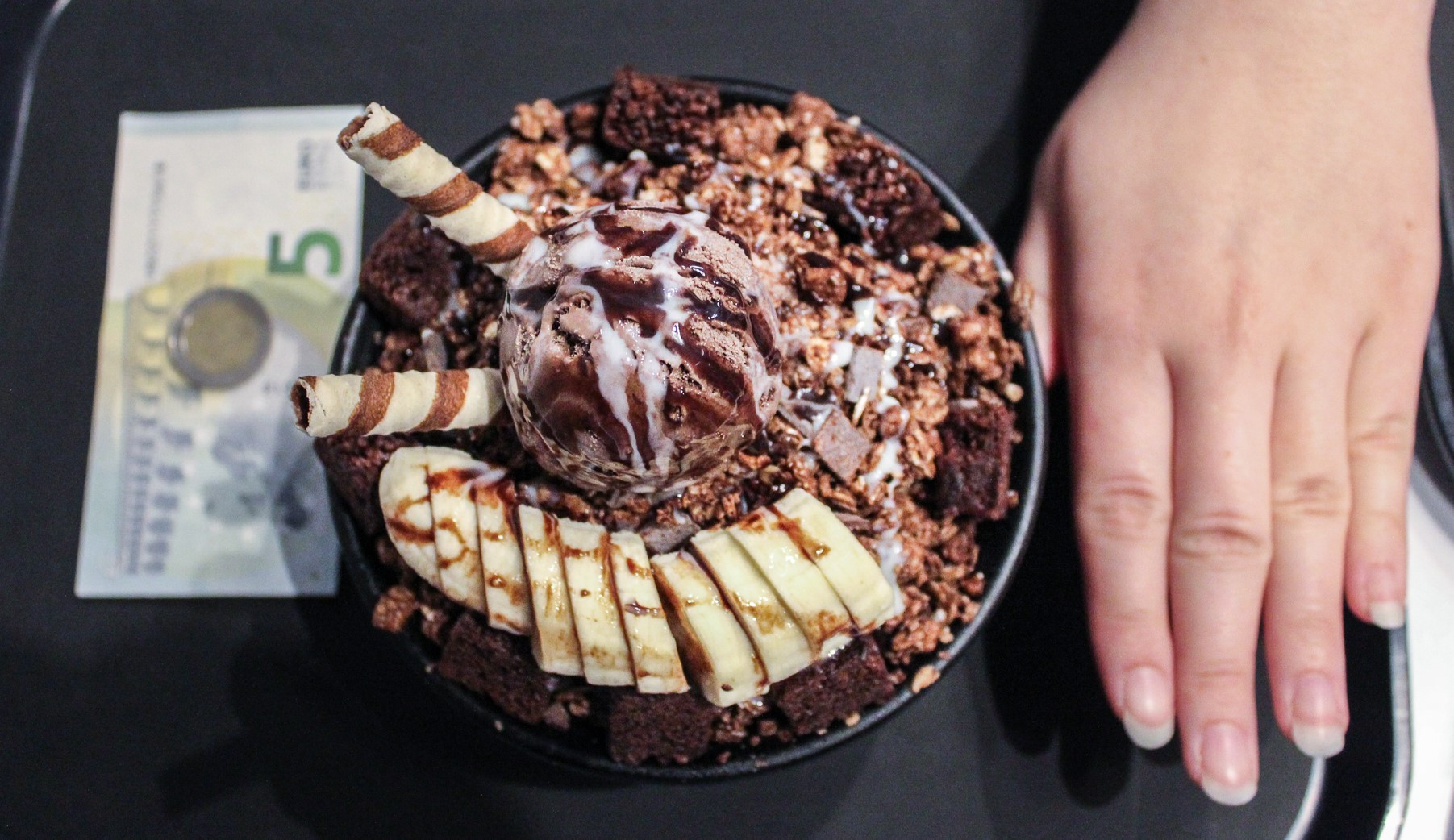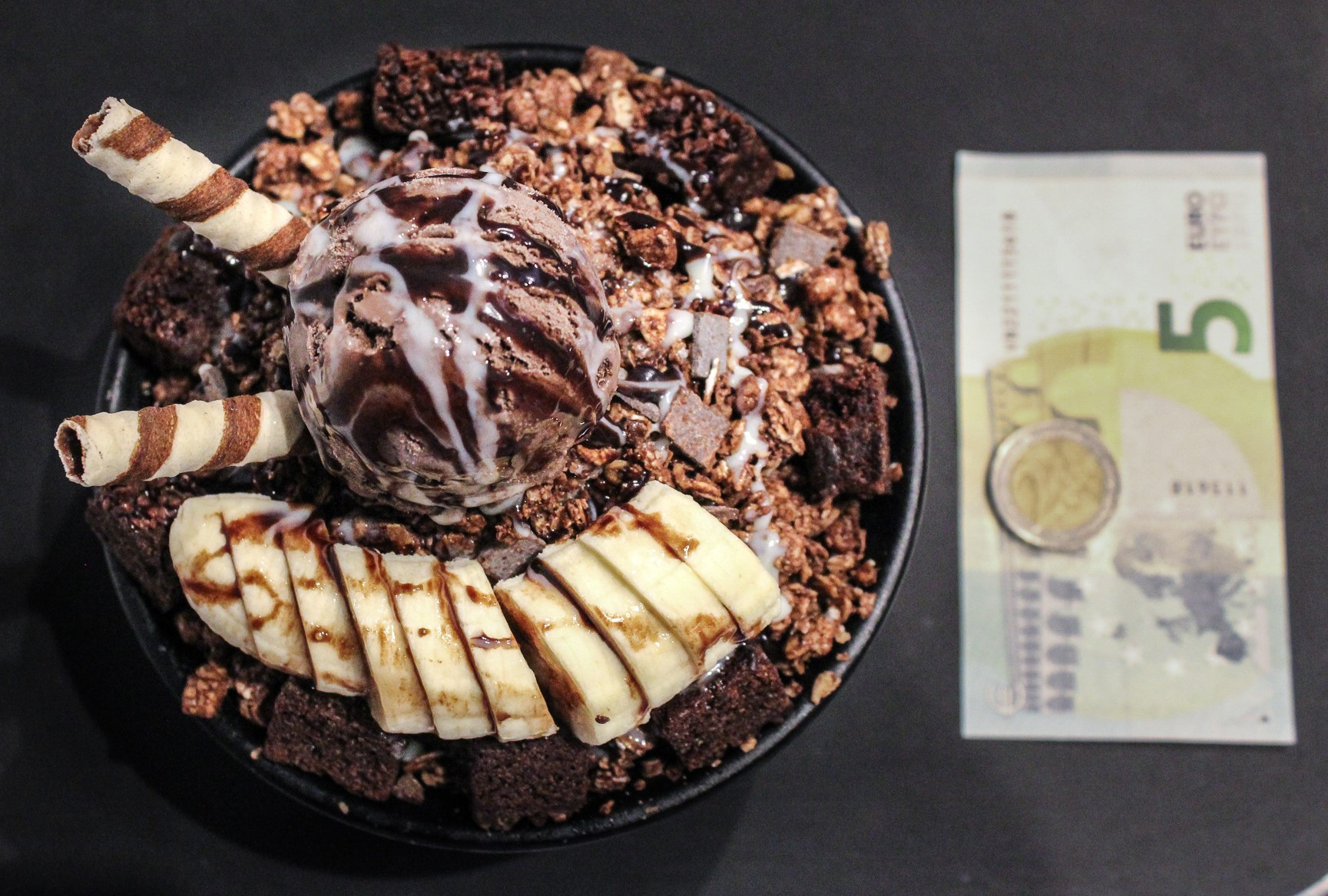 I think Namu Café will gain quite some popularity among Korea fans, if it hasn't already. For me it has definitely become one of my favourite desserts and I was a bit sad, thinking that I wouldn't be able to get it in Germany. It is certainly not something you can eat everyday or every week, unless you're rich of course, but it's good to know that there is someone who takes care of your Bingsu cravings if they arise.