Japan Day 2016 - Cosplay, Posing and Photographers
I finally had the time to write about this year's Japan Day in Düsseldorf. The blog posts with many photos always take a lot of time, because I have to edit them before I upload any of them and since the fourth semester was a really busy one, I had to wait after my exams before being able to dedicate my time to my blog. This is going to be a very long entry, because I decided not to split it in two parts, but to upload everything in one go.
I really didn't intend to go to this year's Japan Day in Düsseldorf. My friends from Freiburg who I cosplayed with last time couldn't come visit me and some other people I usually hang out with also didn't intend to come or didn't have the time to do so. I did want to wear my costume again, but I didn't want to do it alone, because I still feel more comfortable when other people accompany me. So I thought about just staying at home that day like I always do on weekends. Maybe I could get some university stuff done. I asked another university friend, who cosplays more often and attends way more conventions than I do, whether she was going to the event. She wanted to go and she invited me to go with her and her friends. She was going to cosplay Emilie De Rochefort, a character in the Tekken fighting game series, so I wasn't going to be the only one wearing a costume. On top of that we would be accompanied by another university friend who specializes in taking photographs, so that we could have some photos of our costumes. Since it rained the last time and since I didn't really have the chance to get photos taken properly, I considered going. I was not that sure yet, because I still didn't feel like going. There was this feeling, that was missing, the feeling of anticipation and excitement. Some years ago, I would have been extremely excited about those kinds of events.
Yet, I tried on the costume again at home and tried some different makeup styles after watching several tutorials on YouTube, but I failed miserably. I really admire the people who can create thousands and thousands of different makeup looks. One of my best friends had given me her eyeshadow palette and a pair of fake eyelashes. I got so frustrated putting on the fake lashes and I didn't even have an eyelash curler. So I decided to text a friend of mine who lived in the same dormitory, asking her whether she had an eyelash curler I could borrow. Luckily she had one and I made my way to her room to get it. I told her what I was up to and how I was failing at everything. She helped me curl my eyelashes and fixed some of my makeup.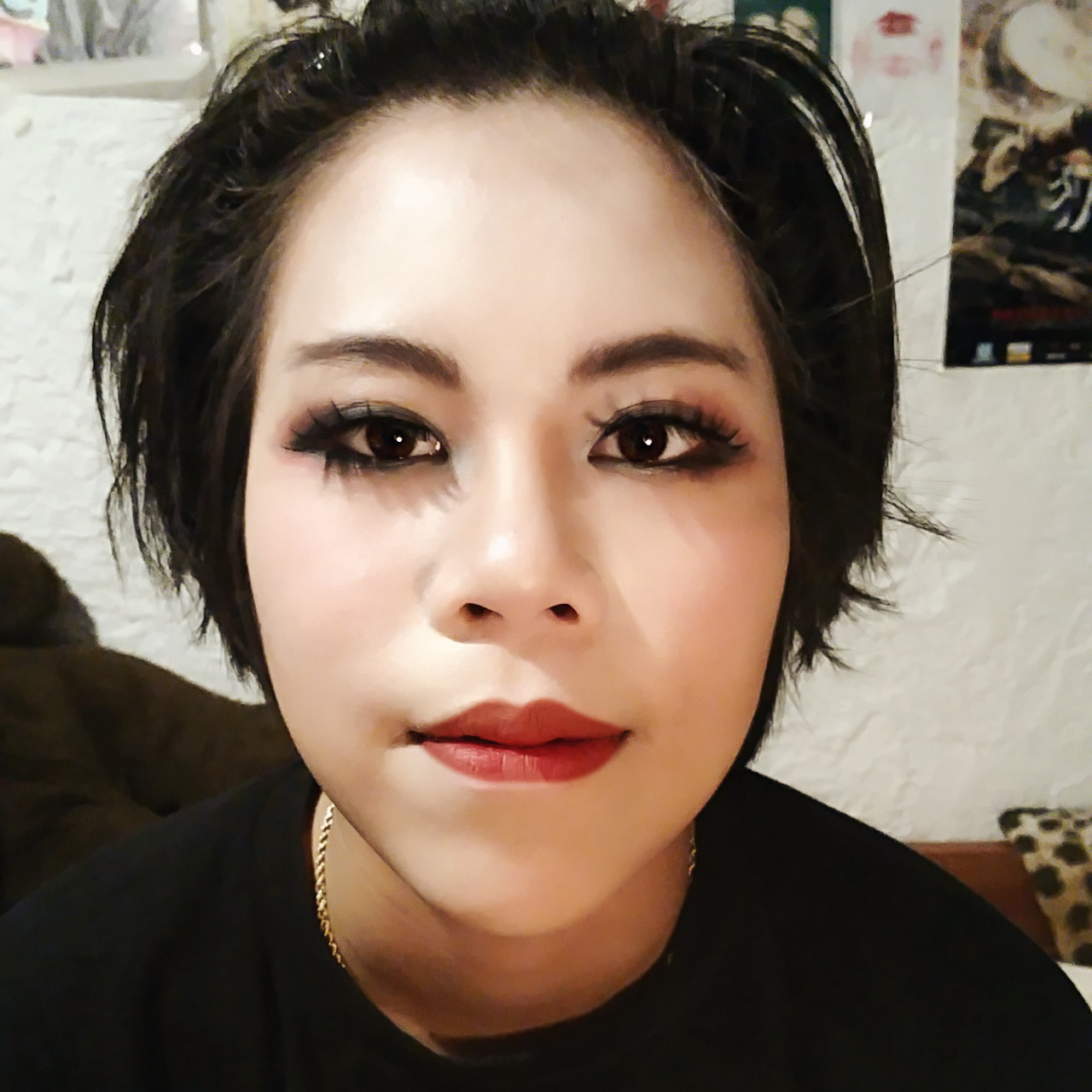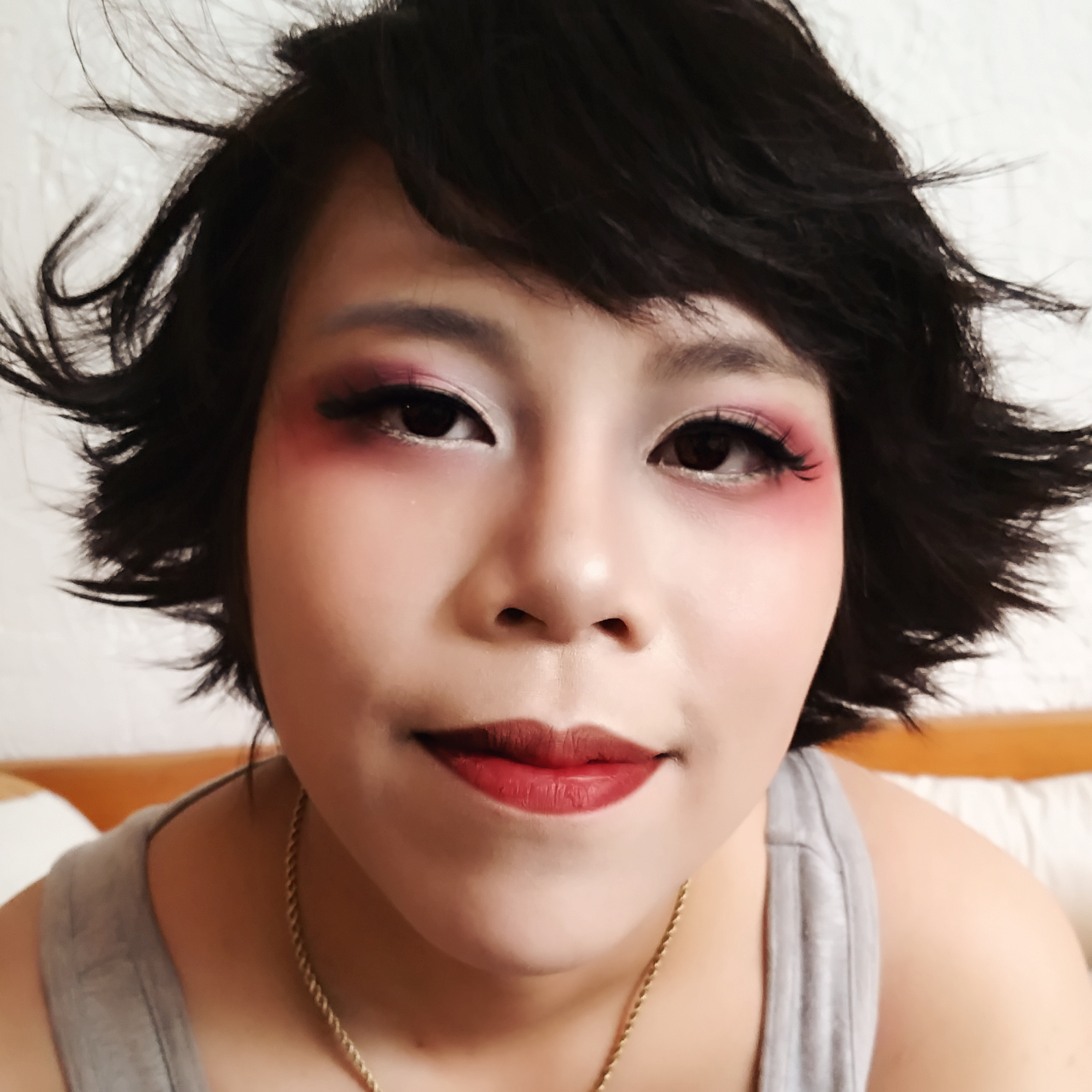 Since I didn't know how to manage a presentable makeup look for the day of the event by myself, she offered to help me out with it on that day, too. I was so relieved and thankful. Last time, it was my friend from Freiburg who did all of our makeup. Maybe I should learn to do those things myself, so that I don't always have to bother other people.
In the end I was definitively convinced to go, because our photographer friend really wanted to take his time to take photos of us. So I thought why not. That way I could wear my costume a second time and there was the possibility of getting good photos of it. Since the photographer friend lived close to my dormitory, we decided to meet up at the tram station to go to the event together.
I had to wake up early that Saturday, because I didn't know how long it would take me to get ready and I also didn't want to rush. I washed my hair first, styled it and put some BB cream on my face. I decided to go without a wig this time because I found that my skin looked really dark with a bright colored wig.
My friend came down to my apartment a few moments later to do my eye makeup. She was really skillful, I don't know what I would have done without her. She helped me out a lot. What was left was the costume. It is always a little bit of a struggle to put on the hat, because it is so huge. Once I put it on, I can't really move my head too much, otherwise it would fall off.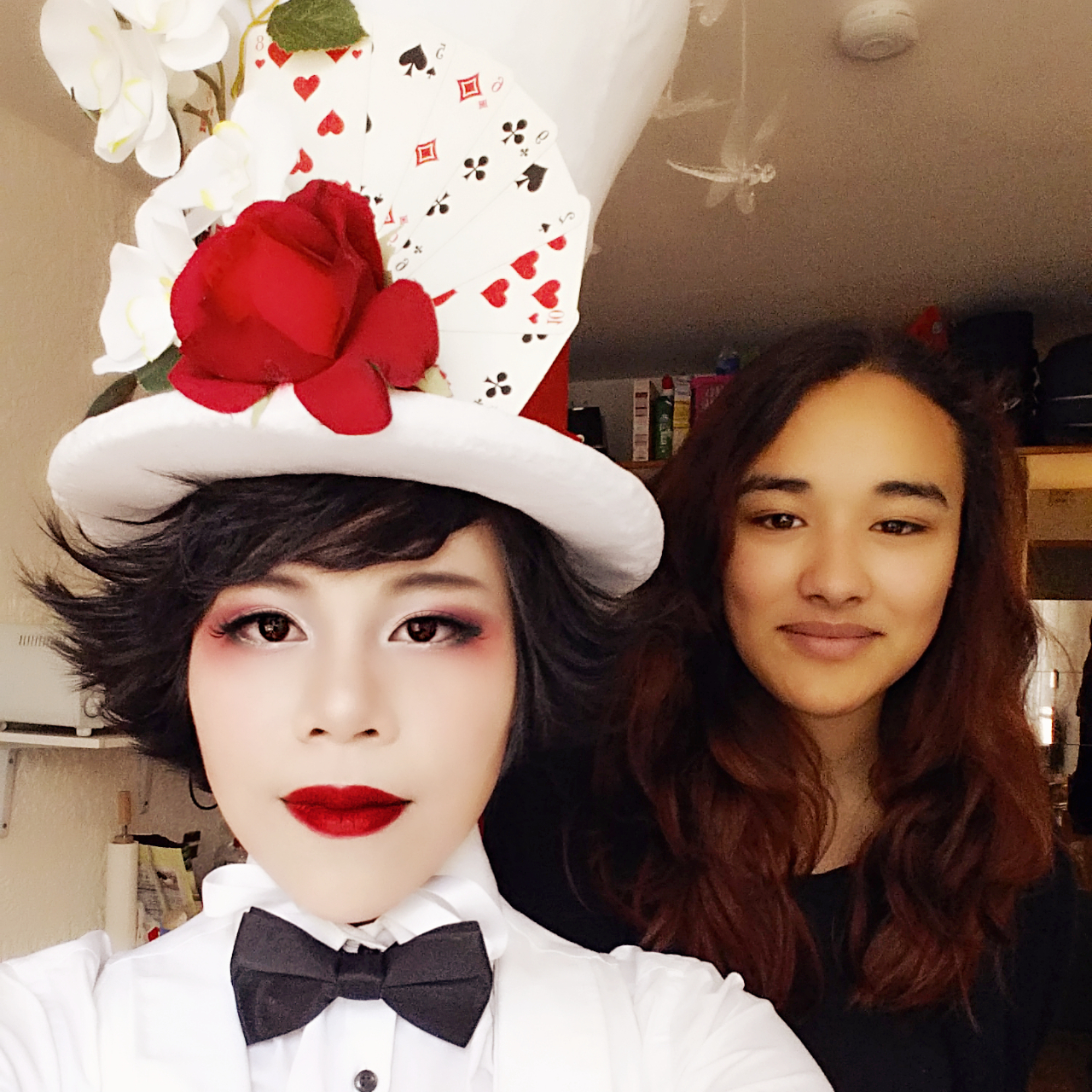 Moreover, I couldn't wear my glasses properly because the fake eyelashes were too long. I could just put them halfway on my nose, so I also wouldn't be able to see properly the entire day. That was going to be amusing. It was good that I woke up so early because I was ready on time and I didn't have to rush once. After checking whether I had everything I needed, I left the dormitory to go to the tram station. I met an older couple on my way who told me to have fun which was nice. Of course I got the looks at the tram station, too, but that is pretty normal and even the people who aren't really interested in this kind of thing knew about the big yearly event, so I assume that they aren't really surprised by all the cosplayers on the streets. My friend then arrived with his whole equipment and soon the tram also arrived. We got off at the center of Düsseldorf and as soon as we left the station we could see all of the other cosplayers making their way to the Rheinuferpromenade. We wanted to meet up with the others at a certain place but they told us that they would be late, because it took so long to put on their costumes, so we decided to look around for a bit, since it was still early and the place was not packed with people yet. The weather was great this time, the sky was blue and clear and the sun shone down on us. The stalls were set up already and a number of people had also reserved some places on the grass fields. We went down closer to the river, looking at the cosplayers who were already loitering around the place. It is always fascinating how much work they put in their costumes and how much they endure with their costumes, especially in the heat. There was also a huge number of photographers walking around, hoping to get a few good shots of the event and all the wonderful cosplayers. Since I thought that everyone looked thousands times better than me, it would always surprise me when I got asked for a photo. Suddenly I heard someone call me, I didn't realize it at first, I thought that I imagined it, but when I looked around, I saw someone sitting on the grass, waving at me. It was some of my university friends I attended Japanese language courses with. One of them was dressed as Princess Mononoke which was really cool.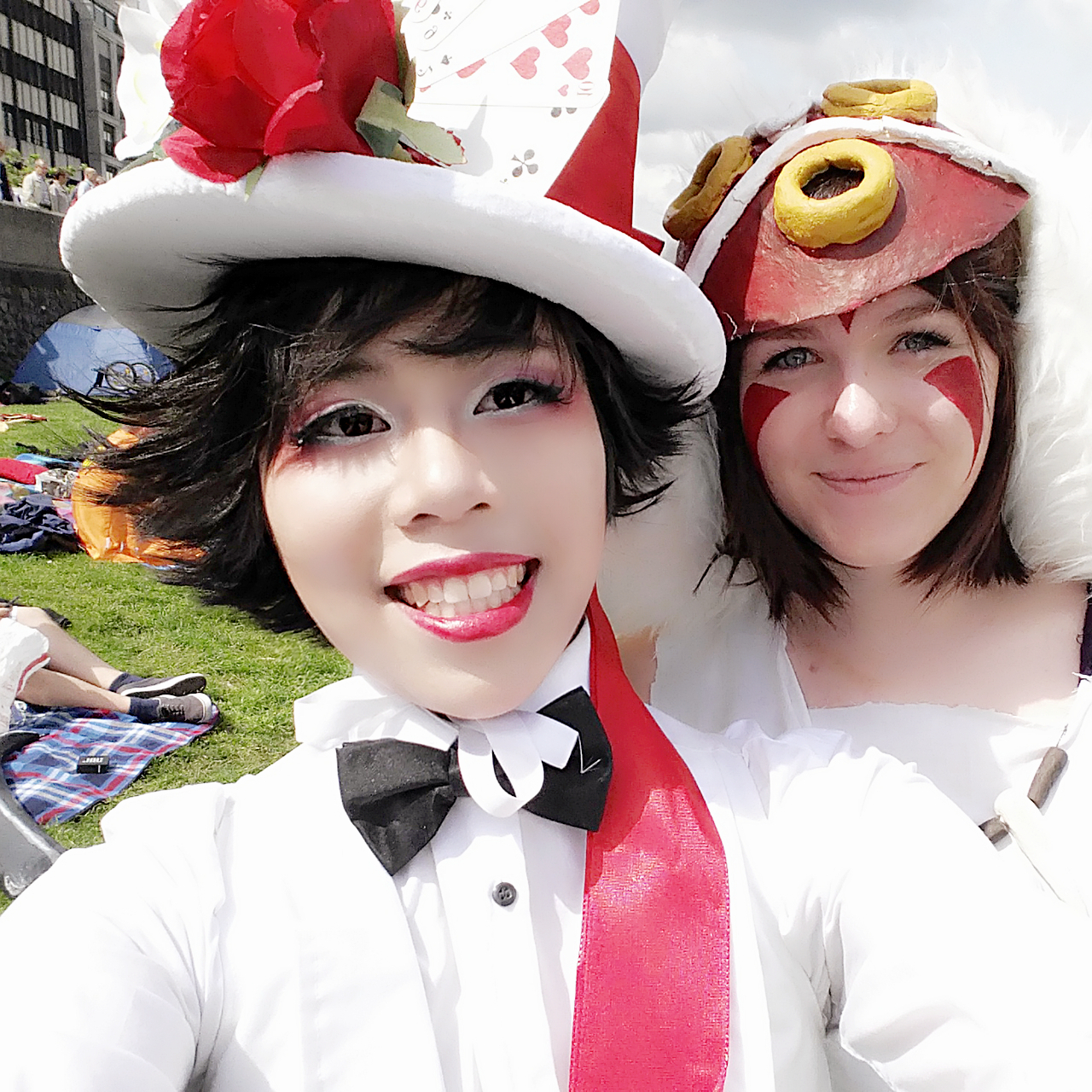 After taking a selfie with her, we went on and met another university friend of us. It was funny, because he told me before that he would meet up with us later and I didn't think that it would be possible, because it is usually almost impossible to find anyone specific in that crowd and the phone connection always tends to be really bad during this event. He found us regardless of all that, even though it might have been just a coincidence. We went back to the point where we started and went to the opposite direction. There was also a large grass field where people hung out until the firework began. Then we decided to go back to meet up with the other people of our group. However it was just one person, and it took her a while to find us.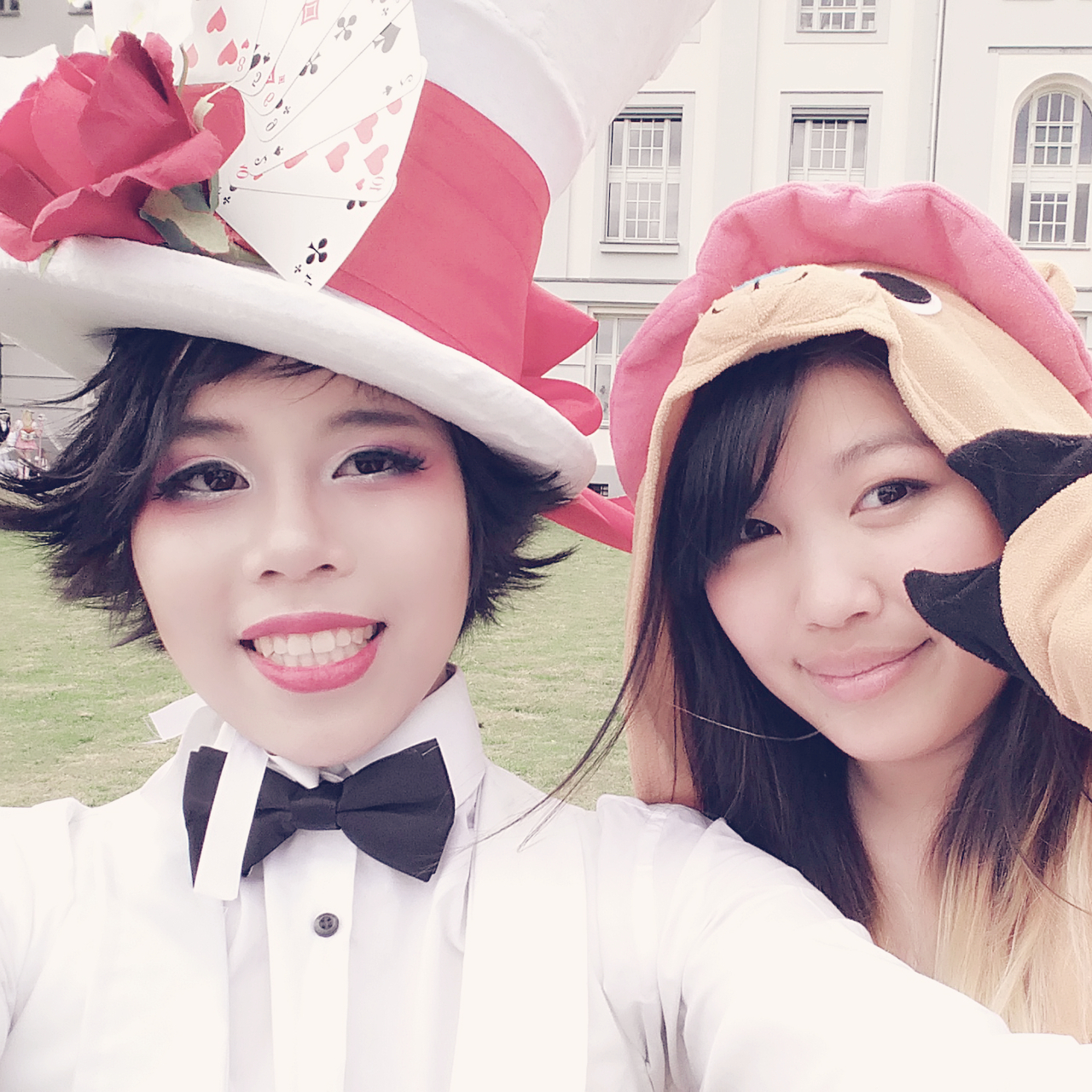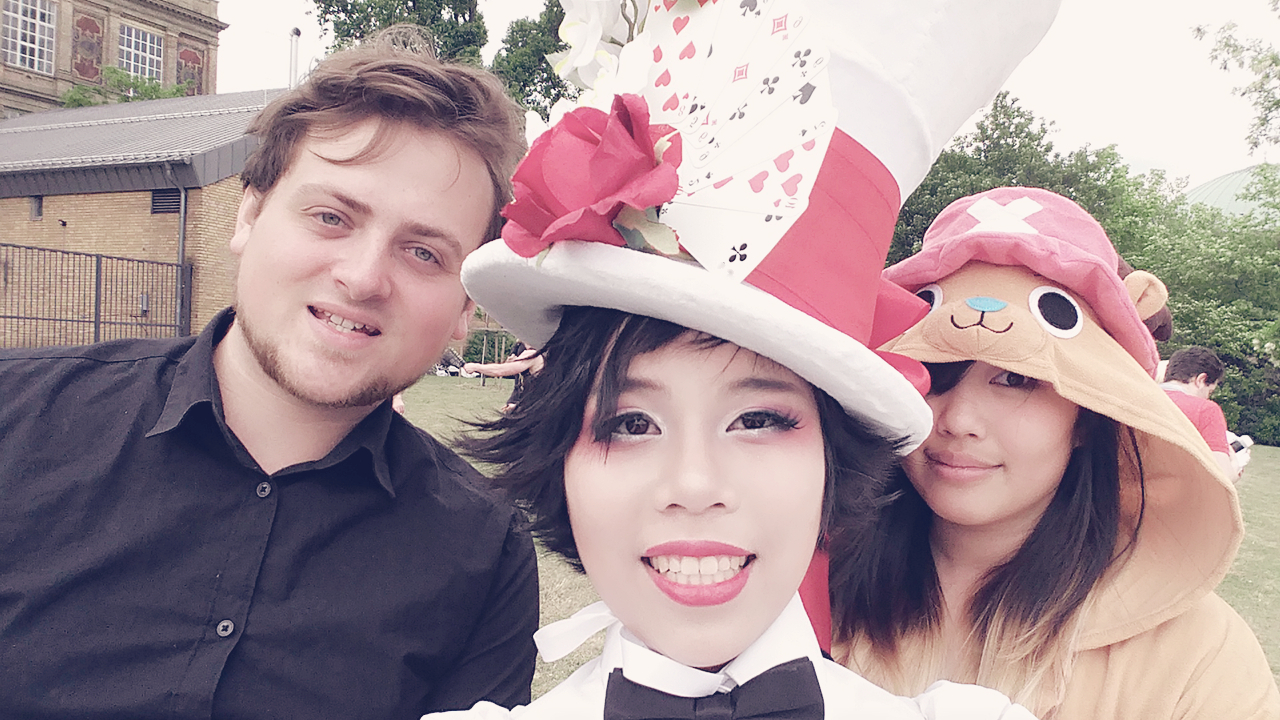 We waited there for the rest to arrive, but the only person who arrived next was my cosplayer friend. Her friends were either still busy putting on their costumes or they wanted to eat before coming. So the five of us went on to look around the stalls. The place was packed with people by now. It was difficult, sometimes even impossible to move forward and it was really hot. Furthermore, our group had to stop every now and then, because there were either people who wanted to take photos of us or who wanted to take photos with us and because our costumes had matching colours, many people thought that our characters belonged together, which wasn't the case at all. Looking at the photos again,  I can understand why though.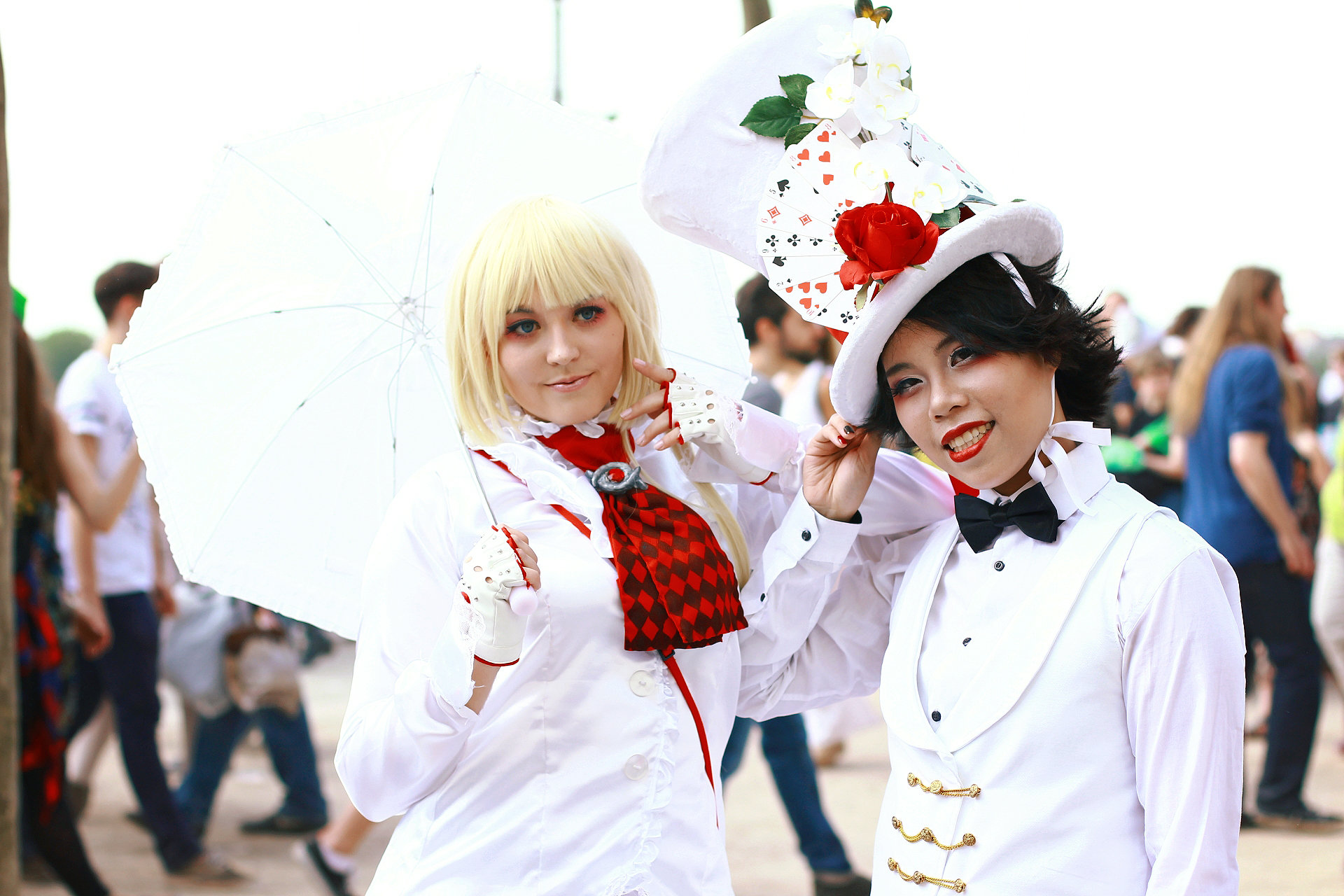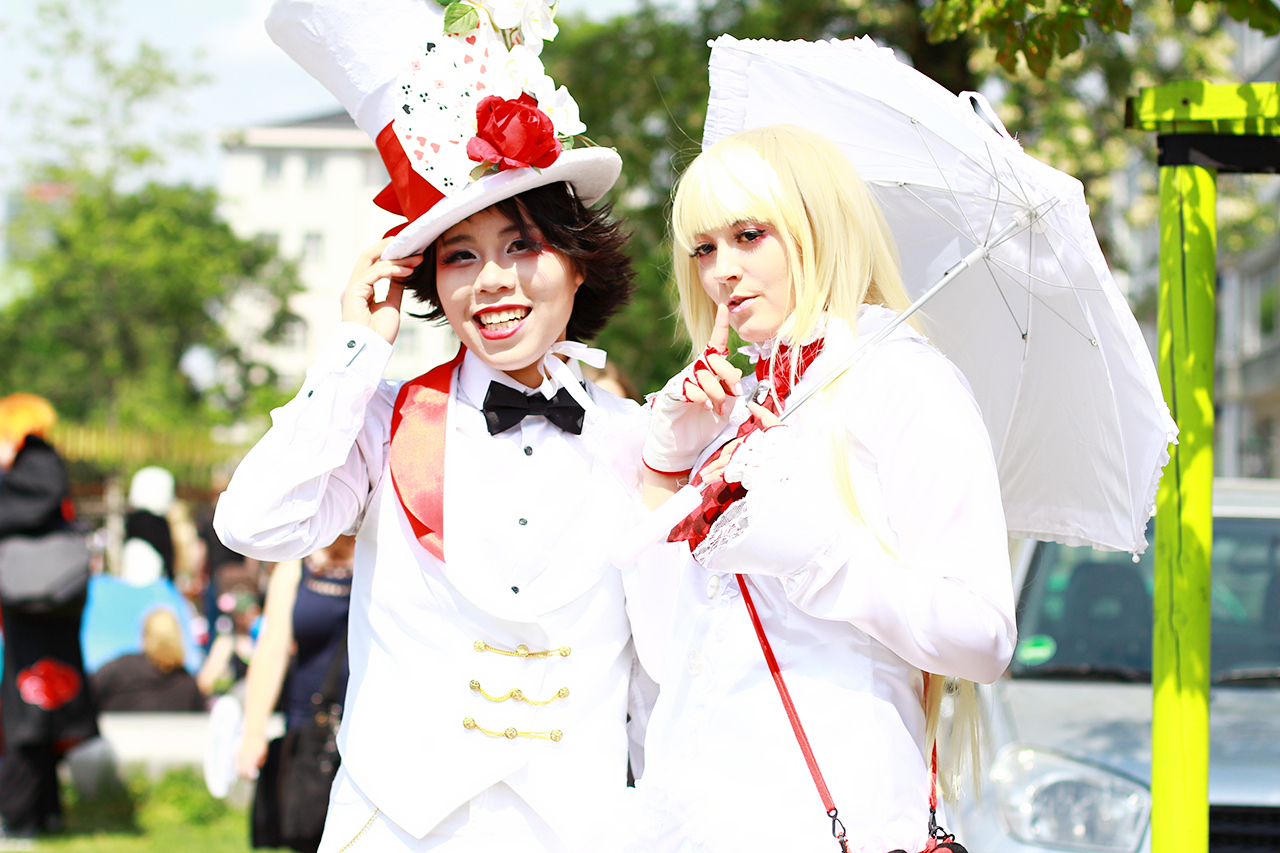 I always had to take off my glasses, put them in my bag and hand it to one of the guys and I had to do that every single time someone wanted a photo, otherwise the glasses would have hidden half of my face and the photos looked better without me carrying a bag. I would like to apologize to the guys for using them as my personal assistants and that they had to put up with me the entire day. This time I also didn't really get many chances to take photos myself, except for some selfies with the people I know from university. I was quite distracted by all the other people taking photos of me. I even met our Japanese intern who was teaching us Japanese during the third and fourth semester.
So whenever I wanted to take a photo with other people, I asked my friend to do it for me.
It is really adorable how some people approach you to ask for a photo, some do it very shyly, but I am always so happy when they want to take a photo with me. Especially the younger kids are so cute, standing next to me, waiting for their parents to take the photo. I think that this is my favourite part of cosplay, it feels great when people appreciate your work and seeing their happy faces when you agree to let them take a photo really brightens up my day.
We still wanted to do a little photo shoot ourselves somewhere, otherwise we would never get some proper photos of our costumes, so we went back to the large grass field with less people. My photographer friend had to take some test shots first, so I awkwardly tried out a few different poses, while the others watched our belongings. We tried out some different angles, poses and lights. In the end I got quite a few photos I really liked.
After my cosplayer friend got her photos, too, we took some fun shots together.
A few hours later, the rest of the group finally joined us, even though they missed us once, because the communication wasn't really great. We got thirsty after a while. I don't know why, but we decided to walk all the way back to the bubble tea store located on the Immermannstrasse. It was quite far away and that wasn't really favorable for my cosplayer friend's feet, because she wore shoes with heels. She had to get a pair of flip flops, otherwise she wouldn't have been able to walk anymore.
After that we took the tram back to the river. It slowly got dark and we wanted to search for a place to sit where we could watch the fireworks.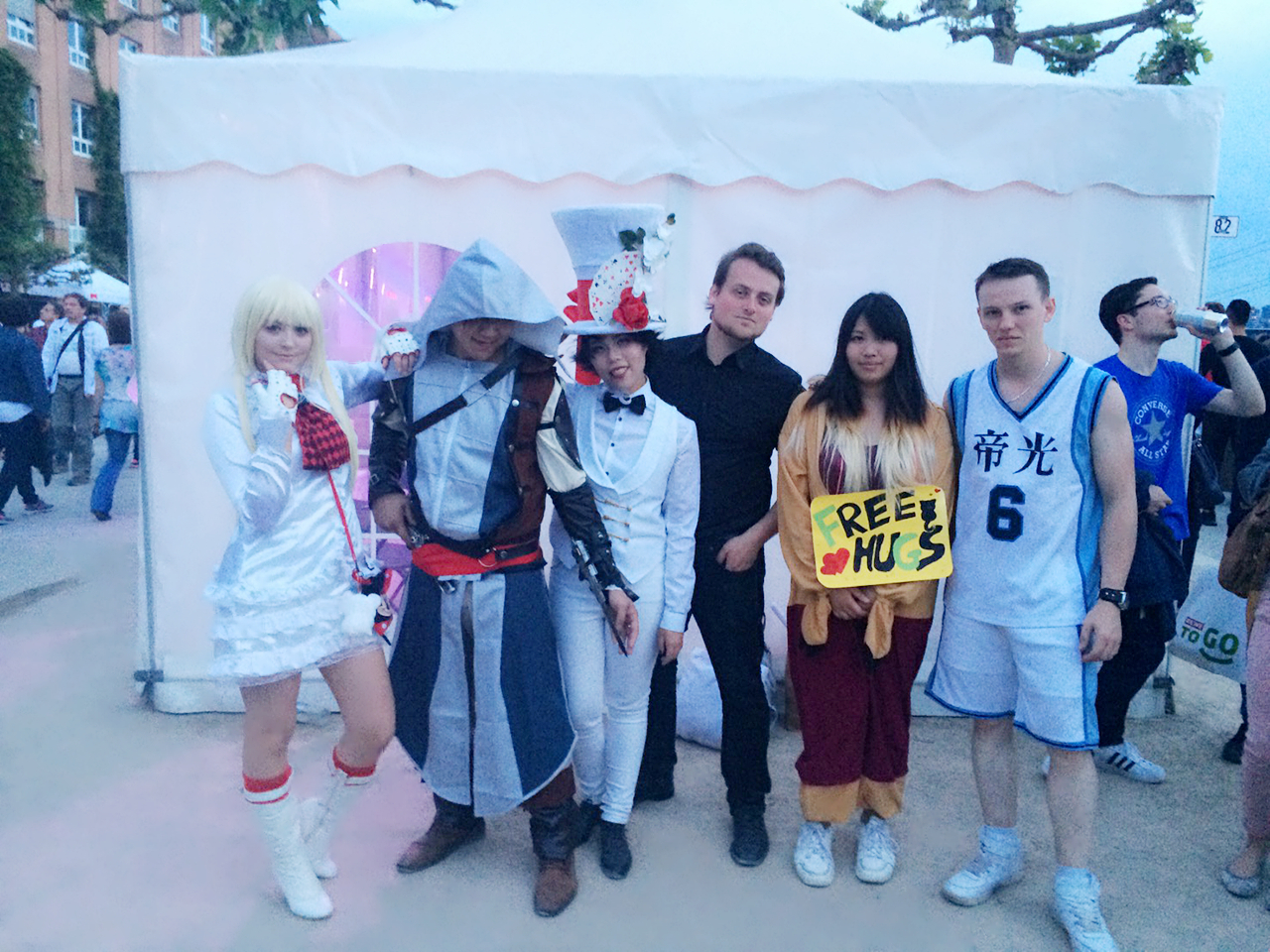 There was still time, so we walked around a little bit more. People still approached us to take photos. While I was busy doing so, I felt someone tapping on my shoulder. I thought that it was yet another person who wanted a photo, but when I turned around there was a reporter standing in front of me. Every time I see a reporter, my first thought is to run as a far as I can, because I don't trust reporters. They tend to change the things you were saying and make you appear really dumb in their reports, but I decided to hear her out. Apparently she was looking for some cosplayers she could interview for the live-broadcast right before the fireworks. She told me that my hat had attracted her attention and that is why she approached us. I dragged my cosplayer friend to my side because I didn't want to deal with the reporter by myself. We were sceptical of course, but she told us the questions she was going to ask us in advance and in the end we agreed to do the interview. She told us to meet up with her again at the same place a few minutes before the fireworks began. The stalls were all closed already, so there wasn't much to look at anymore. So we observed the people walking back and forth and we even saw a Deadpool cosplayer with whom we took some photos even though it was too dark already, but it was still fun.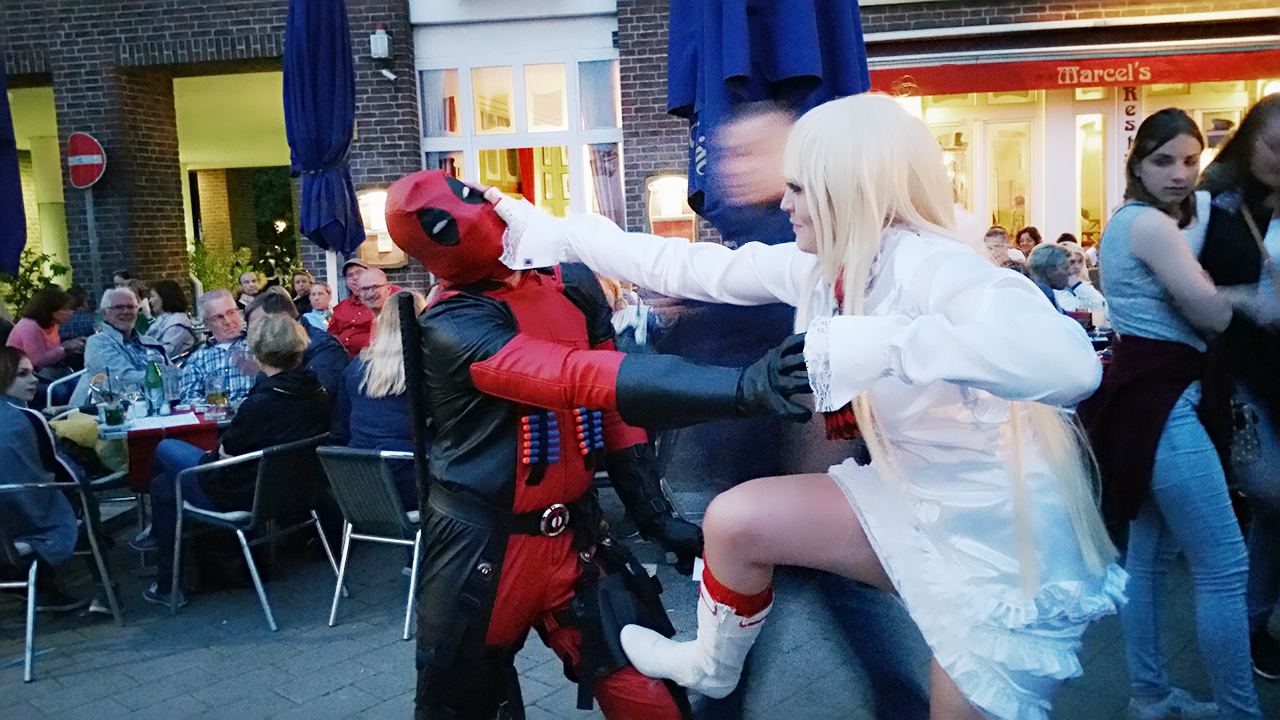 We were a little bit nervous about the interview. They set us up in front of the camera and all the lights. A staff member was holding a TV screen where we could watch some of the things they filmed during the day. Everything around us was dark now, we couldn't see anything, except for the blinding lights. The others were set up behind us two as a background. We were told not to look at the TV screen, the only thing we thought we could focus our eyes on, so we looked a bit lost, when the reporter was talking to the camera. The interview was a short one with a few questions only. I was so afraid of saying something stupid and to embarrass myself on TV where everyone could see. It would have been especially bad if I had embarrassed myself as a student of Modern Japan. Luckily only normal questions were asked, nothing bad and my friends who watched the interview told me afterwards that the reporters didn't mess up the interview this time and I didn't say anything stupid, so I was quite relieved.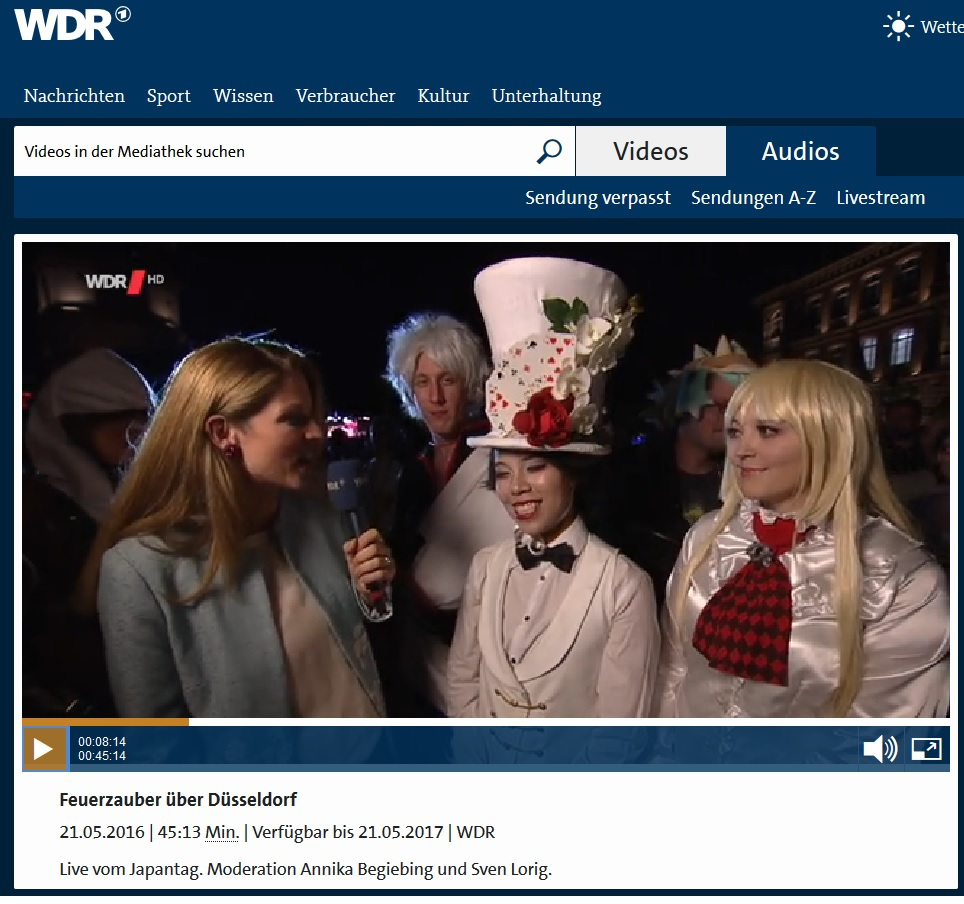 The fireworks began soon after that. It is a huge spectacle every year, because they always import fireworks from Japan and prepare all of it months before the actual day of the event. It is impressive what they fire into the night sky. Unfortunately I didn't take any photos, because I can't take good photos when it is dark. It was getting really late and it was time to go home after the fireworks ended. I wasn't the only one who wanted to go home thoufh, so the streets on the way to the train station were so crowded. We were lucky enough to be able to go underground to the platform. However we were surprised once, because the escalator came to an abrupt halt and we nearly fell off the steps. I heard later that people weren't allowed to go down there anymore because there were just too many. I was grateful that my friend accompanied me to my dormitory, even though we were both dead tired. My feet were sore and my forehead hurt because of the weight of the hat and I was happy to take it off once I was home. The place still hurt a day later.
I would like to send out a special thank you to Softshock who took the photos. He has a Facebook page and an Instagram, so please check out his stuff, he takes awesome photos. My cosplayer friend Flufflepuff Cosplay also has a Facebook page and an Instagram with amazing selfmade cosplays, so please check her out, too.
I had so much fun that day, even though it was hot and exhausting, but I really enjoyed it. I was so glad that I decided to go and that I got to spend the day with all of them.