My first Cosplay and Japan Day 2015 - Part I
Originally I wanted to write a post about the Japan Day in Düsseldorf, Germany. Unfortunately the day was not made to be documented properly because of different reasons I will tell you about later.
That is why I decided to make this post more about our cosplay than the day itself. However I will divide it into one part, in which I talk about the cosplay itself and another part to talk about the event.
As I wrote in the title already, it was my first time cosplaying and it was also the first time cosplaying with my friends.
I wanted to cosplay since forever. However I am more the drawing kind of person. I can't sew and I am bad at crafting and somehow there was never a real opportunity to start cosplaying. Yet my friends and I never gave up the thought that some day we were definitely going to cosplay together.
In the end it took 3 years after graduation until we wore our first cosplay. In the meantime we did think about different characters we could cosplay as a group, but we would never really come up with anything. Of course there were many different opinions, so we couldn't really agree on any characters from existing animes or mangas. We all had different ideas. For me, it was important to find a character that suited my body type, my height and maybe my face. Everyone has a different way to find a character they want to cosplay. Some people will cosplay the characters they really like, who they can identify with, other people will cosplay a character because they like their design and there are people who choose the character based on the suitability of their outer appearance. I am one of the latter. I feel more comfortable if my appearance suits that of the character. That is why I had a difficult time finding a character, even though there are many characters I really like.
In the end, after many discussions, we agreed on cosplaying three characters of 'Alice in Wonderland'. Yes, it is nothing new and there are many Alice in Wonderland-themed cosplays out there already. However we thought that this option would give us a bit more freedom to create our own version of 'Alice in Wonderland'. If we cosplayed a certain manga or anime character it would be more difficult because we would have to pay attention to every detail and we neither had the time nor enough skills to do that.
Because there are so many Alice in Wonderland cosplays out there already and because of the lack of sewing and crafting skills, we decided to keep it simple yet eye catching.
So we agreed on a white- themed cosplay with some golden, black and red accessories. After deciding on the colour, we ordered our wigs on this website.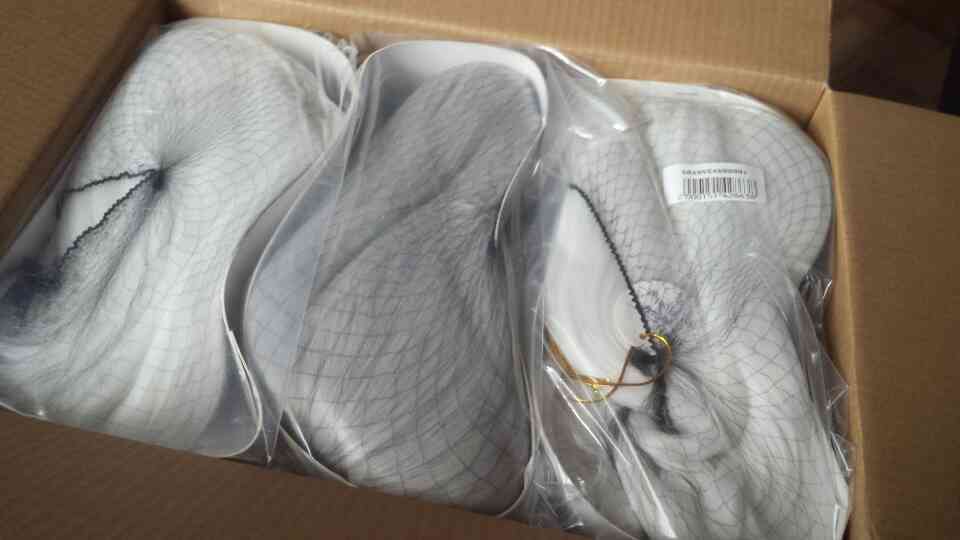 As it is always difficult to estimate how long such orders will take to arrive, we ordered as early as possible to stay on the safe side.
The difficult part was next. Design the costume!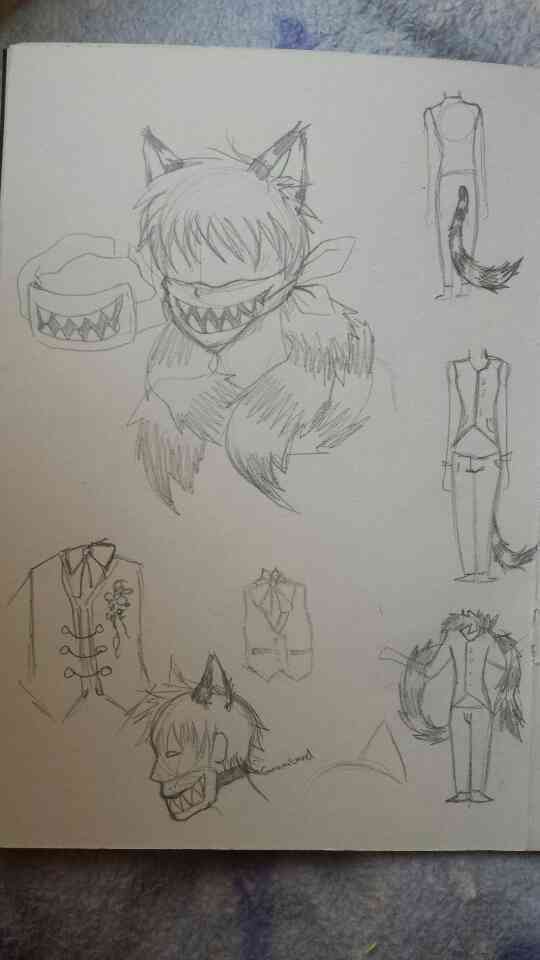 First we collected some ideas and drew them in my friends sketchbook. That way it was easier to imagine what the costumes were supposed to look like in the end.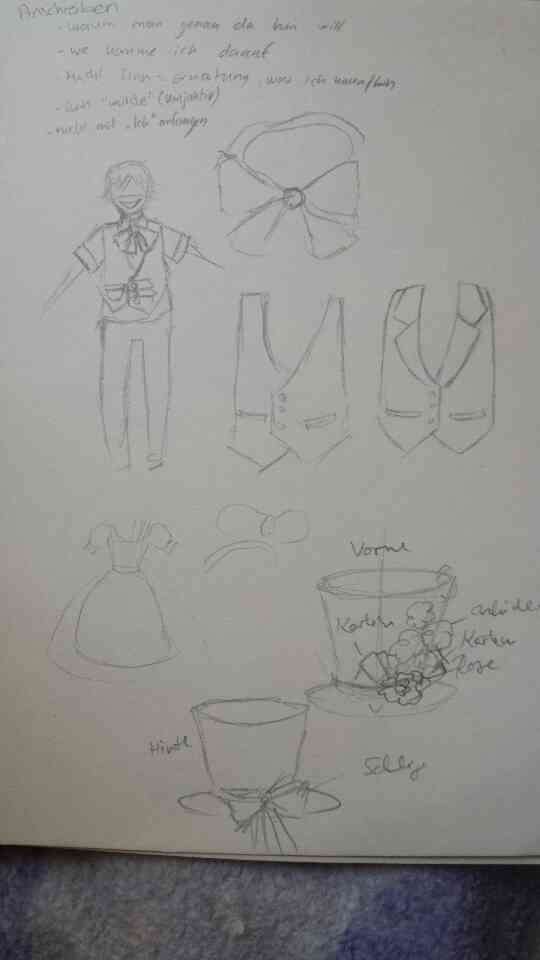 It was clear that there were going to be some parts of the costumes we would have to make ourselves because there was no way to get those things at a store. However we decided to get some parts of the costumes in a normal clothing store. Like white pants and shoes. The things we would have to make on our own were the waistcoats, the hat, the ears and the tail. My other friend wanted to sew the dress for Alice on her own, too, but she was too busy with exams and work that she ended up buying everything in the end.
The only one in our group of three who can sew and craft is Yasha. So basically she was in charge of almost everything.
I gave her my black waistcoat so that she could copy the sewing pattern and sew the white waistcoat for us two. Of course we had to go to a fabric store to buy the material and some fancy golden buttons.
As I was still in my hometown as we planned our cosplay, my friend and I decided to make the hat for the Mad Hatter before I had to go back Düsseldorf. We realized that it would have been impossible for my friend to do it alone because we had to measure my head several times and I had to try the hat on so many times while it was still being in progress, and adjust the size endless times.
The base is made out of cartons as you can see and then my friend covered it with white fabric. I could only help tape up the hat.
While being useless, my friend's cat kept me amused the entire time.
The most fun part for me was when I could finally decorate my hat with flowers and cards and ribbons.
My friend sewed the waistcoats after I was back in Düsseldorf, but even if I had wanted to help out with that, I think I wouldn't have been able to do much because I just can't sew.
I missed my black waistcoat during that time.
I forgot to mention that we also designed Alice-themed motives to iron on some simple white bags because we didn't want to run around with normal bags that didn't match our costumes in the slightest. I designed the motives for all three of us and my friend edited it in Illustrator.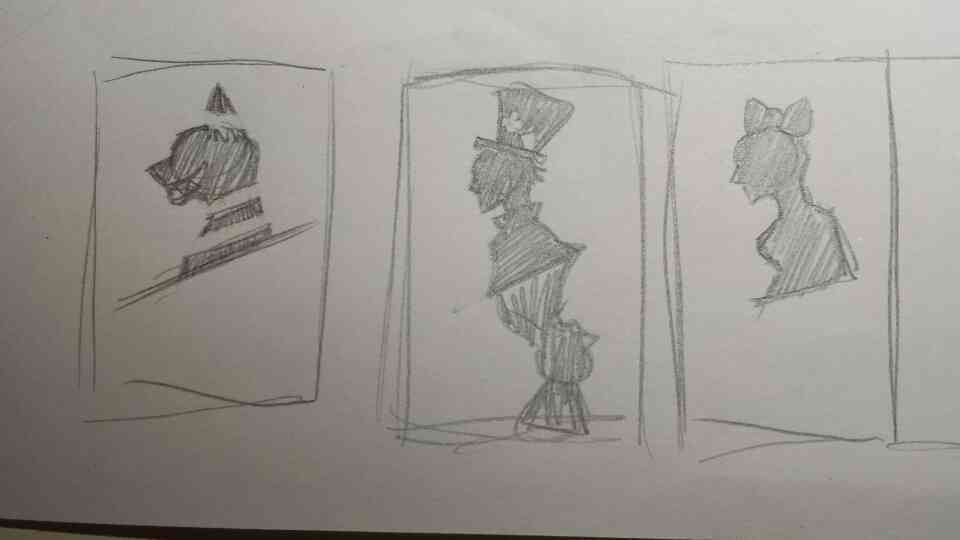 This was my friend's sketch to tell me what it should look like.
These were my first sketches
We both 'worked' on it. I was talking to her via Skype, following the progress, occasionally throwing in some things I wanted her to do differently.
Of course we discussed a lot because we had different preferences but in the end it all turned out very well as you can see below. It was our first design that got printed on something! I am still very proud of it.
Next were the waistcoats. My friend updated me now and then, sending me photos of the progress.
She said that she was not really experienced in sewing clothes but I was sure she would manage it. Fortunately she had one of my waistcoat as a reference.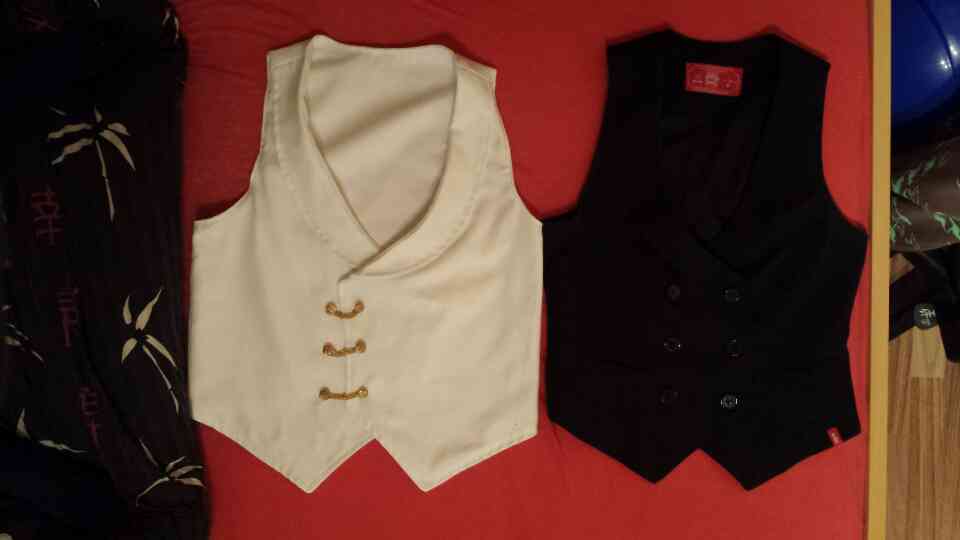 Then we had to think about how to position the golden buttons. I decided to buy another set of three buttons to keep everything well balanced, or rather she bought them for me since I wasn't in my hometown anymore.
All was left were the tail and the ears for the Ceshire Cat. Since my friend has experience in making stuffed figures, I think it was not so difficult for her to make the cat ears.
It seemed to be a bit more complicated to make the tail because she had to put it into the right shape. She feared that she would drag it around on the ground since the tail turned out a bit heavier than she thought it would.
Some details such as ribbons and the mask to portrait the typical grin of the Ceshire Cat and a bow tie were done in between because these didn't take very long.
As for me, I got to borrow a necktie which happened to be a great coincidence because I just mentioned to a fellow student that I still need something to wear around my neck and she happened to own a red necktie which was great for my costume.
We didn't actually get to see the whole group cosplay as a whole before the actual event in Düsseldorf. My friends arrived just one day earlier and were to exhausted to put on the costumes. My buttons had yet to be sewed on and I was to excited to wait until the next day, so I had to try it on the same evening.