I think I can throw an entry about this year's Halloween in while I am still at it. Actually I wanted to upload this post right after Halloween but I didn't make it and so I postponed it until now.
I do not know whether I told you about my course of studies yet. Well, my main subject is Modern Japan and I think this semester is really fun. It is quite different from the other studies, or rather the people are different. Sometimes I have the feeling that they are more open or relaxed. At any rate, they are easier to talk to than most of the people I studied with before. I am really relieved that I found people who I can hang out with during the breaks and weekends. It is not that I was entirely alone at my old university, I certainly had a few people I got along with. But this time it is really different. As many of us share the same interests, we always find a topic we can talk about. Before, I used to complain about university more and it certainly was not as fun as now.
I think I just missed my point about this entry because it is supposed to be about the Halloween party the third semester students organized at the end of October. Firstly, I have to tell everyone reading this, that I am not a "party person". I don't really like going to parties or bars or anything like that. But please, don't misunderstand, I still enjoy being with other people. However, I prefer another environment. I favour going to town with someone over loud music. I favour drinking tea and eating cake at someone's house over drinking at a bar. This is just me being an introvert.
And still, I went to the Halloween party. Mostly because my friends were there and went with me. This event occurs right after my previous post. A few weeks before, H&M sold an outfit that we really liked. So we decided to purchase it and wear it as a costume during the party. It was really convenient because you can still wear it in everyday life. Cosplays cost too much and you don't really wear the costumes that often.
My friend also made us japanese styled masks which represent our alter egos. If you are asking about what we "cosplayed", honestly, I don't know. In the end we went for "yokai schoolgirls". At least it was fun, and we got a guy to cosplay Sailor Moon. I really liked the part when my other friend made the makeup for us. She used to work in Europa Park (German Amusement Park) as a makeup artist so she is pretty good at it. Preparing ourselves took a bit long but we still had time to take some photos.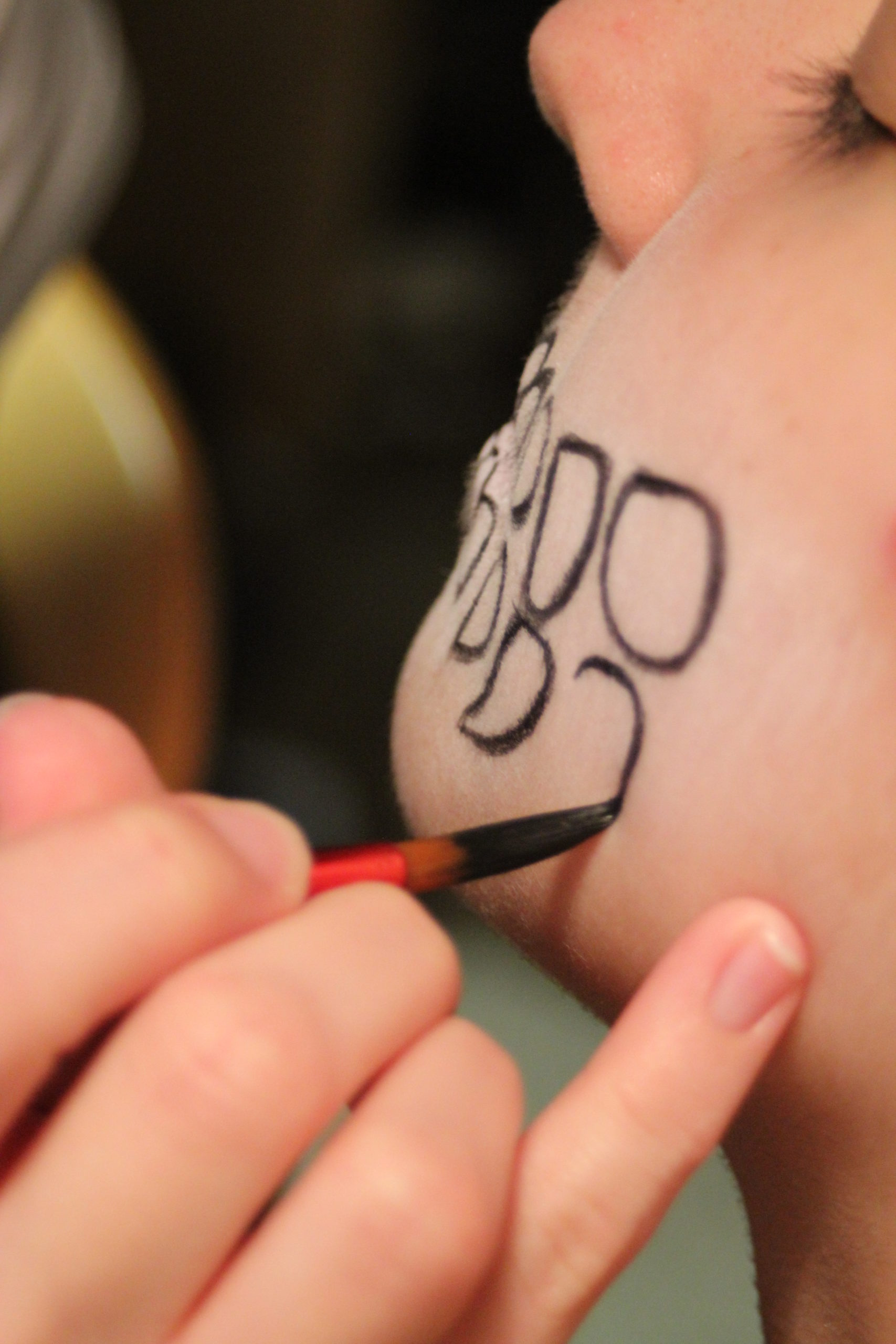 I was a bit surprised when we arrived at the party. Unfortunately, the party took place outside because we only had a small room where people could dance and buy drinks. Mostly, everyone stood outside. I don't really want to talk bad about the Halloween party because the third semester students really went through a lot of trouble to organize it. But maybe it just wasn't my cup of tea. It felt more like a disco drinking party, just with costumes. Well, the most interesting part were the costumes anyways. There were also a few cosplays, unfortunately I didn't really take any photos of them because it was very dark and it was difficult to get good pictures. I am not really a photographing expert. Some of the following pictures were made by friends.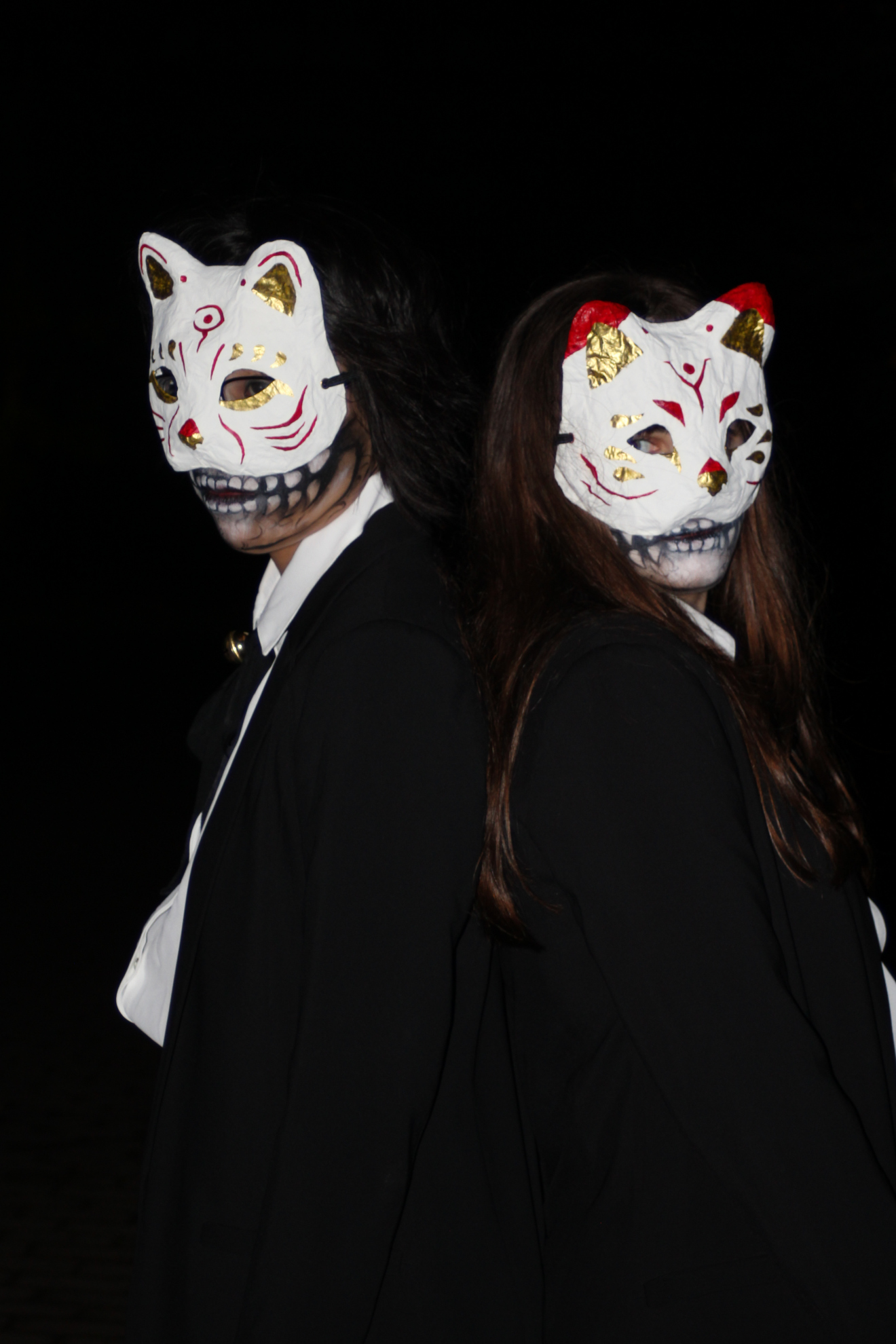 For two of us, it was kind of difficult to wear the masks with our glasses on.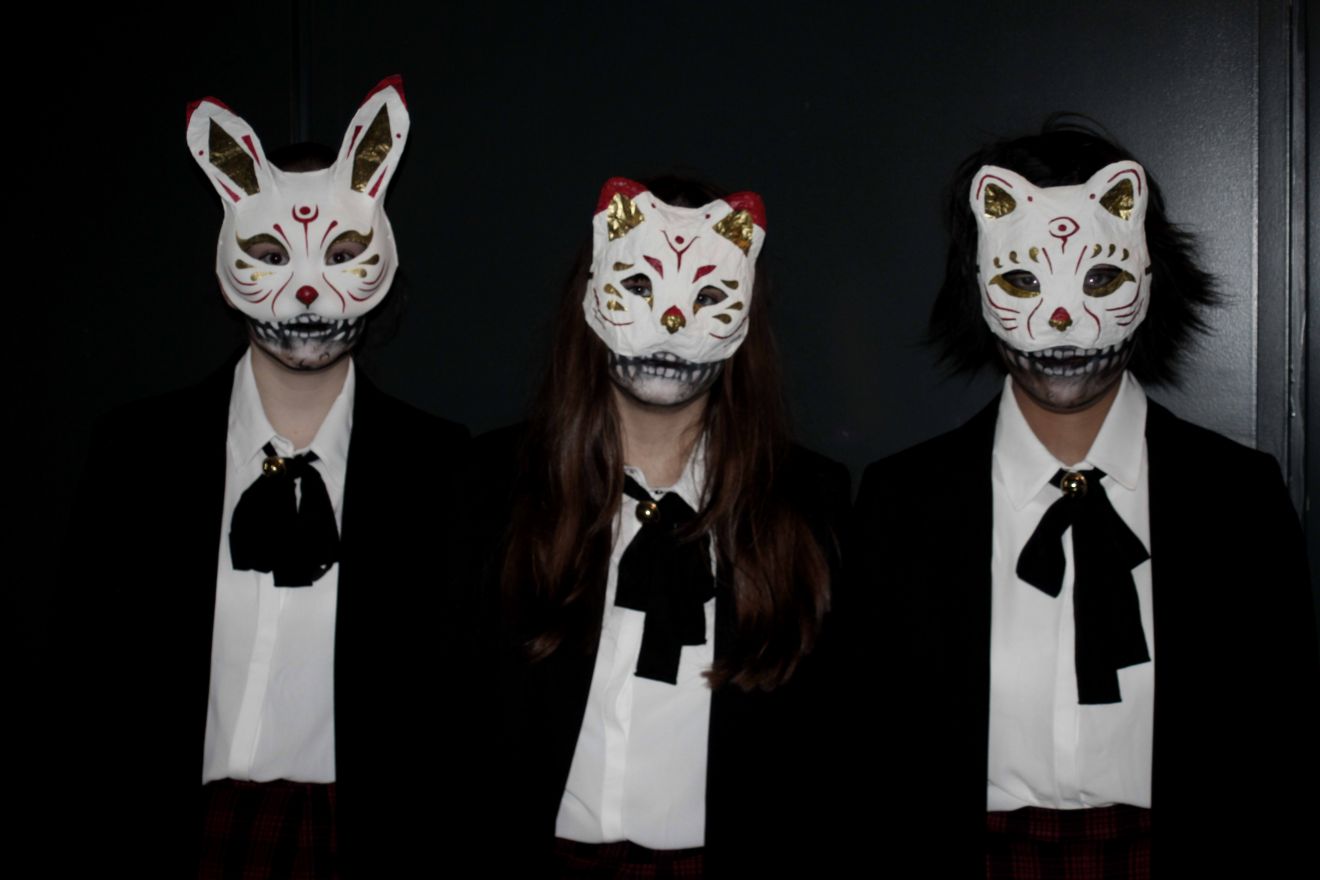 Here you can see me with my two friend and the beautiful masks. Can you guess our internet alter egos? If not, it's a rabbit, a weasel and a cat. But I think it's quite obvious. The girl in with the cloak is a fellow student of mine who helped us take some pictures of us three together.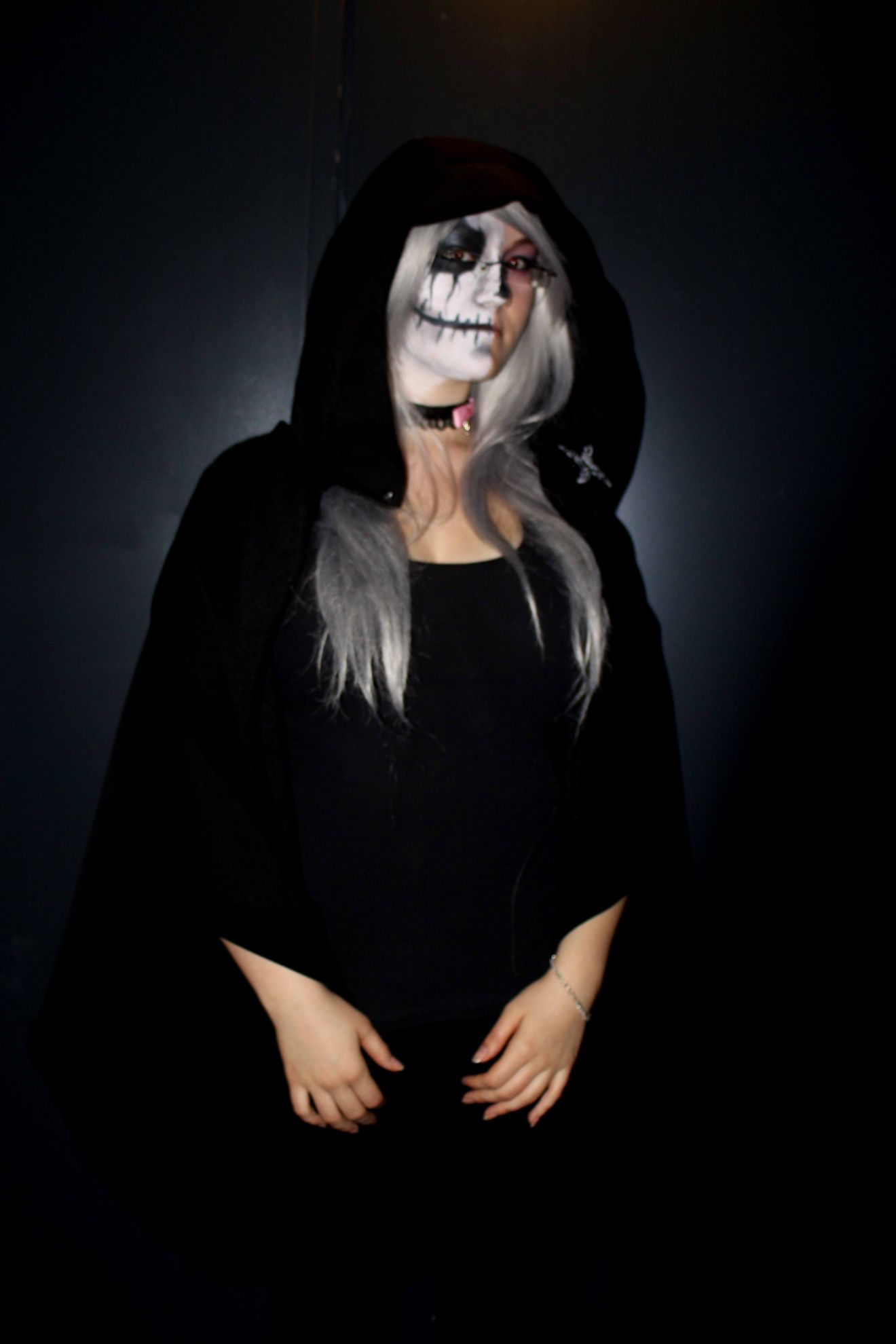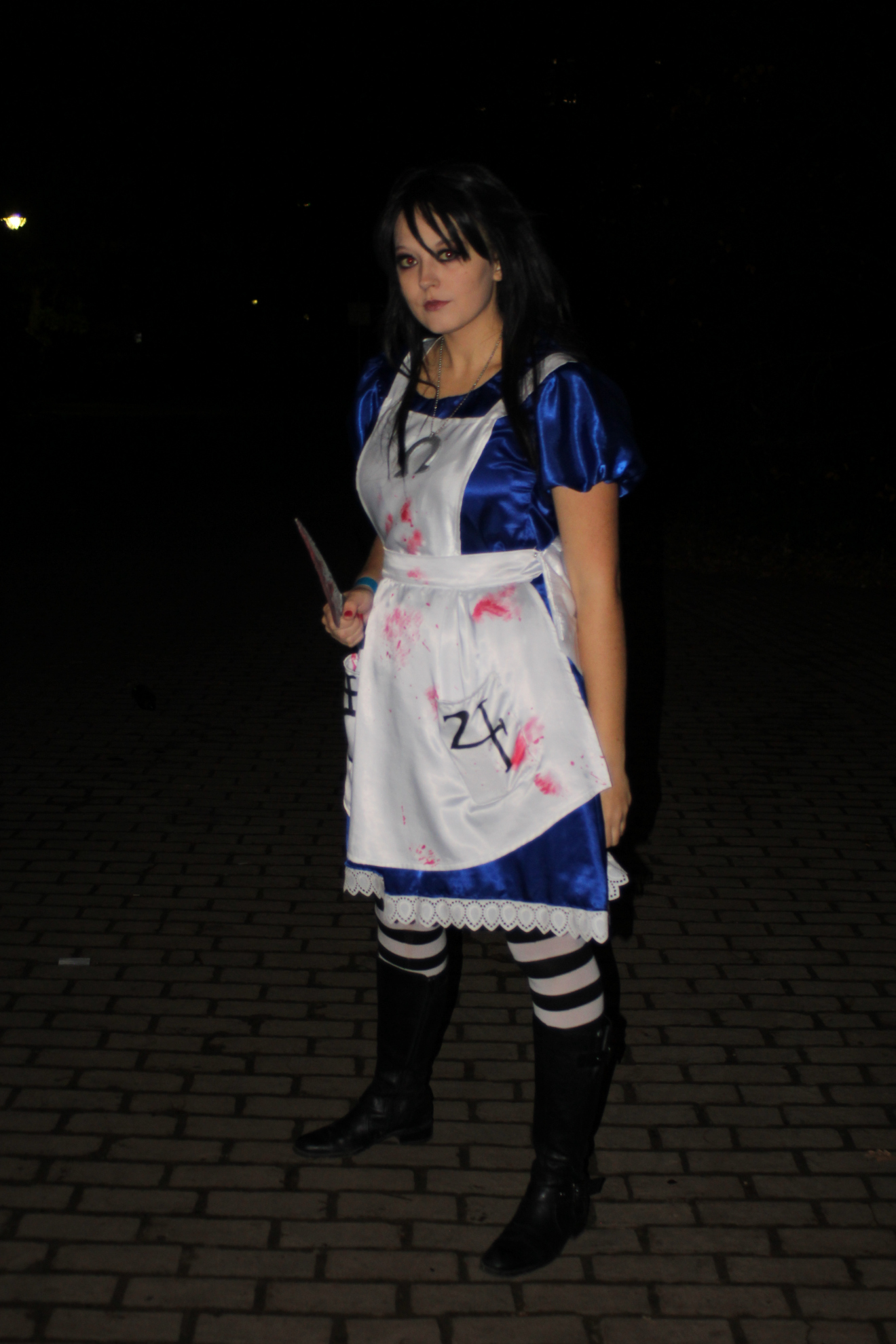 Another one cosplayed Alice Madness. There were some Naruto Cosplayers, too.
I like the lighting in this picture because it gives off a creepy vibe. The following pictures were taken in my dormitory.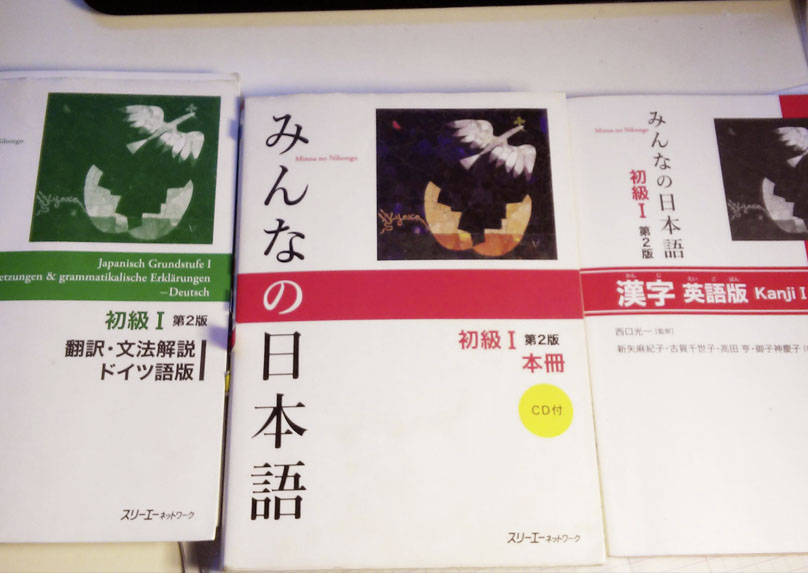 A Week of Japanese - Part I