One day in Düsseldorf and Little Japan
Hello everyone, since I didn't have time to update my blog so much since the last entry, at least I wanted to upload something new before I go back to Freiburg for Christmas holidays.
That's why I decided to tell you a bit about the little sightseeing I did with my friends in Düsseldorf.
I don't really know where to begin.
It has been nearly two months since I moved from Freiburg to Düsseldorf.
It was a big step after deciding to quit my former studies in Schwenningen. But this will be another story I will tell you in another post.
During Halloween, my friends visited me in Düsseldorf. I was looking forward to showing them the new city I am living in right now. Especially because none of them have come here before.
Unfortunately it takes more than a 7 hour bus ride from Freiburg to Düsseldorf. That's why they seemed a bit less enthusiastic about coming to the city than they were a few days ago. And I think a big city with so many people was also a bit too much.
I just hoped that their mood would get better after resting a little bit.
Luckily one of my lectures got cancelled that day and they could take the bus that arrived at noon. Otherwise they would have arrived during the middle of the night. That would have been quite inconvenient.
After picking them up at the station, we took the tram to my little apartment located in the student dormitory, quite close to my university. My apartment is really small and it was pretty crammed. But it was nice to have my friends around and someone to talk to.
After some time I cooked Spaghetti for us because it was the only food I had at the end of the month. Haha, a college student's life is quite hard, isn't it.
I don't think we did much after that because they were pretty exhausted.
I still had some stuff to do for the blogs I just started and some stuff for university the next day.
I was surprised when they told me that they wanted to accompany me to my lectures.
I was pretty sure they wanted to stay at home and wait until I was finished instead of waking up early with me.
To wake up early the next day was hard, especially because theoretically they were on vacation. But it was a nice change for me to be able to wake up with someone.
We had a nice walk (at least I think it was nice) to my university which is pretty spacious. When I first came here, I didn't think it would be this big.
It is easy to get lost on its ground which happened to me a few times already.
My Japanese lecture was the only lecture I had that day. It wasn't really spectacular. Just a normal language lesson. That's why one of my friends got tired after a while and dozed off.
Maybe I can tell you about my Japanese lectures in another post if there are people who are interested in that.
At noon we prepared to go to the Immermannstrasse. A street famous for its Japanese stores and restaurants. It is also called 'Little Tokyo's or 'Little Japan', or so I've heard. Being very interested in the Japanese culture, I really like this part of the city, even though the stuff you can purchase in these stores are pretty expensive.
This entry got pretty long.
Following next will be some pictures my friend and I took with her camera. I hope you will enjoy them.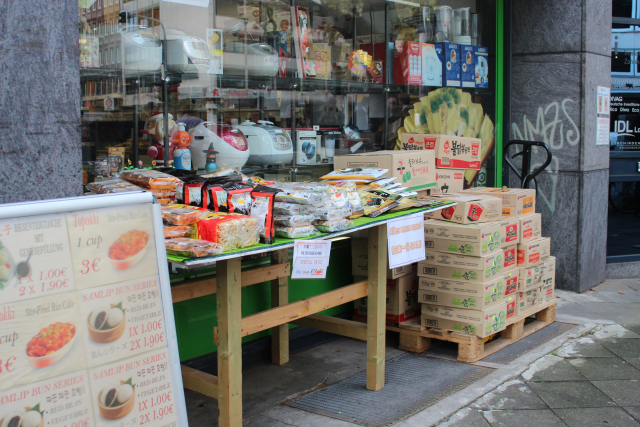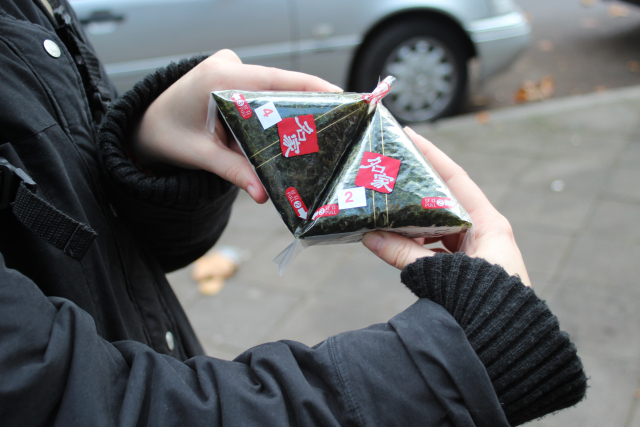 First we went to the supermarkets that sells Korean and Japanese products. I think this is the only place in Germany where you can find this many products from Japan. My friend and I bought some Onigiri which turned out to be very difficult to open.
Another little store I like very much is the Takagi bookstore. They sell many japanese mangas and magazines, also different books and artbooks. You also find a lot of merchandise items of different animes and mangas. I really like the Totoro plushies. Unfortunately being imported from Japan, the products are pretty expensive.  They are also selling Totoro stamps which I find really cute. This is something you just want to possess, even though you probably do not really need it. 
They have a lot of beautiful things in there. I also bought the Christmas presents for my friends in this store, made this year's Christmas present search a bit easier.
These cups are being sold in a little bubble tea shop. I truly like japanese pottery. It is so beautiful, but so expensive! On the other side of the street you can find a Japanese decoration shop with many beautiful things.
They sell everything from bento boxes to maneki neko figures.
My friend likes these Daruma doll a lot. They are regarded as talismans of good luck. The different colours also have different meanings. I will just translate the little piece of paper there:
Red: Work, competition, success
Yellow: Money, fortune
Pink: Love, encounter
Green: health, beauty
Black: Save, secrets
Purple: Honour, support
White: Fresh start, purification
My friends bought some souvenirs for their mothers and the store clerk put the items in these beautiful little packaging. There are a lot of Japanese styled restaurants. They look really nice from the outside. It is still a strange picture, if you consider that the surroundings consist of tall German buildings.
I forgot to mention that there are also two Japanese bakeries. I have to tell you that Japanese bread is delicious. If you have the chance to try it, do it! It is somehow different from Western bread. I think it is slighty sweeter and I love it so much.
Here you can see two melonpans. One is filled with buttercream and the green one is matcha flavoured with green beans. The bun in the back is a Takoyaki ball. Everything was so good. 
You can see the little red beans in the matcha flavoured one. Some people don't really like matcha flavoured things. Especially when they aren't used to eating Asian desserts, they consider the beans that are often used in Asian desserts pretty weird. But I think it was pretty good.
This post got pretty long. But I have to make up all the posts I didn't post since I started my blog. Maybe I will do some book review about the book I am reading right now in the next post.